Palermo makes emotional return to World Finals as new U.S. citizen
By : Darci Miller
November 07, 2019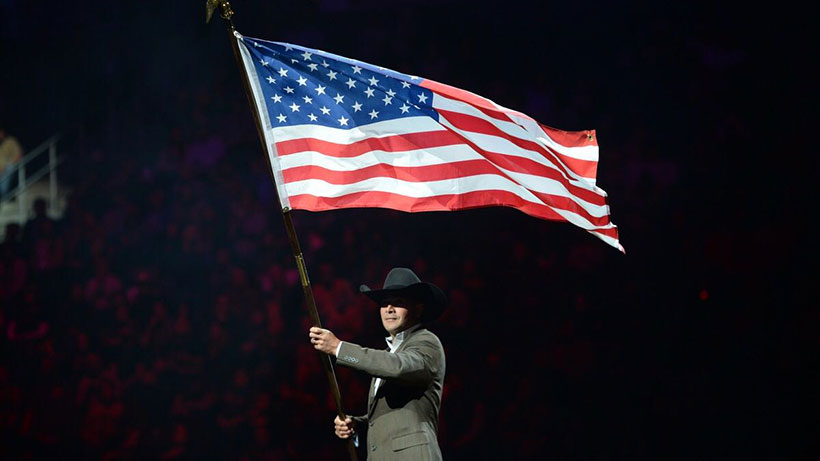 LAS VEGAS – One of the most poignant moments of Round 1 of the 2019 PBR World Finals happened before a single bull was even attempted.
Three-time World Finals event winner Robson Palermo stood atop the Can-Am Cage holding the American flag, hat over his heart and emotion in his eyes.
Palermo, a native of Rio Branco, Brazil, is one of the greatest bull riders in history, with a PBR career spanning more than a decade, 310 qualified rides on the premier series and 10 PBR World Finals qualifications.
Now, he can boast of an even greater accomplishment: U.S. citizenship.
Palermo received his citizenship just one week ago, on Oct. 31, but it was a long time coming.
"I had a green card for about 10 years already, and I should have had my citizenship earlier," Palermo said. "But the way it goes – family, kids, and then change. Buy ranch, and change ranch, and then buy a house, and this and that – life got in the way. This year, me and my wife said, 'Okay, you retired, now you have time. Let's go get our citizenship.'"
And so began a long, arduous process of vetting and testing, proving his ability to read, write and speak in English and learning U.S. history.
"Oh my gosh. It is unbelievable," he said of the process, shaking his head. "They give you a hundred questions. It's all about the U.S. history, and you've got to know everything. Like, who was the president during World War I, World War II. It's stuff from the past, and you've got to learn it, because you never know which question is going to come to you."
On test day, citizenship applicants have a one-on-one exam with a government official.
Palermo's wife, Priscila, attended more school than he did and has a degree, and passed on her first attempt. For Robson, however, the testing stressed him out more than getting on bulls, and he failed at his first attempt.
Luckily, though, his second examiner was on his side.
"I got so nervous," Palermo said. "The guy asking questions for me, he know me, and he told me, 'Why are you so nervous? You ride bulls for a living! Now, you're here, just me and you, and you're shaking like that?'"
Palermo responded, "'Because it's something I really want. Because if I don't pass, maybe it's going to have a chance to give me another chance, but I really want to pass.' And he said, 'Calm down, breathe, do this, do that, but I was…'"
He paused, and laughed. "I got it the second time."
Palermo has lived in Texas since his premier series debut in 2006. He's firmly entrenched in American life, as are the family's three children, so moving back to Brazil was never something the couple considered.
"The U.S. is so good for my family and me," Palermo said. "Everything I did is here, and I have three kids, and they all go to school here. In Brazil, for living back there, it's kind of hard because my kids were born here, they know everything about the U.S. Moving my kids to Brazil, at that age, is going to be too much. That's why me and my wife chose to stay here.
"And everything I want is here. I invest here. I want to live here forever."
Upon hearing of Palermo's citizenship, PBR Official Entertainer Flint Rasmussen gave him a call. With PBR CEO Sean Gleason's blessing, Rasmussen invited Palermo to carry the colors as the PBR World Finals kicked off.
Palermo answered with an emphatic "Yes!"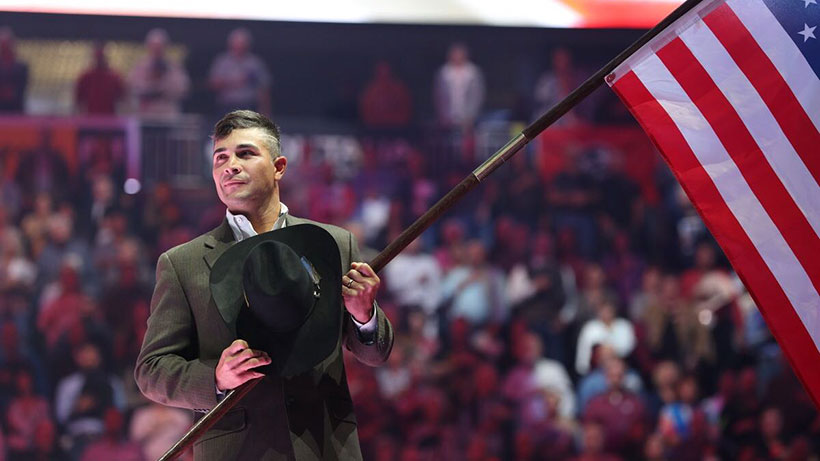 "It's very special coming back here, with this arena, in this town," he said. "It's given so much in my career, and pretty much everything I did was here in Vegas. To come back and see the whole thing, and remember mine, it feels good."
Palermo recalls always stepping foot inside the Thomas & Mack Center, as well as T-Mobile Arena in 2016, feeling calm, cool and focused. Despite frequently being injured, including shoulder surgeries three years in a row and permanent nerve damage in his riding arm, the Finals allowed him to put aside everything that he says made him weak and perform at the championship caliber he was capable of.
Making his first return to Las Vegas since stepping away from competition in January 2018, Palermo received handshakes, back slaps and hugs as the current crop of riders entered the arena from the black carpet.
Palermo, who is the assistant coach for Team Brazil for the 2020 WinStar World Casino Global Cup USA, presented by Monster Energy, says that some of the younger riders have asked him for advice on how best to perform at the World Finals. His advice is as basic as it comes.
"It's just simple," Palermo said. "Riding bulls is simple if you keep your mind there and focused, and don't worry much about the talk and all that stuff. Of course when the gate opens, you're going to figure out everything."
Palermo came to Las Vegas just for the honor of carrying the American flag. He headed out onto the dirt that treated him so well in the past, stood solemnly during the National Anthem and waved the flag as the crowd roared its appreciation.
It was a short stay, as Palermo flew back to Texas Thursday morning.
"I may be a little busy at home, and things have been a little crazy, and I've got to go help my wife there," he said with a laugh.
And these days, for Palermo, "home" has a whole new meaning.