Outlaw: 'If you're not having fun, you should've stayed at the house'
By : Darci Miller
November 07, 2019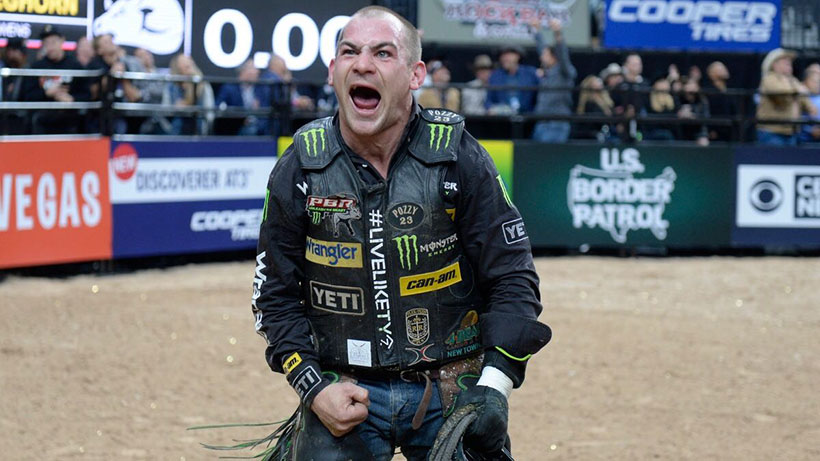 LAS VEGAS – Chase Outlaw is having fun.
Pacing like a caged animal before Round 1 of the 2019 PBR World Finals kicked off. Yelling at the top of his lungs for his friends and competitors as they ride their bulls. Getting even louder after he himself rode Foghorn Leghorn for 88.5 points to tie for second place in the round. Showing up to the Round 1 post-event press conference in a dark red, paisley blazer.
This is Chase Outlaw living his best life.
"If you're not having fun, you should've stayed at the house," Outlaw said before coughing. "Excuse me. Been hollering for all these guys making such good bull rides that I can't hardly talk."
Outlaw's ride was one of those, but it very nearly wasn't. He lost his rope and hung onto the tail, surviving a judges' review to secure the 8 seconds and an all-important score.
"I hate that it has to be that close like that, but I knew when my hand popped out, I knew I had a hold of my tail and was still on the bull's back whenever I heard the whistle blow," Outlaw said. "You know you got it, but you've still got to go through that review challenge, and ain't no telling what that camera might see. So you've still got to ride it out, and just thank the Lord that it was the whistle and it worked out how it was supposed to."
Outlaw finished second in Round 1 behind Eduardo Aparecido, who earned 91.25 points on Chiseled for the first PBR World Finals round win of his career. Outlaw's 88.5 points tied rookie Dalton Kasel, who made the 8 aboard Too Dirty.
"Dalton is coming into his own," Outlaw said. "He's got a great long career ahead of him, and I pretty much call him out for winning the Rookie of the Year title this year. But he's doing what we've all got to do, and that's make the whistle."
Outlaw and Kasel have become close friends since Kasel made his Unleash The Beast debut in August in Tulsa, Oklahoma, spending a significant amount of time together.
Kasel, in fact, sped right to the locker room following his ride, shed his chaps and bull rope and was immediately back on the chutes to assist Outlaw.
Outlaw believes Kasel may have become his competition for a world title if the 20-year-old had been on tour all season long.
"I guarantee it, if Dalton had been here since January, he'd be right here in the middle of this world title race," Outlaw said.
As it stands, Outlaw is the one in the midst of a World Championship pursuit, sitting at No. 3, 1,715.83 points behind No. 1 Jose Vitor Leme, who finished fifth in Round 1 with 88 points on Skyfall.
Despite the current points disparity, seven-time World Finals qualifier Paulo Crimber has nothing but good things to say about Outlaw's performance.
"I just want to bring something up, Chase," Crimber said. "You don't have no idea how good a bull rider you are, because you rode that bull for a whole second with no rope, just on the tail. Your hand popped out at like 7.05 or something and you had so great of a seat, and control and everything, you just rode that bull like nothing, with no hands, pretty much."
"Thank you, thank you," Outlaw responded. "And it's crazy, bull riders will say that when you feel your hand getting to your fingertips, it's crazy how correct and so correct and proper you will ride, especially when your hand pops out like that and you have your tail. We all wonder why we don't do that from the first jump, but it's crazy, when you get in a bind like that, how correct and proper you go to."
It's not often that one can describe Chase Outlaw as "proper," but if he's making the 8 seconds, he'd surely take just about any adjective.
Outlaw takes on Magic Train (48-6, UTB) in Round 2. Fans can watch Round 1 live on CBS Sports Network at 10 p.m. ET and on RidePass at 9:40 p.m. ET.
Outlaw and Magic Train previously faced off at the 2016 PBR World Finals, where Magic Train walked away with a 4.79-second buckoff.
In the meantime – and for the foreseeable future – Outlaw will continue having fun. More good rides are all but guaranteed. More fun blazers are still to be determined.
But in all honesty, Chase Outlaw is living his best life whenever he has the opportunity to grit one out, World Finals or not.
"This is what we enjoy doing, is trying our heart out and letting it all lay where it is, because that's all you can do," Outlaw said. "And showing up and showing out."