Aparecido wins Round 1 of 2019 PBR World Finals
By : Darci Miller
November 07, 2019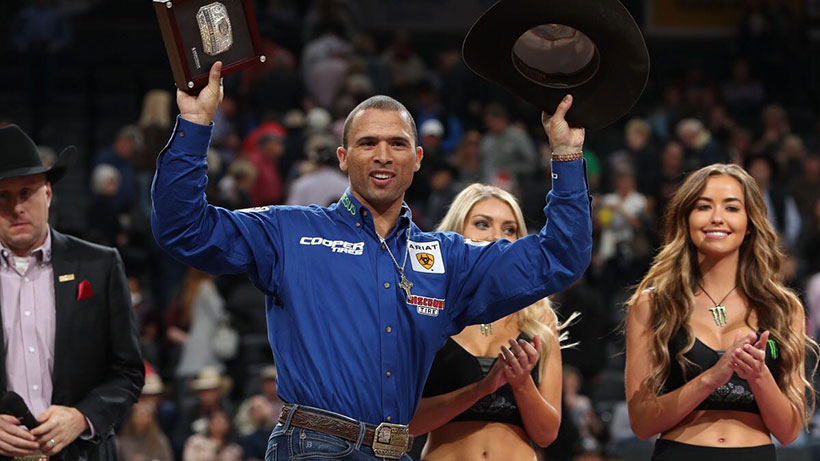 LAS VEGAS – When Eduardo Aparecido saw his draw for Round 1 of the 2019 PBR World Finals, he couldn't have been more pleased.
He was matched up against Chiseled, a bull with whom he had 90-point history.
The two faced off at a Touring Pro Division event in Allen, Texas, in August, and Aparecido notched 91.5 points on his way to a second-place finish overall. He was only able to finish second in the round as well, bested by Jose Vitor Leme's 92.5 points on Sun Country.
But the second time was the charm.
Aparecido rode Chiseled for 91.25 points on Wednesday at T-Mobile Arena. This time, it was good for a round win, 300 world points and $35,000.
"I'm glad I got to ride this bull tonight, the first night, because I rode this bull before," Aparecido said with the help of Guilherme Marchi translating. "I knew that bull would go my way, in my hand, and it was great. I did 91 points. I'm glad to draw that bull. It's a good start.
"That bull fits me great because he turns my way, and a lot of speed, a lot of kick, a lot of jump. And it's the perfect bull to draw for the first night."
Aparecido is ranked No. 22 in the world standings after a season marred by injury – he missed most of April with a broken jaw – and struggle, as he was nearly cut from the Unleash The Beast earlier in the year.
However, he flashed his potential as he went a perfect 3-for-3 at the 2019 WinStar World Casino & Resort Global Cup USA, presented by Monster Energy and putting himself in contention for the individual aggregate title.
But heading into Las Vegas, he worked on putting the past behind him and only looking forward.
"I tried to forget everything, the injuries, and tried to focus on the Finals to have a good start and keep going to have a good Finals," Aparecido said.
On a night that saw the bulls largely dominate, nine-time World Champion Ty Murray was pleased with what he saw out of the Gouvelandia, Brazil, native.
"This has to feel good," Murray said on CBS Sports Network. "This bull has a ton of timing. Really getting up into the air, turning back into his hand. Look at this bull really jump, really kick, and Eduardo keeps moving over there where he needs to be, and this is what we're here to see. This is an example of what the first round of the World Finals should look like."
World No. 3 Chase Outlaw finished second in Round 1 with his 88.5-point ride aboard Foghorn Leghorn, tying with Rookie of the Year leader and world No. 7 Dalton Kasel placed third (88.5 points on Too Dirty).
Rounding out the Top 5 were Cody Teel (88.25 points on Skeeter Peter) and world leader Jose Vitor Leme (88 points aboard Skyfall).
Aparecido will take on Soup in a Group (24-3, UTB) in Round 2. Fans can watch Round 1 live on CBS Sports Network at 10 p.m. ET and on RidePass at 9:40 p.m. ET.
This time, Aparecido is matched up with a bull he's never before attempted.
However, he's pleased that he enters Round 2 with a shiny souvenir on his belt.
"I am very happy to win the first round," Aparecido said. "I've never done it before. This is a great start. I'm glad to have the buckle on my belt."