Mauney tips his hat to Lockwood for ending Heartbreak Kid's buckoff streak
By : Justin Felisko
October 14, 2019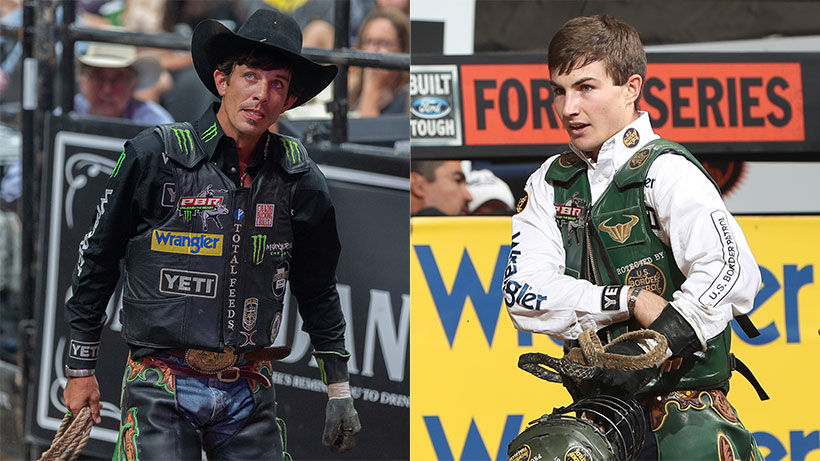 GREENSBORO, N.C. – On Sunday afternoon, following what may be the most memorable ride of the season after perhaps the gutsiest short go pick, 2017 World Champion Jess Lockwood stiffly turned around and headed towards the locker room.
Lockwood had walked out of the PBR sports medicine room with a large bag of ice on his neck and wanted to watch Cooper Davis finish out the Wrangler Long Live Cowboys Classic in Greensboro, North Carolina.
Davis went on to ride Chiseled for 92.75 points, cementing Lockwood with a second-place finish inside the Greensboro Coliseum and again cutting Jose Vitor Leme's world No. 1 lead.
Lockwood began to gingerly head to pack up his gear bag when two-time World Champion J.B. Mauney tapped him on the shoulder.
Mauney briefly told Lockwood great job and gave him a polite fist pound before both gold buckle winners went on their own way.
In Sunday's championship round, Lockwood swung for the fences to end Heartbreak Kid's streak of 38 consecutive buckoffs on the premier series -- and the bull's chance to break one of PBR's vaunted bull records -- with a career-best 93.75-point ride. The 22-year-old sustained a cervical strain after landing on his neck on a dismount.
"It was decent," Mauney said with a sly smile about Lockwood's ride. "Decent. It was alright."
Mauney then added seriously, "Any time you get on a bull that hasn't been rode and got a streak going like that, and you break his streak, that just pushes your confidence over the top."
Heartbreak Kid's streak was the second longest in PBR history behind three-time World Champion Bushwacker's streak of 42 consecutive buckoffs.
Mauney, of course, was the man to end that record streak six years ago.
The North Carolina native conquered Bushwacker for 95.25 points in Tulsa, Oklahoma, on August 17, 2013, following seven failed attempts to ride the bull.
The ride was the beginning of Mauney's historic comeback to win his first world title, usurping Silvano Alves' reign of dominance in back-to-back seasons. Mauney was more than 3,000 points out of the world No. 1 ranking before he rode Bushwacker.
It is possible Mauney still would have went on to win the world that year, but the confidence booster he received from that ride was undeniable.
Lockwood does not have a rivalry against Heartbreak Kid, who had bucked him off in two prior matchups, as Mauney had with Bushwacker. And Lockwood's ride came with less than a month until the 2019 PBR World Finals begins (Nov. 6-10) compared to Mauney's coming two months before the Finals.
Regardless, Lockwood is going to feel 10 feet tall and bulletproof once his neck recovers heading into these final few weeks before the Finals.
Lockwood's heroic ride may just spearhead his continued push at winning a second world title.
"It definitely boosts your confidence, but it's all the same," Lockwood said. "You can go ride one like that, and you may have one next weekend that makes you look dumb. It's just part of it. You're going to ride good ones, and you're going to have bad days, too. So I let that motivate me right there, that I can ride that type of bull. So I'm happy."
The No. 2-ranked rider in the world standings trails Jose Vitor Leme by only 321.66 points heading into the Cooper Tires Take The Money And Ride in Nampa, Idaho. It is the last Unleash The Beast event before the World Finals.
Lockwood has erased 710 points off Leme's once-1,031.66-point lead with a third-place finish in Minneapolis and a second-place effort in Greensboro.
The fourth-year pro is amidst the best season of his career, and he is riding at a superior level today than he was in 2017, when he won his first world title despite a 43.75% riding average.
Lockwood is 37-for-56 (66.07%) with a career-high nine 90-point rides and four event wins in 2019 despite having to miss three months because of a broken left collarbone.
Never before had Lockwood finished a season with a riding percentage of 44% or higher.
"It's expected," Mauney said of Lockwood's growth. "If you win the world when you're that young, you better step your game up and come again."
Davis was able to notch the event win Sunday in Greensboro, but he said the world title contenders had better watch out for Lockwood now that he slayed a dragon like Heartbreak kid.
"When you ride a rank bull like that, one everybody couldn't get by, it'll dang sure boost you up and make you realize you can ride just about anything they run under you," Davis said. "Going into the Finals right now, if I don't win, Jess is the one that's on the heater. If it rolls on like he's going, I think he'll be in good shape."
Lockwood has posted the five best rides of his career this season – 93.75 points on Heartbreak Kid, 93 points on Chiseled, 92 points on Bezerk, 91.75 points on Prayer Warrior and 91 points on Bad Beagle. Other than Bezerk, all four other rides have come since Aug. 10.
Heartbreak Kid, though, was something special, for sure.
"This is probably at the very top," Lockwood said. "That bull's never been rode. He's never been started. I've started him a couple times myself, but he's one that everyone shies away from. He's one that everyone looks at like, 'Yikes. That's not that fun.'"
Follow Justin Felisko on Twitter @jfelisko