Davis wins Wrangler Long Live Cowboys Classic in Greensboro
By : Kacie Albert
October 13, 2019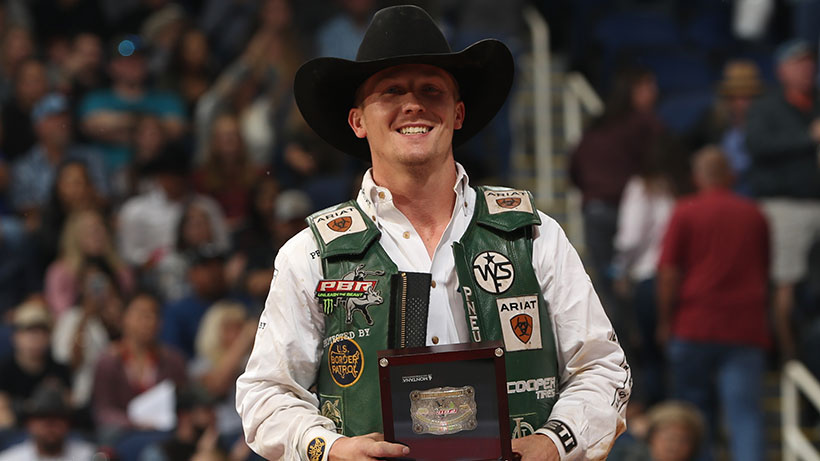 GREENSBORO, N.C. – With just one regular-season event remaining prior to the 2019 PBR (Professional Bull Riders) World Finals, the already historically tight World Championship race further intensified in Greensboro, North Carolina, as 2016 PBR World Champion Cooper Davis (Jasper, Texas) went a perfect 3-for-3 to win the Unleash The Beast's Wrangler Long Live Cowboys Classic inside Greensboro Coliseum.
After recording the top marks on the opening night of competition, winning Round 1 courtesy of an 88-point trip on Newsom (D&H Cattle Co./444 Bucking Bulls), the Texan returned to the Tar Heel State event determined to win his second premier series event of the season.
In Round 2, Davis' momentum continued, as he remained atop the leaderboard with an 86.75-point ride on Calico Kickin (Hart Cattle Co./Hale).
He then punctuated his perfect performance with his fourth 90-point ride of the season, reaching the 8 on Chiseled (Flinn/D&H Cattle Co.) for a massive 92.75 points. That mark is now tied for the fourth highest of the year.
For his efforts, Davis collected a check for $38,430 in addition to a crucial 590 world points.
He remains the No. 5-ranked rider in the world, but gained significant ground as he looks to capture his second gold buckle. Entering the event 3,179.16 points behind No. 1 Jose Vitor Leme (Ribas do Rio Pardo, Brazil), he is now within 2,639.16 points of the top spot.
Going 1-for-3 in Greensboro, Leme, who rode ZZ Top (Blake Sharp) for 87.25 points in Round 2, finished 10th overall to earn $2,200 and 50 world points.
Historically, any rider within 2,000 world points of the world No. 1 ranking at the start of the World Finals is a legitimate contender for the season's World Championship. However, 3,300 points are available across the five days of competition.
Delivering an equally flawless 3-for-3 event in North Carolina, 2017 PBR World Champion Jess Lockwood (Volborg, Montana) finished second, decimating Leme's lead atop the standings.
After riding Red Solo Cup (Johnson Bucking Bulls) for 87 points in Round 1 and Honky Tonk Flame (Paradigm Bull Company) for 81.75 points in Round 2, the Montana man entered the championship round fourth.
Lockwood then made a decision in the championship round bull draft that would prove worthy of a place in the PBR record books.
Selecting Heartbreak Kid (D&H Cattle/Buck Cattle/Erwin Cattle), the 22-year-old not only snapped the bull's 38-out premier series buckoff streak, denying him the chance to surpass league leader Bushwacker, but recorded the high-marked ride of the year, reaching the whistle in dramatic fashion for a colossal 93.75 points.
The high-marked score was not only Lockwood's ninth 90-point ride of the year, but also marked his 12th round win of 2019.
Lockwood left Greensboro Coliseum $20,350 richer, but more importantly netted 400 world points.
While he remains No. 2 in the world rankings, Lockwood is now just 321.66 points behind No. 1 Leme after entering the event 671.66 back.
Third went to Rookie of the Year contender Mason Taylor (Maypearl, Texas), earning him $12,800 and 280 world points.
As the final rider to go a perfect 3-for-3, Taylor's 8-second efforts were earned aboard Life As A Gangster (Tyler Ball/J.W. Hart) for 81 points in Round 1, Dang It (Davis Rodeo Ranch/Fogle) for 87.5 points in Round 2, and Hard Juice (Next Level Bucking Bulls) for 88.75 points in the championship round.
The Top 5 finish, his third of the season on the elite tour, allowed him to catapult from No. 16 to No. 11 in the world rankings as he looks to qualify for the first PBR World Finals of his career.
In the Rookie of the Year race, he rose from No. 5 to No. 2, now within 21.25 points of standings leader Dalton Kasel (Muleshoe, Texas) who went 0-for-2 in Greensboro.
Also contenders for the prestigious honor presented to a first-year rider, Lucas Divino (Nova Crixas, Brazil) and Daylon Swearingen (Piffard, New York) finished fourth and fifth, respectively.
Rebounding from a Round 1, 1.73-second buckoff on Joker (Deer Prairie Creek Bucking Bulls) on Saturday night, Divino went 2-for-2 on Championship Sunday. First covering Godzilla (Blake Sharp) for 86.25 points in Round 2, the Brazilian then made the 8 on Millennium's Buck (Torres Brothers Bucking Bulls LLC) for 88 points in the championship round, garnering him 160 world points and a check for $7,200.
For Swearingen, his performance, which earned him $7,480 and 115 world points, was highlighted by a Round 2-winning 89.5-point ride aboard Marquis Metal Works Draggin Up (Paradigm Bull Co./Marquis Metal Works).
In the world standings, Divino climbed from No. 17 to No. 16, while Swearingen rose from No. 14 to No. 12.
In the Rookie of the Year race, Divino maintained his No. 6 ranking, but inched within 148.75 points of the top spot, while Swearingen was elevated from No. 4 to No. 3, now 30.41 points behind No. 1 Kasel.
Elsewhere in the race, Ezekiel Mitchell (Rockdale, Texas) went 2-for-3 to conclude the North Carolina Unleash The Beast event seventh, earning $3,250 and 75 points. He is now fourth in the race, 46.25 points behind the No. 1 position.
In the bull pen, Heartbreak Kid earned his second YETI "Built for the Wild" Bull of the Event honors when he combined with Lockwood for a 90-plus-point score in the championship round. Marked 46.25 points, the bull score is just the eighth time a bull has been marked more than 46 points on the elite tour thus far in 2019.
The bovine athlete, who bucked twice, also tied for the second-best score of the event when he dispatched Shay Marks (Sunnybrook, Alberta) in 2.22 seconds in Round 1 to earn a 45.75-point bull score.
Heartbreak Kid's two trips allowed him to gain one position in the World Champion Bull race. Now ranked No. 4 in the world, up from No. 5, he trails No. 1 Smooth Operator (Dakota Rodeo/Rosen/Struve/Berger) by a slim 0.4 points.
Fans can relive all the action from the PBR Unleash The Beast's Wrangler Long Live Cowboys Classic on Monday, October 14, at 8:00 a.m. EDT on RidePass.com or via the RidePass mobile app.
CBS Sports Network will broadcast all the action from Championship Sunday, including Round 2 and the championship round, on Sunday, October 13 at 6:00 p.m. EDT.
The elite PBR Unleash The Beast will next travel to Nampa, Idaho, and Ford Idaho Center on October 18-19 with the Cooper Tires Take the Money and Ride, the final regular-season event of 2019. Action gets underway with Round 1 on Friday, October 18 at 7:45 p.m. MDT, concluding with Round 2 and the championship round on Saturday, October 19 at 6:45 p.m. MDT.
PBR Unleash The Beast
Wrangler Long Live Cowboys Classic
Greensboro Coliseum – Greensboro, North Carolina
Event Leaders (Round 1-Round 2-Round 3-Event Aggregate-Event Points)
1. Cooper Davis, 88-86.75-92.75-267.50-590 Points.
2. Jess Lockwood, 87-81.75-93.75-262.50-400 Points.
3. Mason Taylor, 81-87.5-88.75-257.25-280 Points.
4. Lucas Divino, 0-86.25-88-174.25-160 Points.
5. Daylon Swearingen, 0-89.5-0-89.50-115 Points.
6. Ramon de Lima, 83.5-85.75-0-169.25-80 Points.
7. Ezekiel Mitchell, 84.75-84.25-0-169.00-75 Points.
8. Cody Teel, 85.25-83.5-0-168.75-70 Points.
(tie). Claudio Montanha Jr., 0-88.25-0-88.25-70 Points.
10. Jose Vitor Leme, 0-87.25-0-87.25-50 Points.
11. Eduardo Aparecido, 85-0-0-85.00-45 Points.
12. Alan de Souza, 83-0-0-83.00-10 Points.
13. Brennon Eldred, 0-86-0-86.00-7.5 Points.
(tie). Taylor Toves, 0-86-0-86.00-7.5 Points.
15. Chase Outlaw, 0-85.25-0-85.25-5 Points.
16. Kurt Shephard, 82.5-0-0-82.50
17. Rubens Barbosa, 80.75-0-0-80.75
João Ricardo Vieira, 0-0-0-0.00
Derek Kolbaba, 0-0-0-0.00
Marco Eguchi, 0-0-0-0.00
Luciano De Castro, 0-0-0-0.00
Dalton Kasel, 0-0-0-0.00
Alisson De Souza, 0-0-0-0.00
Cody Jesus, 0-0-0-0.00
Stetson Lawrence, 0-0-0-0.00
Cody Nance, 0-0-0-0.00
J.B. Mauney, 0-0-0-0.00
Keyshawn Whitehorse, 0-0-0-0.00
Michael Lane, 0-0-0-0.00
Dylan Smith, 0-0-0-0.00
Scottie Knapp, 0-0-0-0.00
Junio Quaresima, 0-0-0-0.00
Shay Marks, 0-0-0-0.00
Brady Sims, 0-0-0-0.00
Gage Gay, 0-0-0-0.00
Gustavo Pedrero, 0-0-0-0.00
2019 PBR World Finals Standings
(Place, Rider, Events, Wins, Top 5's, Points, Total Winnings)
1. Jose Vitor Leme, 52, 10, 28, 6,221.66, $423,402.79
2. Jess Lockwood, 42, 14, 27, 5,900.00, $464,581.80
3. Chase Outlaw, 62, 10, 18, 5,037.50, $446,854.02
4. João Ricardo Vieira, 48, 5, 18, 4,482.50, $472,329.28
5. Cooper Davis, 30, 3, 14, 3,582.50, $258,935.45
6. Cody Teel, 46, 4, 12, 2,608.33, $206,053.29
7. Derek Kolbaba, 48, 3, 11, 1,936.66, $200,835.05
8. Marco Eguchi, 36, 2, 6, 1,905.00, $226,590.46
9. Luciano De Castro, 35, 0, 7, 1,870.00, $98,813.01
10. Dalton Kasel, 30, 2, 10, 1,667.91, $141,287.75
11. Mason Taylor, 36, 1, 9, 1,646.66, $93,702.06
12. Daylon Swearingen, 43, 6, 18, 1,637.50, $105,907.71
13. Ezekiel Mitchell, 53, 4, 9, 1,621.66, $89,151.64
14. Ryan Dirteater, 27, 1, 10, 1,618.33, $114,746.18
15. Alisson De Souza, 44, 3, 9, 1,524.16, $82,434.33
16. Lucas Divino, 43, 1, 7, 1,519.16, $87,473.97
17. Matt Triplett, 38, 1, 7, 1,442.50, $82,090.58
18. Claudio Montanha Jr., 42, 1, 4, 1,427.50, $136,045.48
19. Aaron Kleier, 37, 5, 21, 1,346.66, $61,468.90
20. Cody Jesus, 26, 1, 6, 1,255.83, $93,510.24
21. Stetson Lawrence, 43, 0, 9, 1,233.33, $86,231.70
22. Cody Nance, 44, 2, 8, 1,125.00, $92,603.85
23. Silvano Alves, 38, 2, 8, 1,041.66, $72,159.83
24. Alan de Souza, 25, 4, 6, 1,032.50, $61,563.06
25. Brennon Eldred, 40, 0, 7, 982.50, $84,282.41
26. Dakota Buttar, 43, 5, 15, 937.50, $63,675.21
27. Eduardo Aparecido, 31, 0, 6, 915.00, $101,683.50
28. Joe Frost, 26, 1, 3, 904.16, $44,730.57
29. J.B. Mauney, 21, 1, 2, 899.16, $67,076.53
30. Keyshawn Whitehorse, 36, 1, 7, 890.00, $66,823.27
31. Rubens Barbosa, 43, 0, 8, 865.00, $66,515.49
31. Michael Lane, 35, 2, 7, 865.00, $35,375.33
33. Cannon Cravens, 27, 0, 4, 850.00, $74,729.99
33. Brady Fielder, 31, 7, 15, 850.00, $41,931.97
35. Taylor Toves, 44, 2, 6, 801.66, $51,724.58
36. Dylan Smith, 47, 3, 7, 714.16, $42,075.51
37. Colten Jesse, 18, 0, 1, 686.66, $54,716.65
38. Cliff Richardson, 23, 2, 8, 670.00, $28,987.12
39. Jared Parsonage, 40, 2, 15, 660.00, $60,084.71
40. Ramon de Lima, 25, 1, 3, 605.00, $29,878.27
41. Scottie Knapp, 40, 2, 8, 595.00, $46,507.37
42. Danilo Carlos Sobrinho, 27, 1, 3, 585.00, $38,528.35
42. Kurt Shephard, 30, 1, 8, 585.00, $44,012.80
44. Junio Quaresima, 36, 1, 4, 530.00, $37,329.11
45. Cody Heffernan, 16, 4, 7, 522.50, $21,953.35