Outlaw and Fearless set for heavyweight battle in Greensboro
By : Justin Felisko
October 12, 2019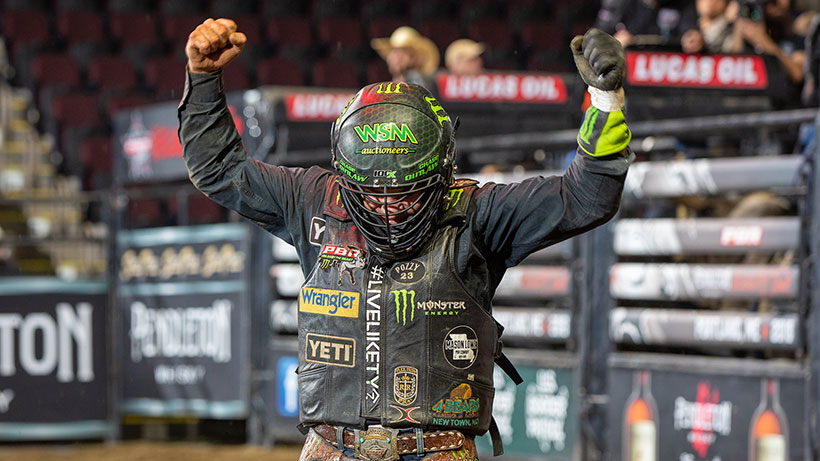 GREENSBORO, N.C. – Two athletes with everything to gain are ready for a heavyweight battle on Saturday night inside Greensboro Coliseum.
Chase Outlaw – the No. 3-ranked bull rider in the world – has drawn Fearless – the No. 3- ranked bull in the world – for Round 1 of the Wrangler Long Live Cowboys Classic.
Both rider and bovine athlete are in search of precious points toward their respective world title races.
For Outlaw, he heads into the second to last Unleash The Beast regular-season event 1,139.16 points behind world No. 1 Jose Vitor Leme.
Meanwhile, Fearless is looking to get back on track after surrendering three consecutive rides in his last three outs. Fearless needs a 45-point bull score or higher on Saturday night to increase his World Champion Bull average score of 45.56 points.
"That is a cool matchup," stock contractor H.D. Page said. "What are they both? No. 3 in the world coming into the deal? They are both looking for a big win.
"Fearless needs him to ride him four jumps and he needs to jerk him over and break loose and have a big showing at the end. And Outlaw needs to sit up there and ride the shit out of him."
Fans can watch the marquee matchup exclusively on RidePass beginning at 6:30 p.m. ET.
Fearless normally bucks in the championship round or 15/15 Bucking Battle. However, D&H Cattle Company wants to increase some of their bulls' World Champion aspirations by bucking them in Round 1 and the championship round this weekend.
The 2019 World Champion Bull will be the bull with the highest average bull score from their top eight regular-season outs and two outs at the PBR World Finals.
Smooth Operator is currently the No. 1-ranked bull in the world with a 45.81-point World Champion Bull average.
Therefore, Fearless, No. 5 Heartbreak Kid (45.06), No. 9 Frequent Flyer (44.81) and No. 19 Cool Customer (44.38) will be bucking twice this weekend.
"Just hoping for a good score," Page said. "Just to increase their total going into the Finals. If they knock out two big scores out there, both of those bulls can erase a fairly average or mediocre score. If I can erase a lower score, I help my chances at winning Bull of the Year. It is anyone's ballgame going in, but realistically if you are trying to overcome a point or two over two outs at the Finals, you have a legitimate shot. If you are trying to overcome three or four points, then you are talking about your bull has to score 47 twice against another good bull's 45 twice."
"And you know Smooth Operator is going to knock out a couple of 45s even if he has an average day. That is what he is. He is that good of a bull. That is what I am trying to catch. I have the bulls to win it, but they have to get the scores."
Outlaw and Fearless have the potential to team up for 90-plus points on Saturday night.
Fearless has been for 90 or more in two consecutive outs. Dalton Kasel first rode him for 92 points at in Nashville, Tennessee, in August. Matt Triplett then conquered Fearless for 90 points last month in Springfield, Missouri.
Outlaw is ranked third in the PBR with nine Unleash The Beast round wins in 2019.
Cooper Davis and Cool Customer, who Davis previously rode for 89 points at the 2018 Last Cowboy Standing PBR Major competition, also have 90-point potential on Saturday night.
Heartbreak Kid has drawn Shay Marks for Round 1, and Page has decided to buck the 6-year-old bull out of a left-handed delivery for a change.
"Just try to get a better score," Page said. "Try to get a better score. Well, I guess we will see how he does the first night and we may put him back on the right. I don't know."
Heartbreak Kid is currently amidst the second-longest, premier series buckoff streak in PBR history with 37 consecutive buckoffs.
The D&H Cattle Company bovine superstar is five outs away from tying three-time World Champion Bushwacker's all-time record of 42.
Cody Nance will attempt to end his streak of three straight buckoffs against Frequent Flyer.
Page will not be in Greensboro, but he has sent his trusted bull man Joey Hales to Greensboro.
This is likely D&H Cattle Company's last event before the Finals, but Page would not rule out a possible trip to Nampa. Those chances are slim, though.
"This will be our last event probably," Page said. "90 percent chance that I won't go to Nampa. If I decided to go up there, it would only be those 3 or 4 that I want to try and get in the conversation for bucking bull of the year this year."
Follow Justin Felisko on Twitter @jfelisko