Greensboro draw: Mauney returning in North Carolina
By : Justin Felisko
October 09, 2019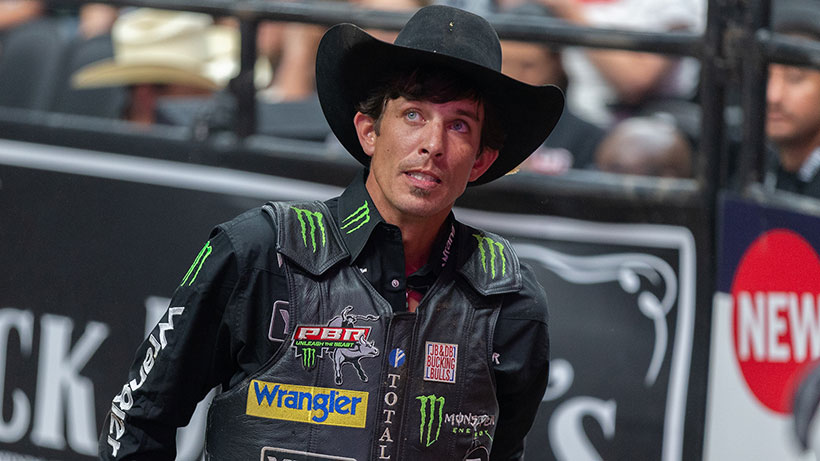 PUEBLO, Colo. – Two-time World Champion J.B. Mauney will be making a homecoming of sorts this weekend at the Greensboro Invitational.
The North Carolina native now calls Cotulla, Texas, home with his wife, Samantha, but J.B. has always been associated with the Tar Heel state.
Mauney's last event win in North Carolina came in 2013 in Fayetteville. He was the Greensboro Invitational Champion in 2012, riding Superfreak in the championship round for 89 points.
The 32-year-old will be competing for the first time since the U.S. Border Patrol Invitational in Fairfax, Virginia on Sept. 22 when he takes the dirt at the Greensboro Invitational this weekend.
Mauney decided to doctor out of last weekend's Minneapolis Invitational to give his injured right shoulder (torn rotator cuff) and left knee more time to rest.
The 14-year veteran continues to battle through those two injuries, as well as a multitude of others this season, as he closes in on his 14th consecutive PBR World Finals appearance.
Mauney expects to undergo reconstructive right shoulder surgery following the PBR World Finals next month. He also is considering getting his knee surgically repaired as well.
"There are guys that are on tour that are older than I am, but fans that have been watching the PBR since I started have watched me grow up and have seen the wrecks I have taken throughout my career," Mauney said in Fairfax. "They know how beat-up I am. If I would have come in when I was 27 years old it would have been a different story. From the time I was 19 years old until 32 I have got on bulls at (premier series) bull ridings every weekend I was able to go.
"That takes a toll on you, getting that rank of bulls every weekend for that long a time."
The No. 28-ranked bull rider in the world has said before he aspires to qualify for at least 15 consecutive PBR World Finals.
"I figure if I get surgery, that will give me six months to rehab and I should be feeling better. Right now, I am looking at coming back next year and to make the Finals," Mauney said. "My whole goal was to make the Finals at least 15 times in a row. As long as the shoulder surgery goes good and I feel good and I am ready to go, I will be here."
2004 World Champion Mike Lee qualified for 16 consecutive World Finals and 2008 World Champion Guilherme Marchi made 15 straight.
Mauney has drawn Why Hell Ya (0-1, UTB) for Round 1 on Saturday night. Chase Outlaw rode Why Hell Ya for 88 points in Billings, Montana.
Fans can watch Round 1 exclusively on RidePass beginning at 6:30 p.m. ET.
INJURY UPDATES – BUTTAR BEING CAUTIOUS WITH GROIN
No. 26 Dakota Buttar is not competing in Greensboro because of a right groin injury.
Buttar explained that he aggravated it last week during Round 2 when he was bucked off by Ol' Boy in 6.47 seconds.
The 26-year-old has been bothered by the injury ever since competing for Team Canada at the 2019 WinStar World Casino & Resort Global Cup USA, presented by Monster Energy.
Buttar says the injury is nothing too serious, but he does not want to risk doing further damage with the 2019 PBR World Finals less than a month away.
"Just being cautious," Buttar said. "At the Global Cup earlier this year it was bothering me, and went away after couple weeks and kind of flared up a bit on that bull on the weekend. Don't want to push anything this close to Finals."
Buttar is one of seven Top 35 riders unable to compete in Greensboro. Also not riding is No. 11 Ryan Dirteater (broken ribs, collapsed lung, lacerated liver), No. 19 Aaron Kleier (declined UTB spot), No. 23 Silvano Alves (ruptured kidney), No. 27 Joe Frost (broken right leg), No. 33 Brady Fielder (declined alternate spot) and No. 33 Cannon Cravens (broken left leg).
Dirteater is continuing to progress from his injuries and underwent an MRI this week on his liver. He is still waiting for the results.
Meanwhile, Frost says he will be ready for the 2019 World Finals after getting a custom brace built by Bob Larsen and David Osteyee of Sportsmed Physical Therapy in Bountiful, Utah.
"They built me a hard shell with padding," Frost said via text message. "It will offer protection and extra stability. It's doing good. Main thing is just giving the bone plenty of time to heal, but I'm doing pretty much everything now. Just no impact landings."
NO. 37 REMAINS THE CUTOFF FOR WORLD FINALS
Three-time World Champion Silvano Alves (ruptured kidney) and Aaron Kleier (declined opportunity to compete on the Unleash The Beast) will not be occupying a Top 35 World Finals qualification spot once the Finals begin.
Therefore, No. 37 Colten Jesse is hanging onto the final qualification spot for the PBR World Finals, but the injured Oklahoman is likely going to lose that spot before the Finals begin on Nov. 6-10 as he continues to recover from right shoulder surgery.
There are seven riders ranked below Jesse competing in Greensboro this weekend attempting to bump him out of the cutoff spot.
No. 40 Scottie Knapp (91.66 points back of Jesse), No. 41 Kurt Shephard (-101.66 points), No. 43 Junio Quaresima (-156.66 points), No. 44 Ramon de Lima (-161.66 points), No. 46 Shay Marks (-226.66), No. 73 Gage Gay (-426.66 points) and No. 106 Gustavo Pedrero (-526.66 points).
Lima, who broke his collarbone earlier this season, went 3-for-3 last weekend to win the Huntington, West Virginia, Pendleton Whisky Velocity Tour event, jumping from No. 64 to No. 44 in the world standings. The 2018 World Champion contender is riding on the UTB for the first time since being cut on March 2.
The 28-year-old has drawn Newt (1-1, UTB) for Round 1.
Pedrero is making his regular-season premier series debut after previously riding at three PBR World Finals as an international invite.
The 32-year-old Hispanic invite has drawn Outlaw (4-1, UTB).
No. 36 Dylan Smith is also in the draw as an alternate, and he leads No. 38 Cliff Richardson by 44.16 points.
Smith, who grew up an hour and a half away in Ararat, Virginia, takes on Short Pop (13-3, UTB) on Saturday night. Short Pop previously bucked Smith off in 6.71 seconds in Billings, Montana.
DAVIS VS COOL CUSTOMER HIGHLIGHTS ROUND 1 REMATCHES
Cool Customer is one of four D&H Cattle Company bulls bucking in Round 1 and the championship round this weekend – Fearless, Heartbreak Kid, and Frequent Flyer are the others.
Cooper Davis has drawn Cool Customer for Round 1 and will be looking to replicate his 89-point ride on Cool Customer from the 2018 Last Cowboy Standing event in Las Vegas. Cool Customer bucked Davis off in 6.55 seconds this summer at the Days of '47 Cowboy Games & Rodeo.
Cody Nance has bucked off three times against Frequent Flyer, while Scottie Knapp has the other rematch against Big City. Big City bucked Knapp off in 4.03 seconds in Columbus.
TOP 4 RIDER MATCHUPS
World leader Jose Vitor Leme takes a 671.66-point lead on Jess Lockwood into Greensboro.
Leme has drawn Silent Night (1-0, UTB) for Round 1, and Lockwood will take on Red Solo Cup (0-1, UTB).
Meanwhile, No. 3 Chase Outlaw (-1,139.66) has a rank matchup against Fearless (19-4, UTB). The No. 3-ranked bull in the World Championship race has been ridden in two consecutive outs for 90 or more points.
No. 4 Joao Ricardo Vieira (-1,709.66) has drawn Sambuca (1-1, UTB).
Follow Justin Felisko on Twitter @jfelisko