Montana Silversmiths' Women of the PBR- Strong Ties: Kate Harrison
By : Darci Miller
October 09, 2019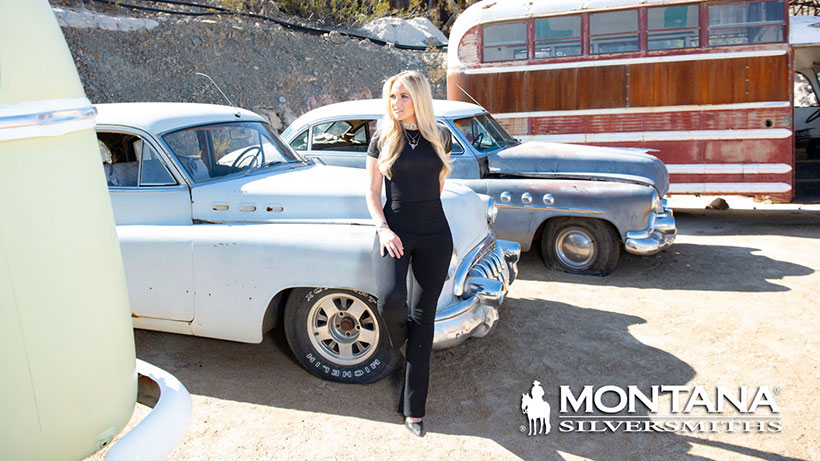 They say that behind every great man is a great woman. You'll hear no arguments from the PBR family.
From wives, mothers and girlfriends to stock contractors and broadcasters, the Women of the PBR play many important roles.
Throughout the 2019 season, we'll be sharing some of their perspectives on the PBR, fashion and the Western lifestyle.
In today's Q&A, we chatted with PBR broadcaster Kate Harrison about her PBR family, becoming a mom and the staple items in her TV wardrobe.
PBR.com: Thanks for chatting with us today, Kate! To start things off, how long have you been with the PBR?
Kate Harrison: My first show was in fall of 2016, in Charlotte, North Carolina.
PBR.com: When you first started, who was the first person make you feel welcome?
KH: One of the very first was Ty Murray. He was the analyst for that show, and at that time, he was engaged to Paige. And right when I met him, he took me around, introduced me to everyone on the TV production side, the riders, and just the whole PBR family. And he told me, "You've got to meet my fiancé, you've got to meet her, you're going to love her." So then I met Paige that day as well, and Daniel was with me, and the four of us just hit it off instantly. It was pretty neat that someone who's such a legend in the sport was so welcoming on day number one. It immediately made it feel like family, which was pretty neat.
PBR.com: What are your relationships like in the PBR? You were saying it felt like family right away?
KH: Yeah, and I think that goes from the riders to their wives and their families, and then also on the production side and the road crew and everyone who makes TV happen week in and week out. It's been pretty neat. Daniel and I talk a lot about it. At all the jobs I've had, I've never had one that's so much felt like you have a family on the road. Which is super special, especially now with us bringing a little one into the world, just knowing that every weekend, he's going to have a family and kids to grow up with. And so many of the wives have told me, "Don't even worry about it, can't wait to take care of him, can't wait to hold him and help Daniel." So just knowing that we have that special bond, it's a really neat family.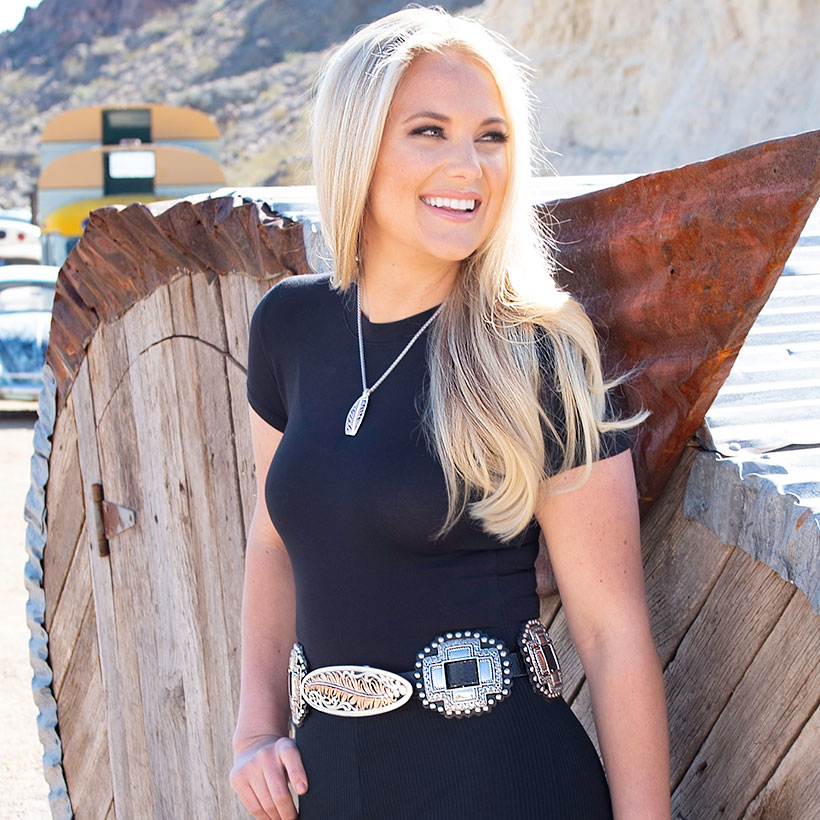 PBR.com: What's been the reaction to you being pregnant? Has anything changed?
KH: It's been incredible. I'll start, since I mentioned it, on the side with the riders and their families. Just knowing that when I am going to be so busy with work and with the shows going on, that our little boy will have so many aunts and uncles and cousins on the road is just so special and comforting. And then from the TV side, instantly, they welcomed him into the family, and everyone has been so accommodating. And taking a little one on the road… I've never done it before, but from what everyone says it can be so tough, and it just eases our nerves and calms us in so many ways, knowing that he's so welcomed before he's even here with us. It's just really special.
PBR.com: Tell me about your on-air coworkers. How did you guys come together and gel as a unit?
KH: It happened so quickly. From the very first show I ever did, they just let me know that I was part of the team, and anything they could do to help me, they wanted to do. And they were so welcoming right away, which was really neat. They feel like older brothers that I've never had. Our TV meetings are so full of laughter and fun. It's something I look forward to every single week, seeing them and all of us hanging out together. It kind of makes the shows second-nature, because it's just a continuation of the conversations that we already have. It's always jokes and fun, but at the same time, they're the most professional men I know in the business, so it's a really good balance.
PBR.com: Do you have close relationships with the wives and the female stock contractors?
KH: Yeah, and it's really funny, we always say it's the PBR wives and then Daniel is my PBR husband. [laughs] So he ends up hanging out with a lot of the wives and getting to know them when I'm hanging out with a bunch of their husbands and boyfriends, getting their stories and working with them. But I absolutely adore the wives that come on the road. It's a lot of what the wives do behind the scenes that make the riders who they are. And the riders and wives, we see them more often than we see family because we're spending weekends with them, we're going to dinner with them, we're getting to know their kids. I could go down the list, but gosh, there's at least I feel like 20 of them I would say I feel like have just become family, that I always look forward to seeing when they're on the road, and I miss them the events that they don't come to.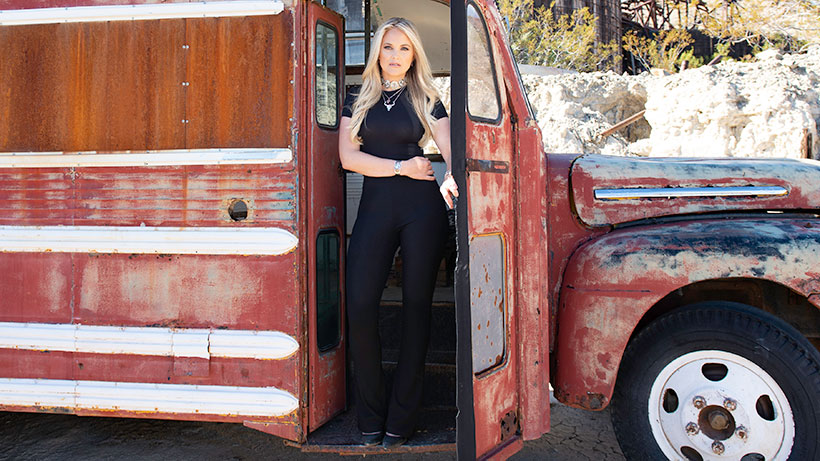 PBR.com: Moving into fashion, what's your favorite item of clothing or trend these days?
KH: I would say the boots. I always love switching up a good pair of boots, and these days there's so much you can do with them, because no matter what jeans, t-shirt and blazer you're wearing, you can throw on a fun pair of boots and it just makes the outfit. So I'd definitely say a good pair of boots. And then for my job, it has to not only be a stylish pair of boots, but a comfortable pair of boots. [laughs] So for me, that's my go-to. You don't even see them on camera but I always feel like a good pair of boots makes an outfit and just makes you that much more confident.
PBR.com: What's one item of clothing or jewelry that's your staple, that we'll never see you without?
KH: A good black blazer. Because in my role, I'm trying to find a mix of Western fashion and business professional fashion, so I call it business Western. Don't even know if that exists, but I kind of make it exist, because I want to bring a professionalism to it that you see if you're watching NFL on Sundays or Monday Night Football, but at the same time, it's such a fun industry where Western fashion has just so many unique and stylish clothing options, that I try and find a mix of the two. So I call it Western professional. [laughs]
PBR.com: What is it you like about Montana Silversmiths jewelry?
KH: I like how timeless their pieces are. I'm a fan of mixing silvers with golds, and rose golds, even. So I like that their pieces are so timeless that I could mix and match them, and kind of create a new fresh look. And at the same time, a lot of their new pieces have a fresh, edgy feel to them, which is something I like to be able to mix.
You can check out the latest collections with Montana Silversmiths here. Stay tuned next month as we talk with another of the Women of the PBR.