Trip home to Montana helped Lockwood relax amidst chaotic title race
By : Justin Felisko
October 09, 2019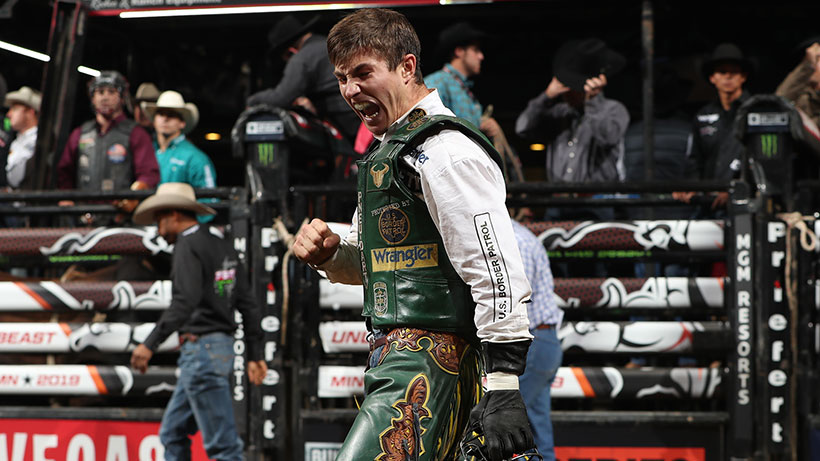 PUEBLO, Colo. – Jess Lockwood woke up early last week in Volborg, Montana, and rolled out of bed to meet his father, Ed, outside on the family ranch to begin a hard day's work.
It is a busy time of year for the Lockwoods as they begin to make final preparations to sell some cattle later this fall.
Going home to southeastern Montana allows the three-time Montana state high school bull riding champion to somewhat escape the hustle and bustle of the 2019 PBR World Championship race.
Lockwood was able to focus on the simple things such as sorting cattle, getting pens built and working on the bunkhouse on his own property instead of worrying about world points, bulls drawn or stiff competition from world No. 1 Jose Vitor Leme, No. 3 Chase Outlaw and No. 4 Joao Ricardo Vieira.
"We are sorting pastures and all sorts of stuff," Lockwood said. "I am back home. I feel more comfortable at home in Montana during the fall. I love Texas at times of the year, but not this time of year when we are busy at home and I need to be at home to help out."
It was a welcomed trip home for Lockwood after he knew he had to "shake things off" following a disappointing 0-for-2 showing at the U.S Border Patrol Invitational in Fairfax, Virginia, and another 0-for-2 performance at the Pendleton Whisky Velocity Tour event in Portland, Maine.
The trip home also allowed Lockwood to train in his personal workout shed and prepare for the Minneapolis Invitational.
Lockwood revealed this weekend in the Twin Cities that he had actually been feeling under the weather for the last few weeks, but that he did not want to make any excuses for his 1-for-7 slump.
"No excuses," Lockwood said. "Fairfax and the last week (before Portland) I was a little sick and it just took it out of me during the week. I pretty much slept in every day until 2 or 3 in the afternoon, just being sick. Then I didn't have the energy to do anything. I didn't even work out those weeks. I didn't have any energy. Then heading into (Portland) I was not too confident after not working out."
Lockwood, though, felt prepared for Minneapolis following some time in Volborg, and the results backed up his pre-event feelings.
The 22-year-old won the 15/15 Bucking Battle with a 91.5-point ride on Bad Beagle and finished third overall in the regular-formatted event for 420 world points.
Lockwood is the PBR-record holder for most 15/15 Bucking Battle victories in one season (4).
"It is not a fluke for Lockwood," two-time World Champion Justin McBride said of Lockwood's 15/15 success during the CBS national television broadcast. "This guy, it doesn't matter. A direction is not important to Lockwood. He understands the mechanics of bull riding well enough that he can ride bulls in either direction."
Leme (60 world points), Outlaw (40 world points) and Vieira failed to pick up significant world points and went a combined 3-for-10 inside the Target Center.
Therefore, it was a big move for Lockwood, who cut Leme's lead in the world standings to 671.66 points with two Unleash The Beast events remaining before the 2019 PBR World Finals on Nov. 6-10 in Las Vegas.
RELATED: Lockwood takes gash out of Leme's lead
The UTB heads to Greensboro, North Carolina, this coming Saturday and Sunday.
Fans can watch Round 1 from Greensboro beginning at 6:30 p.m. ET Saturday night on RidePass. CBS Sports Network will carry Championship Sunday at 6 p.m. ET Sunday.
"Fairfax got in my head a little bit, knowing I didn't prepare going into the weekend," Lockwood said. "You see those guys go out in front of me and they rode so good. I was like, I didn't prepare. I am not ready for this. I am going to tie my hand in and give it everything I got, and it just didn't go good.
"Now we are all set."
Lockwood built off his ride on Bad Beagle to cover Tulsa Time (87 points in Round 2) and Gambini (89 points in the championship round).
In a great stat find by PBR play-by-play announcer Craig Hummer, Lockwood is an astounding 14-for-18 in championship rounds and 15/15 Bucking Battles this season (77.8%).
In comparison, Leme is 14-for-23 (60.86%), Outlaw is 8-for-27 (29.63%) and Vieira is 10-for-21 (47.61%).
The one number that will matter come the evening of Nov. 10 in Las Vegas will be which rider is listed at No. 1 on the final PBR world standings.
Lockwood overcame a 655-point deficit at the beginning of the 2017 Velocity Tour Finals when he won his World Championship.
A 600-point deficit is nothing new for the fourth-year pro.
"I go and do my job this weekend, it ain't nothing," Lockwood said. "I have three opportunities to do that. Given that (Leme) is going to do the same. He is going to ride and everything, but if I just don't give a shit to what he is doing and I focus on me, like I have been all year other than the last two weeks, it is nothing."
Follow Justin Felisko on Twitter @jfelisko