Alan de Souza's Minneapolis victory puts him on pace to join identical twin Alisson at PBR Finals
By : Justin Felisko
October 08, 2019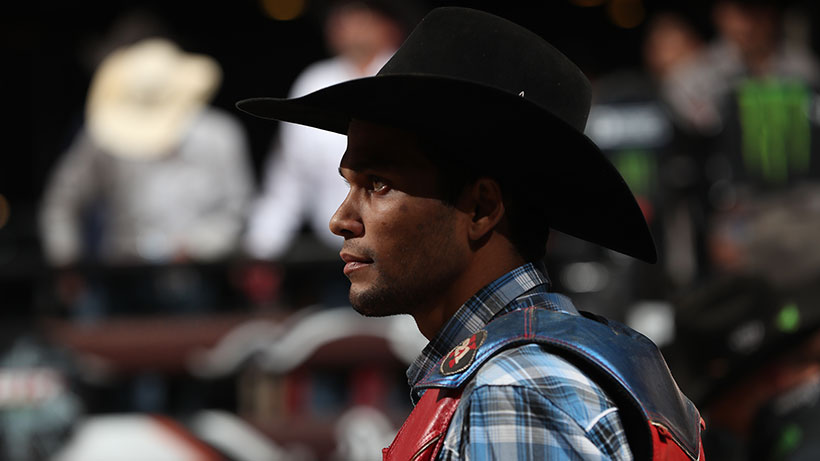 PUEBLO, Colo. – Alan de Souza glanced at the list of championship-round bulls for the Minneapolis Invitational and paused.
Souza, competing in only his fourth career Unleash The Beast event, then pointed at 323 Legit and asked his identical twin brother Alisson de Souza for his opinion.
This was how the two brothers often approached bull riding since they first started getting on calves in Taubate, Brazil, together.
They were each other's coaches, and biggest advocates and supporters, as they worked their way up from calves to steers to junior bulls to the rankest bulls in Brazil and today the United States of America.
Immediately, Alisson explained to Alan that Legit would likely be good fit for him.
"That would be the best one for you," Alisson recalled saying with the help of Paulo Crimber translating. "Legit can be a bunch of points if he stays hooked. Even if he jumps out of it, you are still going to be high."
Alisson has been competing in the United States since making his own premier series debut last year in Billings, Montana. He qualified for the 2018 PBR World Finals by winning the 2018 Velocity Tour championship at South Point Hotel Casino & Spa.
RELATED: Alisson overcomes homesickness to qualify for World Finals
Regardless, Alan did not need Alisson's credentials to consider him a voice of wisdom.
Their trust was born growing up in the state of Sao Paulo in southeastern Brazil.
"That is what we always do, we always are trying to help each other," Alisson said.
Alisson did not steer his brother wrong.
Alan easily rode Legit for a career-high 88.5 points before watching as Mason Taylor (1.72 seconds on Red Moon), Dalton Kasel (6.5 seconds on Rising Sun) and Cody Teel (3.42 seconds on Rocket Man) all bucked off to cement Alan the victory.
"Legit was a really good bull," Alan said with the help of Crimber. "He was real soft. Not strong, but kind of friendly. I was really lucky to have him left over for me in the draft. I am really happy to win the first event of my career."
Alan was the only rider in Minneapolis go to a perfect 3-for-3.
He began his march to victory with 85.75 points on American Gangster. He then converted on Twist of Barbwire for 85 points to enter the final round in fourth place.
"Alan rode really good all weekend," two-time World Champion Justin McBride told Craig Hummer on CBS Sports Network. "He rode the bulls he was supposed to in the long rounds, but when he got to the championship round, he took a pretty scary bull in Legit and didn't let that psych him out. He went and rode him for what he did and got the win."
Alan is the latest rookie bull rider to join the extremely talented 2019 class, and he has made a massive jump in the world standings in one week.
Alan, who missed a brief amount of time this summer because of a left shoulder separation, entered the Pendleton Whisky Velocity Tour's Portland Chute Out two weeks ago ranked No. 52. His victory in Portland coupled with his Minneapolis win has rocketed him up 28 positions to No. 24.
He will take a streak of six consecutive rides at all levels of competition into this coming weekend's Greensboro Invitational in Greensboro, North Carolina.
Fans can watch Round 1 from Greensboro beginning at 6:30 p.m. ET Saturday night on RidePass. CBS Sports Network will carry Championship Sunday at 6 p.m. ET Sunday.
Alisson is ranked 13th in the world standings, which means the twins will become the first pair of brothers since Adriano and Alan Moraes (2006) to qualify for the PBR World Finals together.
They are also the second set of twins to qualify for the season-culminating event, joining PBR co-founders Adam and Gilbert Carrillo.
"I am really happy because last year I was at the Finals, and I told my brother he needs to come over so we can make the Finals together," Alisson said. "I think this year it is going to work out."
Earlier this season, Alisson won the 15/15 Bucking Battle in Glendale, Arizona, and Alan won the Columbia, South Carolina, event on the same day.
Alisson would WhatsApp or FaceTime with Alan throughout his journey to the 2018 PBR World Finals last season. Alan was unable to watch in real time so he would follow long as best he could through mutual friends.
The twins are extremely close and would often play PS4 during their time away from bull riding as a way to stay in touch last season.
Now they are sharing an apartment in Decatur, Texas, and will be making the 1,200-mile trek to Las Vegas for the PBR World Finals on Nov. 6-10 together.
"I am really happy," Alan said. "This is a dream come true."
Follow Justin Felisko on Twitter @jfelisko