LVCVA Road to Vegas: Leme closing in on Mauney's single-season record for most premier series round wins
By : Justin Felisko
October 03, 2019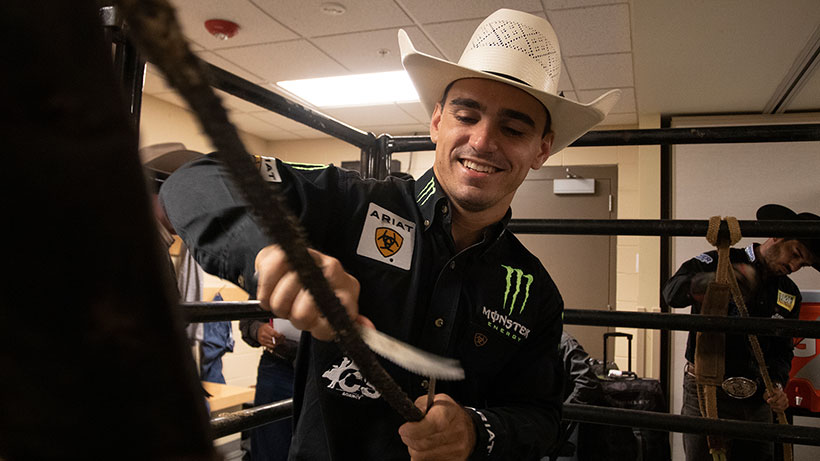 MINNEAPOLIS – It did not take very long for Jose Vitor Leme to become a household name among Western sports fans across the world.
That is just how things go when a rider comes out of nowhere to win the PBR World Finals at 21 years old by going a perfect 6-for-6.
It was not even just the fact that Leme rode all six of his bulls, or that he had just arrived in the United States for the first time a mere 10 days before leaving T-Mobile Arena with $416,000 in earnings.
It was how Leme won the 2017 Finals that stood out.
The former semi-pro soccer player flashed a tremendous amount of home-run hitting ability in Las Vegas that year, capping off his unimaginable week of perfection with a 94.5-point ride on Magic Train.
"That is the easiest way to knock the edge off," two-time World Champion J.B. Mauney recalled last month. "Show up at the World Finals and win it. Prove to yourself right then that you belong here."
Leme quickly rose to stardom following his unexpected, jaw-dropping victory in Las Vegas.
He also made it known that the Unleash The Beast is where he belongs, and where he would soon thrive.
All that Leme has done since his 2017 PBR World Finals victory is become one of the faces of the PBR. The current world No. 1 bull rider finished runner-up to 2018 PBR World Champion Kaique Pacheco last season, and this year he has pushed himself to new heights.
The No. 1 bull rider in the world leads the PBR with 17 round wins ahead of this weekend's Minneapolis Invitational. Leme only needs to win three of the remaining 16 rounds left this season to break Mauney's record for most premier series round wins in one season.
Mauney won 19 rounds in 2013 when he overcame a 1,662.5-point deficit to dethrone Silvano Alves and win his first world title in one of the greatest comebacks in PBR history.
The future Ring of Honor's ability to ride the rankest bulls in the PBR, his fearlessness and his all-or-nothing mentality are just some of the reasons Mauney is the most popular bull rider in the industry.
Mauney's approach to the sport – and stardom – is something Leme knew he wanted to mimic when he decided to move to the United States and pursue multiple gold buckles.
"I always admired J.B. because he always got the rank bulls," Leme said earlier this season with the help of Paulo Crimber translating. "He always goes after to win the rounds, win the events and ride the bulls nobody has ever rode. This is what I try to do. I try to do the same that he did. I try to pick the rank bulls. I try to win rounds. I try to win. J.B. became a favorite because of that and I want to become a fan favorite because of that, too."
Leme heads into Round 1 of the Minneapolis Invitational (RidePass 8:30 p.m. ET) with a 1,031.66-point lead on No. 2 Jess Lockwood.
Awesome Man (0-0, UTB) awaits Leme on Friday night at the Target Center. So too does Space Force (2-0, UTB) in the 15/15 Bucking Battle.
Fans can watch the 15/15 Bucking Battle exclusively on CBS national television Sunday at 6 p.m. ET.
No. 3 Chase Outlaw (-1,119.16) and No. 4 Joao Ricardo Vieira (-1,724.16) are the only other riders within the crucial 2,000-point deficit mark that a rider likely needs to be within to have a realistic shot at the world title come Finals.
Meanwhile, Mauney withdrew from Minneapolis on Thursday morning because of his ongoing battle with his shoulder and knee injuries. No. 50 Brady Sims replaced him in the draw.
"Leme is a good bull riding son of a (gun)," Mauney said in Fairfax, Virginia. "He can ride any type of bull. You see some guys come and certain bulls fit their style. It don't matter to him. He can ride any one of them at any time."
Mauney admitted he never believed he would go on to inspire young bull riders all over the world the way he has.
2008 World Champion Guilherme Marchi and three-time World Champion Adriano Moraes would often tell Mauney he is one of the most popular riders in Brazil.
"I never thought of that," Mauney said before adding with a laugh, "I think Leme works out a little more than I do. Other than that, each to their own. Some guys go about it different. I always figured that would work best for me. Let it all hang out all the time and it will pay off. It looks like he does the same thing. It doesn't matter what bull he gets on, you can bank on him staying on."
Leme is 42-for-78 (53.85%) this season on the Unleash The Beast with a PBR-best 11 90-point rides. He is also tied with Lockwood and Outlaw for the most premier series event wins in 2019 (4).
Leme's 19 career 90-point rides on the premier series through his first 48 events is 13 more than Mauney's six 90-point rides he had through his first 48 events. Mauney is currently tied with two-time World Champion Justin McBride for the second-most 90-point rides (74).
If Leme continues at his current pace, the third-year pro may also win a world title at 23 years old, which would be three years younger than when Mauney won his 2013 gold buckle at 26.
"He is young," Mauney said. "He will be a World Champion long before I was. It took me quite a few years to be a World Champion, and he will be there a lot faster than I ever thought about being. There is always going to be someone who comes around who will break records. It happens every couple of years. Somebody will show up and tear every record down. There will be another young guy who shows up and they will tear them records down. That is just how it goes. You are only on the top for so long."
Lockwood became the youngest PBR World Champion in 2017 when he won his gold buckle at 20 years old.
Leme is humbled and appreciative of the success he has had so far in his brief career, but he knows he still has work to do, in particular to win a gold buckle, before entering the same category as Mauney.
"It makes me very happy and proud that I am going on the right path," Leme concluded. "Right now, I am behind him, but I am going in the right direction. It is working out great for me. To follow in his footsteps is working for me right now."
Follow Justin Felisko on Twitter @jfelisko