Minneapolis draw: Jesus set to return as rookie race continues to intensify
By : Justin Felisko
October 02, 2019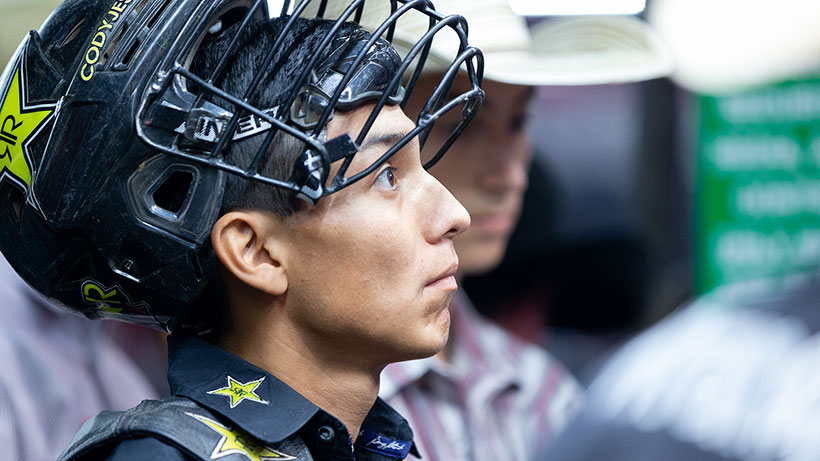 PUEBLO, Colo. – The 2019 PBR Rookie of the Year race is already tight as can be with just 85 points separating the top three rookie riders in the world standings.
Go a little farther down the standings and only 291 points is the difference between Rookie of the Year leader Ezekiel Mitchell and No. 7 rookie Cody Jesus.
That deficit may become that much smaller following this weekend's Minneapolis Invitational on Friday and Saturday night with Jesus returning to competition.
Jesus, the No. 19-ranked rider in the world, is competing for the first time since he left the Anaheim Invitational with an aggravated left groin injury.
The 21-year-old was one of the league's most promising rookies earlier this season before he tore his groin on March 30 in Tacoma, Washington.
Jesus has never really been the same since the injury, which he also aggravated on May 19 at the Ty Murray Invitational.
Jesus has missed the last two Unleash The Beast events, and he is only 6-for-19 since the injury. However, he did ride three-time World Champion SweetPro's Bruiser for 90.25 points in Tulsa, Oklahoma.
When Jesus takes on Tulsa Time (0-0, UTB) in Round 1 at the Target Center Friday night, it will have been 27 days since he was bucked off by Red Man in Anaheim, California.
RELATED: Round 1 Minneapolis draw
Jesus has been icing his groin, drinking a lot of water and doing various stretching exercises to help strengthen the muscle.
"It feels better," Jesus said. "The break was well needed and I'm ready for the last couple events."
Fans can watch all of Round 1 exclusively on RidePass beginning at 8:30 p.m. ET.
Jesus also tested out the groin this week in the practice pen.
"Three easy ones on Sunday. A couple yesterday, and today I'm going to step it up a bit," Jesus said.
Mitchell has drawn Catfish John (38-20, UTB) for Round 1 and leads No. 2 rookie Alisson de Souza by 47.5 points.
VETERANS LAWRENCE AND NANCE ALSO BACK IN ACTION
Longtime vets Stetson Lawrence and Cody Nance are also returning to competition in Minneapolis.
Lawrence has missed a month and three events weeks because of a herniated disc in his back, while Nance took two weeks off, missing one UTB event (Fairfax).
Nance said he spent the last two weeks not just resting a series of nagging injuries, including a sprained left sternoclavicular joint, but also getting back into fighting shape.
"Feeling good," Nance said. "I worked really hard. I'm at 160 in weight and firing on all cylinders."
The 10-time PBR World Finals qualifier has lost 10 pounds since fans last saw him ride in Springfield, Missouri, according to Nance.
He has been running, practicing yoga and doing Insanity workouts.
"I started running in Springfield and just been working out every day, and now sometimes twice a day," Nance said. "It just depends, and bow season just opened up for white tail, too."
ALTERNATES FOR MINNEAPOLIS
No. 38 Scottie Knapp, No. 41 Kurt Shephard, No. 42 Alan de Souza, No. 44 Junio Quaresima, No. 48 Ruger Piva, No. 49 Ouncie Mitchell and No. 78 Junior Patrick Souza are competing in Minnesota as alternates.
They are replacing No. 10 Ryan Dirteater (broken ribs, collapsed lung, lacerated liver), No. 21 Aaron Kleier (declined UTB spot), No. 22 Silvano Alves (ruptured kidney), No. 26 Joe Frost (broken right leg), No. 31 Cannon Cravens (broken left leg) and No. 32 Brady Fielder (declined alternate spot).
Knapp is the first-man outside of the No. 37 World Finals bubble.
He trails No. 37 Jared Parsonage, who declined an alternate spot in Minneapolis to continue his pursuit of the PBR Canada title this weekend, by 55 points.
Knapp has drawn Mighty Moe (0-0, UTB) for Round 1. Mighty Moe is one of 17 Canadian bulls set to buck in Minneapolis, according to the PBR competition department.
Two-time World Champion J.B. Mauney (shoulder/knee) is OUT for Minneapolis. Replaced by Brady Sims. Mauney says he should be back for Greensboro, but wants to give his body one more week of rest.

— Justin Felisko (@jfelisko) October 3, 2019
MSP BUBBLE WATCH
No. 37 Jared Parsonage (650)
No. 38 Scottie Knapp (-55 points)
No. 41 Kurt Shephard (-85 points)
No. 42 Alan de Souza (-87.5 points)
No. 44 Junio Quaresima (-182.5 points)
No. 48 Ruger Piva (-237.5 points)
No. 49 Ouncie Mitchell (-244.17 points)
Alan de Souza and Mitchell are in Minneapolis thanks to their recent performances on the Pendleton Whisky Velocity Tour.
Souza won the Portland Chute Out last weekend by going 3-for-3, while Mitchell – Ezekiel Mitchell's cousin – placed second in Syracuse, New York, two weeks ago for 122.5 world points. Ouncie is attempting to make a late push for the 2019 PBR World Finals (Nov. 6-10) following a broken leg that held him out of competition for essentially five months.
No. 78 Junior Patrick Souza is making his UTB following his 3-for-3 victory in Syracuse.
The 26-year-old has been riding in the United States for the first time this year, and he is a combined 15-for-41 (36.59%) at all levels of competition. Prior to 2019, Souza was 32-for-43 (74.42%) in 11 career PBR Brazil events.
Souza finished fifth at the 2017 PBR Brazil Finals, which was won by a fellow named Jose Vitor Leme.
SPEAKING OF LEME
The world No. 1 bull rider takes a 1,031.66-point lead atop the world standings into Round 1.
The 23-year-old faces Awesome Man (0-0, UTB) in Round 1, while No. 2 Jess Lockwood has drawn Lethal Larry (2-5, UTB).
Lockwood has bucked off four consecutive bulls at all levels.
ROUND 1 REMATCHES
There are only two rematches Friday night. Derek Kolbaba vs. Acting Crazy (2.57 seconds in Thackerville, Oklahoma, in 2016) and Ouncie Mitchell vs. Mad Child (3.84 seconds earlier this season in Little Rock, Arkansas).
Follow Justin Felisko on Twitter @jfelisko