Outlaw: 'I chose to build myself back up'
By : Justin Felisko
October 01, 2019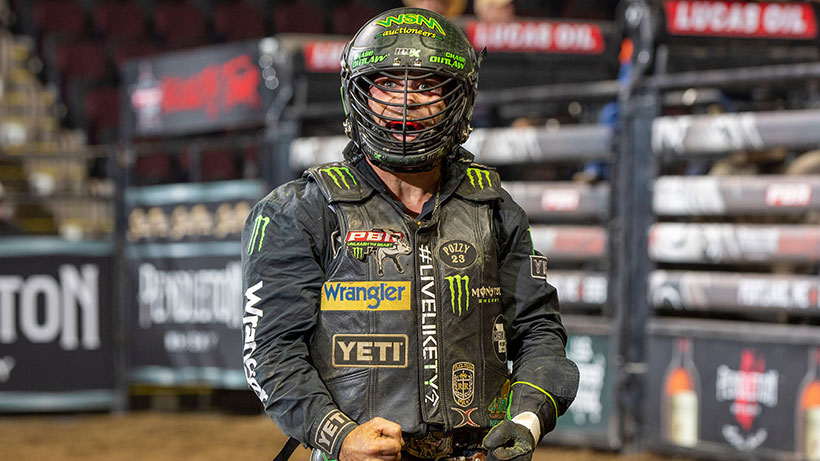 PUEBLO, Colo. – Chase Outlaw was facing two choices when he woke up on Sept. 16, a day after falling 1,539.16 points behind world leader Jose Vitor Leme.
Outlaw was mired in a 4-for-14 slump since winning the 15/15 Bucking Battle in Houston on Aug. 10, and his 2019 world title aspirations were beginning to flicker with Leme winning back-to-back events.
"When you get defeated it can frustrate you," Outlaw, who had earned only 32.5 world points in one month, said. "You can go either two directions. You can keep spiraling downhill, or you can build your way back up. I chose to build myself back up because, like I have said before, what don't break you will build you, and that is what separates the men from the boys."
Outlaw broke out of his slump in a major way two weeks ago by going a perfect 3-for-3 to win the U.S. Border Patrol Invitational in Fairfax, Virginia, and boost himself right back into the thick of the world title race.
The 27-year-old did not stop there either.
He then went 2-for-3 this past weekend at the Pendleton Whisky Velocity Tour event in Portland, Maine, for a fourth-place finish and 67.5 points.
Outlaw had a chance at the victory on Saturday night before Comanche bucked him off in 7.19 seconds inside Cross Insurance Arena. It was a tough way to end his weekend following an 87-point ride on Blockbuster and 88-point ride on Shadow's Recruit, which tied him with Marco Eguchi for the Round 2 victory.
Regardless, Outlaw has sliced Leme's lead to a much more manageable 1,119.16 points heading into this weekend's Minneapolis Invitational.
"If you don't believe you are deserving to be on top of that mountain, then you are never going to get there," Outlaw said in Virginia. "I believe I deserve it, but when you deserve something, that does not mean you necessarily get it. There are a lot of people who deserve things who never get it. You have to make sure you go take it."
Leme also failed to convert in the championship round in Portland as Chain Smoker bucked him off in 5.14 seconds.
Meanwhile, No. 2 Jess Lockwood and No. 4 Joao Ricardo Vieira each went 0-for-2 in Portland.
Outlaw said he got back to riding relaxed and having fun in Fairfax.
Following the first night of competition, Outlaw and Brennon Eldred even played video games at Dave & Busters until 1:30 in the morning.
"We had sweat pouring out of us," Outlaw said with a laugh. "As of right now, you damn right I am back to having fun."
Outlaw also took some time to remember the basics of bull riding prior to his Fairfax victory.
The week ahead of Fairfax, Outlaw invited a family friend over to his ranch to show him some of the ins and outs of bull riding
The 12-year-old, Lamont, had wanted to get on bulls for a while and Outlaw decided to give him the opportunity.
"He is just gritty and tough as boot leather," Outlaw said. "I got him to come over my house and we rode the buckrite and went and put him on some bulls for the first time. He rode them until we couldn't load no more.
"That is what it is all about. Helping pave the way for newcomers. To show a kid the basics, really you are telling yourself, so it is working both ways."
Minneapolis is one of three remaining regular-season Unleash The Beast events before the 2019 PBR World Finals on Nov. 6-10 in Las Vegas. Fans can watch Round 1 action from Minnesota exclusively on RidePass beginning at 8:30 p.m. ET.
Friday night is the last 15/15 Bucking Battle of 2019 as well. The 15/15 airs on CBS national television at 6 p.m. ET on Sunday.
Outlaw has drawn Talking Smack (26-4, UTB) for the 15/15 Bucking Battle.
15/15 Bucking Battle Matchups
Lucas Divino vs. Big Black (18-7, UTB)
Dalton Kasel vs. Stretch (14-6, UTB)
Matt Triplett vs. Smooth Operator (66-7, UTB)*
Daylon Swearingen vs. Magic Train (47-6, UTB)
Alisson de Souza vs. Arctic Assassin (7-4, UTB)
Ezekiel Mitchell vs. Red Dawn (21-5, UTB)
Derek Kolbaba vs. Biker Bob (25-7, UTB)$
Luciano de Castro vs. Safety Meeting (3-1, UTB)
Marco Eguchi vs. Apper's Mind Freak (18-3, UTB)
Cody Teel vs. Mason's Missouri Golden (16-1, UTB)
Cooper Davis vs. Big Black Cat (33-11, UTB)$
Joao Ricardo Vieira vs. Soup in a Group (24-2, UTB)*
Chase Outlaw vs. Talking Smack (26-4, UTB)
Jess Lockwood vs. Bad Beagle (27-6, UTB)*
Jose Vitor Leme vs. Space Force (2-0, UTB)
*Rematch
$Rider successfully rode the bull previously
There is one remaining Velocity Tour event – the Rapid City Rumble on Oct. 26 – that does not overlap with a UTB event weekend.
"I ain't relaxed since Nov. 12 of 2018," Outlaw said. "I don't plan on relaxing."
Outlaw concluded his 2018 season on Nov. 11 with a third-place finish at the 2018 PBR World Finals.
The seven-time PBR World Finals qualifier still has work to do if he wants to ride at the Pendleton Whisky Velocity Tour Finals. He is currently 61st in the Velocity Tour standings and is 107.5 points out of the Top 35.
Outlaw knows the importance of riding at the Velocity Finals, especially with Leme leading the Velocity Tour and having already qualified for the Nov. 2-3 event at South Point Hotel Casino & Spa.
However, don't expect Outlaw to be crunching numbers with a calculator any time soon.
There is only one thing on his mind when he shows up at the arena.
"I don't even check the draw, much less the standings," Outlaw concluded. "I am here to do one thing. It is not to score-keep, it is to ride."
Follow Justin Felisko on Twitter @jfelisko