Q&A: McBride talks setting expectations with potential riders for the 2020 Global Cup
By : Justin Felisko
September 20, 2019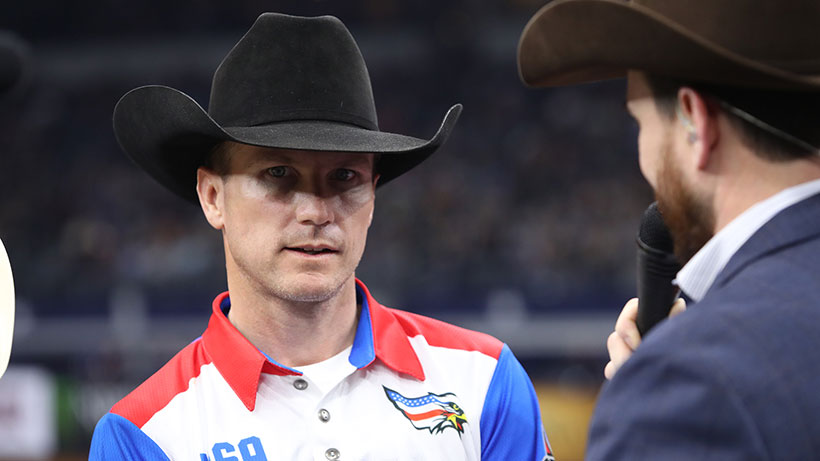 FAIRFAX, Va. – Team USA Eagles coaches Justin McBride and J.W. Hart sat front row at the JQH Arena last weekend during Round 1 of the PFIWestern.com Invitational as they continued to put the building blocks in place for the upcoming 2020 WinStar World Casino and Resort Global Cup USA, presented by Monster Energy.
Earlier in the day, McBride and Hart spoke with prospective members of their team during a luncheon at the Metropolitan Grille on East Battlefield Road.
The two coaches explained their goals and expectations to 10 riders – Cooper Davis, Jess Lockwood, Chase Outlaw, Cody Teel, Derek Kolbaba, Cody Nance, Matt Triplett, Mason Taylor and Dalton Kasel – discussing what they will be looking for when it comes time to select their six-man roster for the 2020 Global Cup USA.
(Other riders in consideration for the 2020 team – Daylon Swearingen, Ezekiel Mitchell and Sage Kimzey – were unable to attend).
McBride already has all the faith in the world that America can re-assert itself as the dominant bull riding country and dethrone Team Brazil from its current reign on top of the Global Cup pedestal.
However, seeing multiple riders speak up during the luncheon only fortified McBride's thoughts.
The current roster of Americans in the bull riding ecosystem knows what is at stake in a little less than five months at AT&T Stadium in Arlington, Texas, when the fourth edition of the Global Cup gets underway.
McBride caught up with PBR.com in Missouri last weekend following the luncheon.
JF: There is still plenty of time before the next Global Cup gets underway, but I'm sure it is never too early to get potential Team USA Eagles riders thinking about what is at stake in 2020. Was that one of the subjects for the lunch?
JUSTIN MCBRIDE: We had a good lunch. A good session. It was good. I felt good about it anyway, and I enjoyed it. I hope they did.
I wanted them to know it is going to be tough to make the team. There are going to be some really good guys not making it. Also, how important it was. What a big deal it was. Cooper did a good job speaking. Chase did a good job speaking just about that, too.
JF: Did you expect the guys to speak up as much as they did? The luncheon turned very much into a team conversation about just how important the Global Cup is.
MCBRIDE: That is when me and J.W.'s job is really easy. Now we try to line them up in what order to go and leave them alone. That is what you want. For them to gel like that and to know how important it is that each one do their job for one another and for their country. Just to totally buy in, 100% buy into this. When do they that – I am a little biased, I try not to be, but nobody can keep up with them."
JF: Outside of Sage Kimzey not being there, this was the first time that the rest of the Eagles from the 2019 squad were all together in the same room to discuss the last Global Cup. Team captain Cooper Davis expressed to the guys that he would take ownership for the last two Global Cup losses because of his failure to convert on the final bonus bull in Sydney and in Arlington. Was it a good thing for the guys to see/hear that disappointment and frustration from Cooper?
MCBRIDE: It was really cool. I will tell you what. I made a point explaining to the guys, 'Cooper won that event individually, and he is still pissed.' To me, that is what it is about. That is cool stuff, for those guys to hear that. When he spoke, he was like, 'Look the last two. We came up a bull short and that was on me.'
I love that he feels that way, (but) if anybody rides one bull throughout the competition, (we would have won).
JF: Obviously, you and J.W. will have your hands full trying to select the best six riders for this team. In all like likelihood, some of the younger riders invited may not make this year's squad. It appears, though, that you wanted to still expose this new wave of American bull riding talent to what the Global Cup is all about.
MCBRIDE: It is huge. It is really important for not just this upcoming Global Cup, but I think for the structure for the USA Eagles going forward. It is important for that organization, if you will, to have that veteran leadership put that in the rookies' minds and in their hearts. So that's what they come up in. They don't know any different other than that tradition. That is what they come up in.
JF: How impressed have you been with this year's American rookie class? Guys like Ezekiel Mitchell, Daylon Swearingen and Dalton Kasel are trying to do their part to push for a roster spot at the 2020 Global Cup.
MCBRIDE: Dalton Kasel wasn't even around back then. We didn't even know about him until the summer. And Daylon wasn't ready for that kind of stage anyway. Yeah, it is a great problem to have. It is tough.
We try to make it clear to them. I have a lot of respect and admiration for all of them, but this is about winning and putting the best six guys out there we can win with.
Follow Justin Felisko on Twitter @jfelisko