Pacheco out of competition following elbow surgery
By : Justin Felisko
June 27, 2019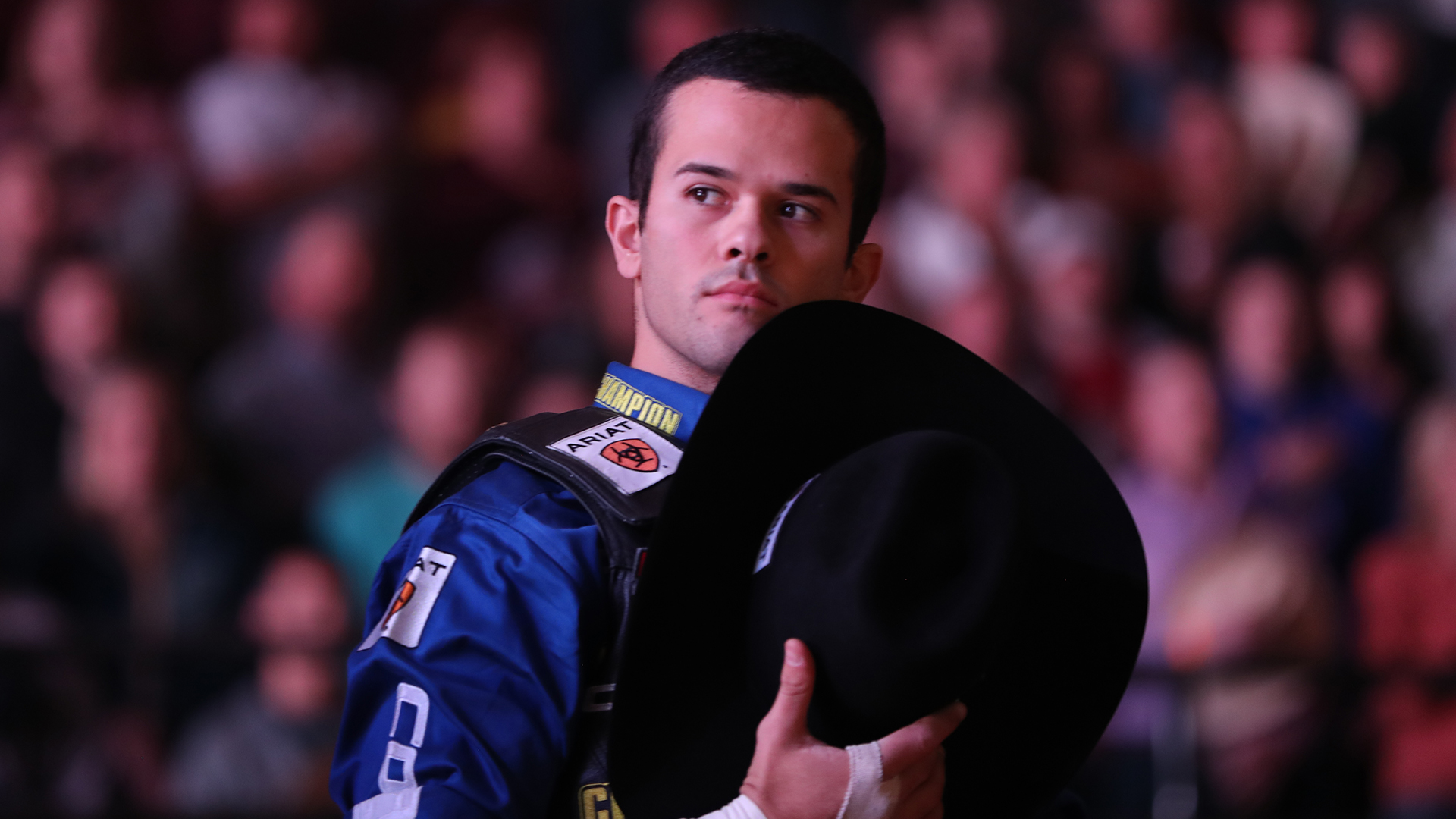 PUEBLO, Colo. – Reigning World Champion Kaique Pacheco has tried his best to stay positive during a tumultuous 2019 season that has not gone to plan.
Pacheco's pursuit of winning a second consecutive world title has hit another major snag this week. The 24-year-old underwent reconstructive left elbow (free arm) surgery after being injured on June 14 at the PBR Brazil event in Americana.
According to Dr. Tandy Freeman, Pacheco had extensive ligament and muscle injuries repaired Wednesday by Dr. John Conway in Dallas and that a "time to return to competition is undetermined at this point."
Pacheco did not want to speculate on how soon he could return, but did say he understands his recovery could take a few months based on the severity of the injury. He is committed to a physical therapy process.
"It is very difficult for me this year, but God knows what he has planned for me, and I am going to do my best to be back as soon as I can," Pacheco said.
The PBR World Finals take place on Nov. 6-10 in Las Vegas at T-Mobile Arena.
Pacheco was injured after he dislocated his elbow following a 78.5-point ride on Tucuma in Brazil.
"I stayed on my bull, but at the time that I had to get off I landed on my elbow of my free arm," Pacheco said with the help of Miriaham Garcia translating. "I dislocated my elbow and resulted in an injury. An MRI showed my ligaments and muscles were torn and that I needed surgery."
Pacheco acknowledged that 2019 has been hard for him.
The 2015 PBR Rookie of the Year has been a perennial world title contender every year of his career until this season.
Pacheco finally got over the hump last year to win his first world title despite tearing his left MCL/PCL at the 2018 Velocity Tour Finals four days before the start of the 2018 PBR World Finals.
Pacheco battled through the injury to ride Rugby for 87.25 points and Smooth Wreck for 88.75 points at the World Finals to hold off Jose Vitor Leme for the world title.
The fifth-year pro did not need offseason surgery on his knee, and instead used time and physical therapy to recover.
Pacheco did not return to competition until Feb. 9 at the 2019 WinStar World Casino & Resort Global Cup USA, presented by Monster Energy, and helped Team Brazil earn the victory by chipping in an 83.5-point ride on Taco Cat.
However, Pacheco never could get things completely back on track this season when he made his UTB debut in St. Louis the following week.
Pacheco is 9-for-29 (31.03%) this season on the Unleash The Beast and is ranked 60th in the world standings.
His 180 career rides on the Unleash The Beast is still the most in the PBR since 2015.
"I hurt my knee before Finals and even with that I became a World Champion," Pacheco said. "I started 2019 out of the tour for two months not competing. I did not do well in my first events when I came back, and I got hurt again.
"I am always grateful and appreciative of the support from my girlfriend, my family and my friends that are always by my side helping me in all of my career."
Follow Justin Felisko on Twitter @jfelisko