Looking back: Team USA's Top 5 rides from the Edmonton Global Cup
By : Darci Miller
June 12, 2019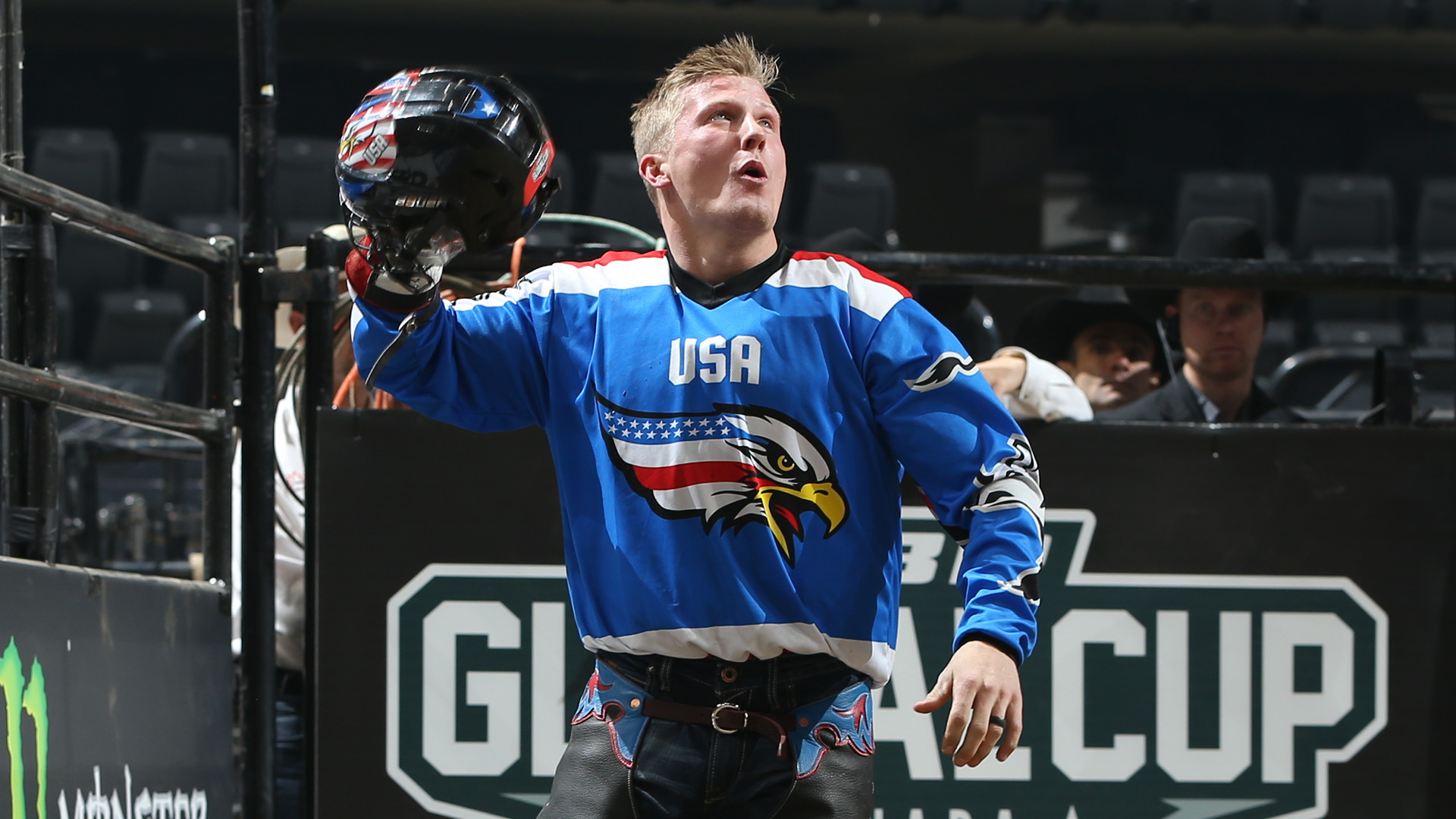 In November of 2017, teams of bull riders from five countries – Australia, Brazil, Canada, Mexico and the United States – converged in Edmonton, Alberta, for the first PBR Global Cup. After two days of competition, a ragtag Team USA walked away with the trophy, upsetting second-place Team Brazil, 1027 points to 927.5.
To date, it's Team USA's only Global Cup title.
With the Global Cup returning to Arlington, Texas, in 2020, will a U.S. squad be able to emerge victorious once again?
While that question will go unanswered until February, relive the glory days of Edmonton with Team USA's highest-scoring rides.
1) Cooper Davis – 89.5 points on Catfish John
Captain America led the way for Team USA, going 2-for-3 and earning the highest score of the event in the bonus round with everything on the line. It was the second time Davis had made the whistle on Catfish John with a title on the line: he'd previously rode him for 91 points in Round 5 of the 2016 PBR World Finals to clinch his world title.
RELATED: Captain America: Davis rides Catfish John to win Global Cup for Team USA
2) Cooper Davis – 88.75 points on Set 'em up Joe
After a Round 1 buckoff, Davis rebounded and got things rolling in Round 3, chipping in 88.75 points on Set 'em up Joe to get Team USA into the lead.
RELATED: Team USA wins inaugural PBR Global Cup
3) Stormy Wing – 88.25 points on Red Bandana
Wing went 3-for-4 in Edmonton to earn the individual aggregate title and a $50,000 bonus. He went 2-for-2 on the first night of competition, capping it off with 88.25 points on Red Bandana in Round 2. The two had matched up just days earlier at the 2017 World Finals to the tune of 90.5 points
RELATED: Wing wins $50,000 event average title at Edmonton Global Cup
4) Stormy Wing – 87 points on Ulterra's Night Vision
Though he was ultimately bucked off in the bonus round, Wing went a perfect 3-for-3 in the long round. His 87 points on Ulterra's Night vision in Round 3 ensured him the individual title, as only Team Brazil's Dener Barbosa would join him in recording three qualified rides that weekend.
RELATED: Wing accepts retirement as best decision for his future
5) Derek Kolbaba – 86.5 points on Stars & Stripes
Kolbaba kicked things off for Team USA in a big way. On a bull appropriately named Stars & Stripes, Kolbaba earned 86.5 points in Round 1. Later, in Round 3, the two would match up again, and Kolbaba would earn 86 points en route to sealing the win for the U.S.