PBR Power 8 Rankings: Potential favorites at Last Cowboy Standing in Cheyenne
By : Justin Felisko
June 05, 2019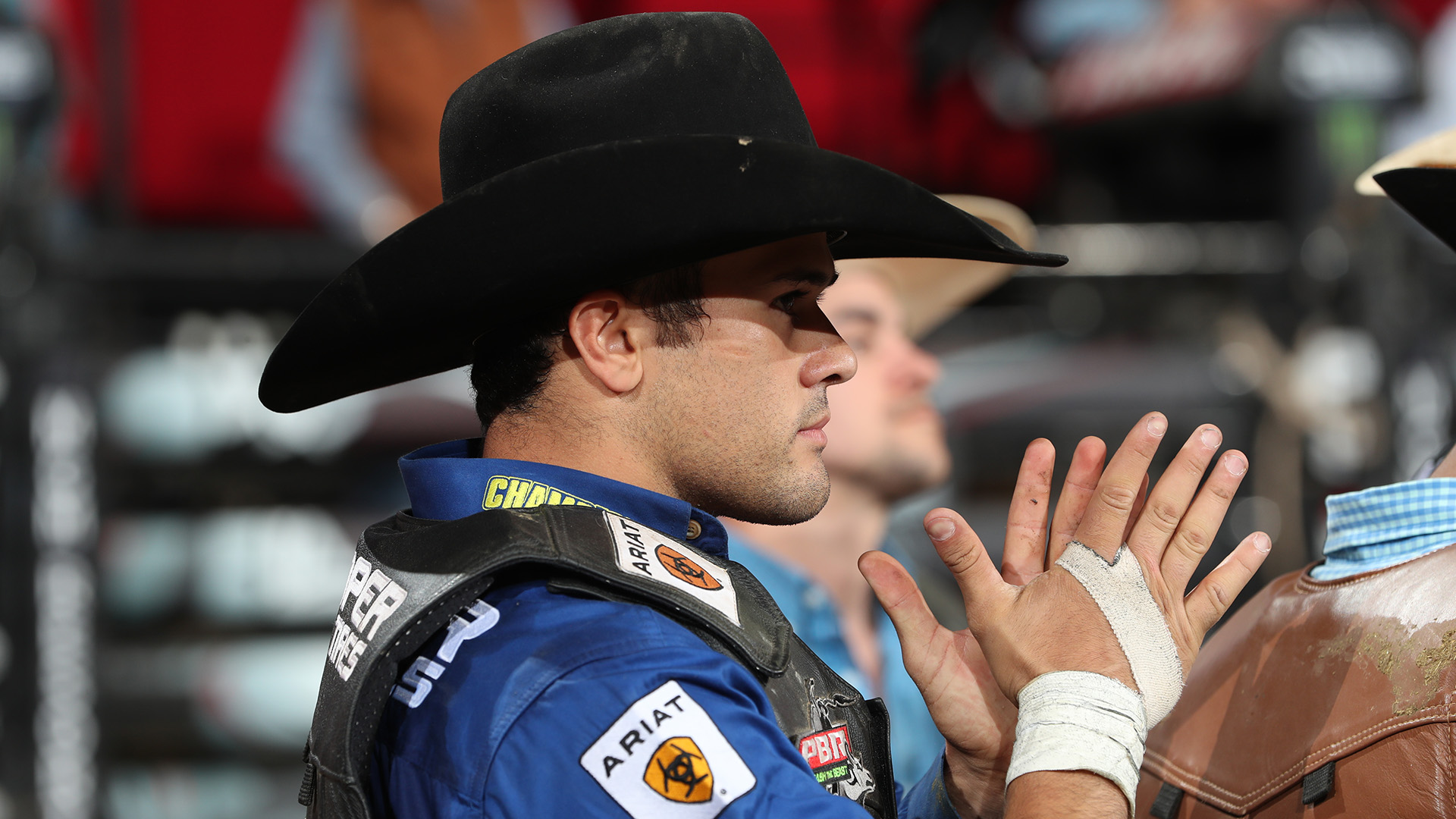 PUEBLO, Colo. – During the Unleash The Beast's small month-and-a-half hiatus, talk of the 2019 World Championship race is only heating up. Most of this year's contenders do not plan to take much time off and even before looking ahead to two Majors that may rock the standings, they'll head to various PBR Touring Pro Division events or international bull ridings in the coming weeks.
There is no hiding that the 2019 title race is far from over, especially with two PBR Major events still remaining before the 2019 PBR World Finals on Nov. 6-10 in Las Vegas at T-Mobile Arena.
TICKETS: Don't miss out on the World Finals
The two Majors left on the 2019 calendar, Last Cowboy Standing at Cheyenne Frontier Days on July 22-23 and the Jack Daniel's Music City Knockout, presented by Cooper Tires, could bring with them a seismic shift in the PBR world standings.
One rider can earn a maximum of 1,250 points at either PBR Major – not to mention a minimum payday of $100,000 – and both Majors will have new formats in 2019.
First off, the Music City Knockout, no longer be a bracket-style event, will take on the popular and dramatic Last Cowboy Standing format.
The Last Cowboy Standing format has also been revised by the PBR competition committee as of last month.
The format will still be a progressive elimination event like past seasons, but starting in Cheyenne (CBS Sports Network & RidePass 10 p.m. ET), advancement beginning in Round 2 will be based on aggregate (total ride) scores in the event.
Forty riders will begin in Round 1 with the Top 20 scores advancing to Round 2. The Top 8 riders via aggregate score following the second round will then advance to Round 3. Next, Round 4 will then consist of the top riders in the aggregate based upon the previous three rounds.
Essentially, the first four rounds will be cut down from 40 riders to 20 to 8 to 4.
Round 5 will feature every rider who posted a qualified ride in Round 4. A minimum of two riders will compete in Round 5. If only one rider covers in Round 4, then the PBR will draw back one rider (based on aggregate scores following the completion of Round 4).
RELATED: Don't miss the action in Cheyenne for only $41
The rider with the highest score in Round 5 will win the title of Last Cowboy Standing. If all riders buck off in Round 5, then the Last Cowboy Standing crown will go to the rider with the highest aggregate score among those who attempted a bull in Round 5.
With that being said, here are eight favorites to win Last Cowboy Standing in Cheyenne next month now that the first half has concluded.
1. Joao Ricardo Vieira
The No. 2 bull rider in the world proved once again at the WCRA Titletown Stampede that he loves major events with big-time money at stake. Vieira has now won over $830,000 in 2019 thanks to largely to five different event wins.
In particular, look at his three largest monetary victories this year: RFD-TV's The American ($433.33.33), Iron Cowboy in a sold-out Staples Center in downtown Los Angeles ($146,600) and the WCRA Titletown Stampede ($74,777.75).
Iron Cowboy in February was the old Last Cowboy Standing format, and Vieira has three Last Cowboy Standing victories on his resume.
The 34-year-old is 17-for-32 (53.13%) in the old Last Cowboy Standing format, which is almost 10 percentage points higher than his 43.71% career average.
Placing Vieira No. 1 on this list is certainly risky as he historically not been as consistent of a bull rider as his peers. However, he has continuously proven this season that he can handle bull away from his hand – better than ever before – and that he loves showing up when the lights are brightest.
Vieira also will not be competing in the United States between now and Cheyenne, and he is ultimately going to ride at a few events in Brazil.
2. Jess Lockwood
2017 World Champion Jess Lockwood is averaging 2.42 rides per UTB weekend in 2019.
The problem is that Lockwood (17-for-27, 62.96%) had to miss three months because of a broken left collarbone.
If you take that average and multiply it over the course of 27 events, that would put Lockwood on pace for more than 65 qualified rides in a season!
Lockwood has taken the next step in his career this season despite his injury, and he began the season on a tear with a PBR Major victory in New York and then a win in Chicago the next weekend.
The 21-year-old nearly won the Green Bay Invitational if not his buckoff against Big Black in the championship round, and he should be a threat to win in Cheyenne.
3. Jose Vitor Leme
The world leader comes in at No. 3, but just like Chase Outlaw below at No. 4, Leme could easily be ranked No. 1 on this list.
Leme has come extremely close to winning his first PBR Major at the last two Last Cowboy Standing-formatted events. He advanced to the final round this past February at Iron Cowboy and last spring at Last Cowboy Standing.
The 2017 World Finals event winner has a career riding percentage of 53.17%, and he also leads the PBR this season with eight 90-point rides, which would make him the likely favorite in a head-to-head matchup in Round 5.
4. Chase Outlaw
Outlaw's return to the scene of his gruesome wreck last year in Cheyenne that resulted in 68 screws, 11 plates and four pieces of surgical mesh being inserted into his face will bring with it a series of emotions for the Arkansas cowboy and his family.
However, Outlaw has been fantastic about channeling his emotions during a trying season away from the dirt following the passing of his best friend Mason Lowe in Denver in January.
Outlaw won Lowe's memorial event in St. Louis and has stormed his way to the No. 1 ranking at one point this season, nine months after that initial surgery in Cheyenne.
The seven-time PBR World Finals qualifier leads the PBR with 28 qualified rides and is one of five riders to have won multiple events in 2019.
Outlaw, though, has slowed down some (9-for-23) since he won his second event of the year in Kansas City on March 24.
If he can regain his mojo from the first two months of the season, then you can bet he has as good a chance as ever to win his first PBR Major.
5. Kaique Pacheco
Everything about this season has been a complete bust for the reigning World Champion. Pacheco has yet to regain his championship form from last year, let alone his 8-second consistency since winning the 2015 Rookie of the Year award.
However, Pacheco has to be a favorite at this event strictly because of his absolute domination at Last Cowboy Standing throughout his career.
Pacheco has won the PBR Major three consecutive times – two times outdoors in Las Vegas at Helldorado Days and then last season indoors at the Thomas & Mack Center – with six consecutive rides, and has only bucked off three bulls in 15 outs.
If that isn't impressive enough… Pacheco has won $427,291.67 through Last Cowboy Standing alone.
The 24-year-old is 12-for-20 at Last Cowboy Standing-formatted events overall, counting the Iron Cowboy.*
A Last Cowboy Standing victory in Cheyenne would push Pacheco back into the Top 30 and assure him a trip to the PBR World Finals for a fifth consecutive season.
6. Cooper Davis
Davis proved in Green Bay he still has the ability to make a run at the 2019 world title, and he really could benefit from getting a PBR Major victory under his belt to close the gap (1,689.16) between himself and Leme.
Like Leme, Davis has advanced to the final round in the last two Last Cowboy Standing-formatted events.
Davis understands how crucial a PBR Major victory is to winning a world title, so he certainly will be motivated and ready for the last two Majors.
The Jasper, Texas, bull rider expects to take a long break following next weekend's $125,000 Team Challenge at Chad Berger's annual event in Bismarck, North Dakota, so he will be either well-rested for Cheyenne or a little bit rusty.
For what it's worth, rust was not a factor for Davis after a two-week break before Green Bay.
7. Luciano de Castro
A Brazilian rider has won eight of the last nine Last Cowboy Standing-formatted events.
Therefore, it seems to be safe to put your money on a bull rider from South America as a favorite to win in Cheyenne this coming July.
Maybe that rider will be Luciano de Castro.
The No. 7 bull rider in the world has seemed on the cusp of breaking out in 2019, but he has yet to win an event.
Castro is also still searching for that career-highlight moment, and Cheyenne could be the kind of win to propel the 2015 PBR Brazil Triple Crown winner (Champion, Rookie of the Year and Finals event winner) to the next level of his career.
The 23-year-old is tied for sixth on the Unleash The Beast with a 42.86% riding average with Davis and is averaging 86.15 points per ride.
Castro has shown consistency and flash during his three-year career, and he is 5-for-10 in five LCS-formatted events, but he ended the first half in 2-for-10 slump.
8. Cody Teel
The 2012 PRCA champion finished the first half of the UTB fifth with a 43.8% riding average. Teel is also one of five riders to have won multiple events in the first half.
Beginning with his win in Tacoma, Washington, on March 30, Teel is 11-for-23 (47.82 percent) with two event wins and a runner-up finish. Teel also rode Smooth Operator for 89.5 points to place second at the 15/15 Bucking Battle in Albuquerque, New Mexico.
Teel does have a PBR Major victory on his resume too, in Nashville under the bracket style format last season when he went 1-for-5.
Follow Justin Felisko on Twitter @jfelisko