Lawrence reps all-Native Team Wolves, rides to fifth-place finish in Albuquerque
By : Darci Miller
May 19, 2019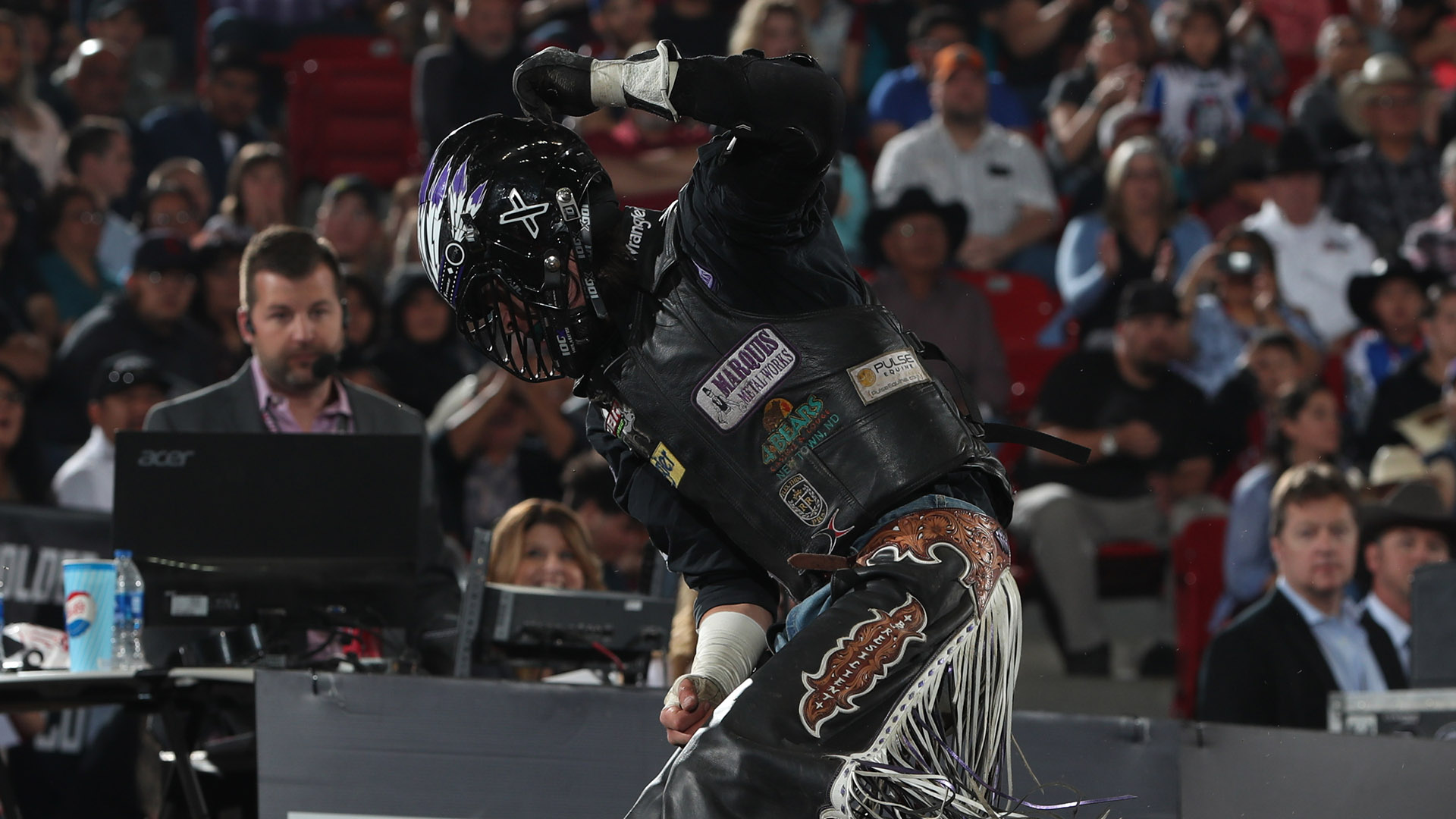 ALBUQUERQURE, N.M. – Stetson Lawrence is not one to shy away from his Native American heritage. Rather, he's made it a signature feature of his PBR career.
Lawrence (Chippewa and Sioux) is easily picked out in a crowd by the purple feathers painted on his helmet. His chute music is an unmistakably tribal beat – "Electric Pow Wow Drum" by A Tribe Called Red – and, when he makes the 8 seconds, he celebrates with an equally unmistakable tribal dance.
It's what makes coming to the Ty Murray Invitational, presented by Isleta Resort & Casino, feel like coming home.
Held annually in Albuquerque, New Mexico, the event boasts crowds that unabashedly root for Native American riders. Following the PBR Global Cup USA in February and the debut of the first all-Native Team USA Wolves, fans sported Team Wolves jerseys and blew the roof off The Pit each time a Native rider was introduced.
"It's kind of like a riding-at-home kind of deal," Lawrence said. "You just get that home crowd feeling. They really back us Natives, so it's awesome.
"This is one of the events everybody wants to go to. I look forward to it every year because the fans are outstanding. Just the arena itself, you feel like the fans are on top of you. The atmosphere is amazing."
Lawrence went 2-for-4 in Albuquerque, good for a fifth-place finish overall. He rode Kern River for 85.5 points in Round 2, which put him through to the championship round.
He selected Sosa's Alley Cat, a bull he'd bucked off twice before, in the championship round draft, and the move paid off.
The two matched up to the tune of 89.5 points, and Lawrence briefly held the lead before being dethroned by Chase Outlaw (90 points on Bezerk), and later Jose Vitor Leme (92.75 points on Cochise).
"I was confident," Lawrence told Justin Felisko on RidePass. "I'd been on him twice before, and he's never had a trip like he did tonight, which he usually does. So I was happy. We both matched up good. Just happy to get a score."
One of two Native riders to make the 8 seconds in the championship round – Lawrence was joined by Colten Jesse (88.25 points on Total Feeds Bushwacked) – he got an ovation worthy of a champion.
"It's amazing, riding in front of this crowd," Lawrence continued on RidePass. "They just get behind everybody, especially the Native guys, and about five or six seconds you could hear the crowd going nuts. It just makes you want to finish a ride out strong and finish the weekend out on a ride."
Lawrence earned 175 points towards the world standings and is now ranked No. 14 following a rough start to the season that saw him flirting with the Unleash The Beast cutline.
Now finally in more of a groove, he's happy with how his season is developing.
"It could always be better," Lawrence said. "I need to stay a little more consistent, but other than that, I'm healthy. Just need to work on capitalizing on getting multiple bulls rode on the weekends, not just one."
With two qualified rides under his belt in Albuquerque, Lawrence turned in his second-best premier series finish of the season. He finished fourth at the Tacoma Invitational in March, where he went 2-for-3.
Each year, Murray hosts a Native American invite at his namesake event to give up-and-coming riders the opportunity to experience the PBR's premier series.
"It's cool for the young guys that they (have the) invite to come here," Lawrence said. "It gives them a little look at what they could be and something to strive for and to get to eventually."
This year's invite, Latrell Long, went 0-for-3.
The event comes on the heels of the announcement that the 2020 Global Cup will again be held in Arlington, Texas, which will again feature the Team USA-Wolves. Fans can purchase tickets here.
Lawrence and several of his 2019 teammates – Jesse, Keyshawn Whitehorse, Ryan Dirteater, Cannon Cravens and Cody Jesus – were on hand to be honored on the dirt on Saturday, and met several of their canine counterparts from the Wanagi Wolf Fund & Rescue.
Already looking forward to the next time he can suit up for his tribe and his country, Lawrence knows and appreciates the significance of representing Native Americans.
He is hopeful that he will be named to the 2020 squad for another run at the Global Cup title.
"It's cool to look at the guys on Team Wolves just because we're all Native, and it's something that's never been done before," he said. "Just to look in the locker room and look at all the guys and be like, 'Shoot, we're really doing it. Bunch of Natives. That's awesome.'"