SweetPro's Bruiser wins battle of three-time World Champions
By : Justin Felisko
April 13, 2019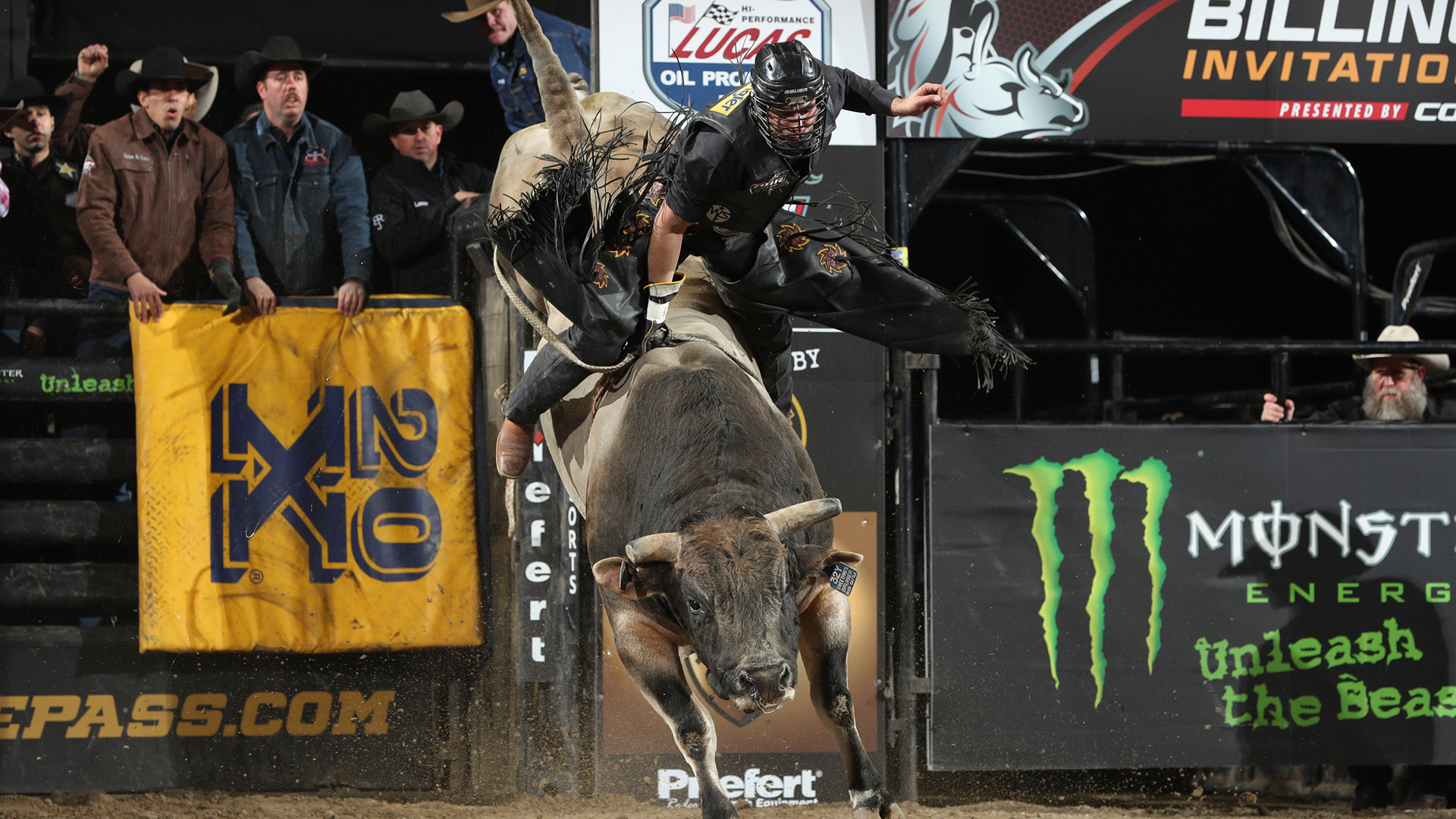 BILLINGS, Mont. – Joey Hales of D&H Cattle Company got an unexpected phone call on Friday afternoon when he was preparing for Round 1 of the Billings Invitational, presented by Cooper Tires.
H.D. Page was on the line and had some bad news: he was not going to make it in time for the first night of competition at Rimrock Auto Arena because his original flight to Billings had been cancelled.
Therefore, it was going to be up to Hales to flank three-time World Champion SweetPro's Bruiser on Friday night.
Hales has flanked Bruiser before, but the stakes this weekend are certainly a little bit higher than normal seeing as D&H Cattle Company is trying to get Bruiser back into the world title race by bucking him two times.
There was also the fact that Bruiser's opponent was none other than three-time World Champion Silvano Alves.
It was a major showdown between the two PBR legends, and it was going to be up to Hales to keep a watchful eye on Bruiser.
The good thing about Bruiser is that he never seems to let D&H Cattle Company down, even if the commander in chief is unable to make it to an event.
And Bruiser took care of business mightily against Alves.
The 8-year-old left the bucking chute as he always does with an immediate explosion and then an aggressive spin to the left – away from Alves' hand.
Bruiser continued to get stronger with each spin and Alves began to get loosened off his bull rope. Once that happened, Bruiser then flipped the future Ring of Honor inductee over the front end head first.
"I am real happy," Hales said. "I was awful nervous to start with. (H.D.'s) flight got cancelled, so he had to take a later flight and he wouldn't get here on time. I just wanted Bruiser to do so good. Everybody is a naysayer on that bull."
Bruiser was marked 45.5 points for eliminating Alves, which lowers his World Champion Bull average ever so slightly to 45.58.
Alves was quick to credit Bruiser for a fantastic out, and was impressed with how smart and strong the D&H Cattle Company bovine athlete is.
"I tried hard to ride him, but he bucked me off," Alves said. "I am very happy for my first experience (trying) to ride him. I started good, but I stayed a little bit too much to the left of his spin. He is smart. He made a big jump and (went) right.
"He is so good. He was moving me to the outside on the first jump. I recovered inside and tried to stay inside a little bit as he (spun) left."
The Western Sports Foundation received $1,000 for the buckoff as part of the Tire-rama / Cooper Tires bounty bull program.
The 2019 YETI World Champion Bull is based on a bull's top eight outs during the premier series regular season/Global Cup USA and two outs at the PBR World Finals. The bull with the highest average bull score across those 10 outs will be crowned the champion.
Bruiser still leads the World Championship race over No. 2 Smooth Operator, who sits second with 45.42 points on six outs.
The two bulls are set to face off Sunday in the championship round at Rimrock Auto Arena. Fans can watch all of the action on CBS Sports Network (4 p.m. ET) and RidePass (3:45 p.m. ET).
Bruiser has bucked off Alves, Ryan Dirteater and Ezekiel Mitchell in the past seven days.
"The bull is back," Hales said. "There is no doubt about it. "I thought he could have been more."
Follow Justin Felisko on Twitter @jfelisko