SweetPro's Bruiser notches 46.25 points and will be ready for Billings
By : Justin Felisko
April 07, 2019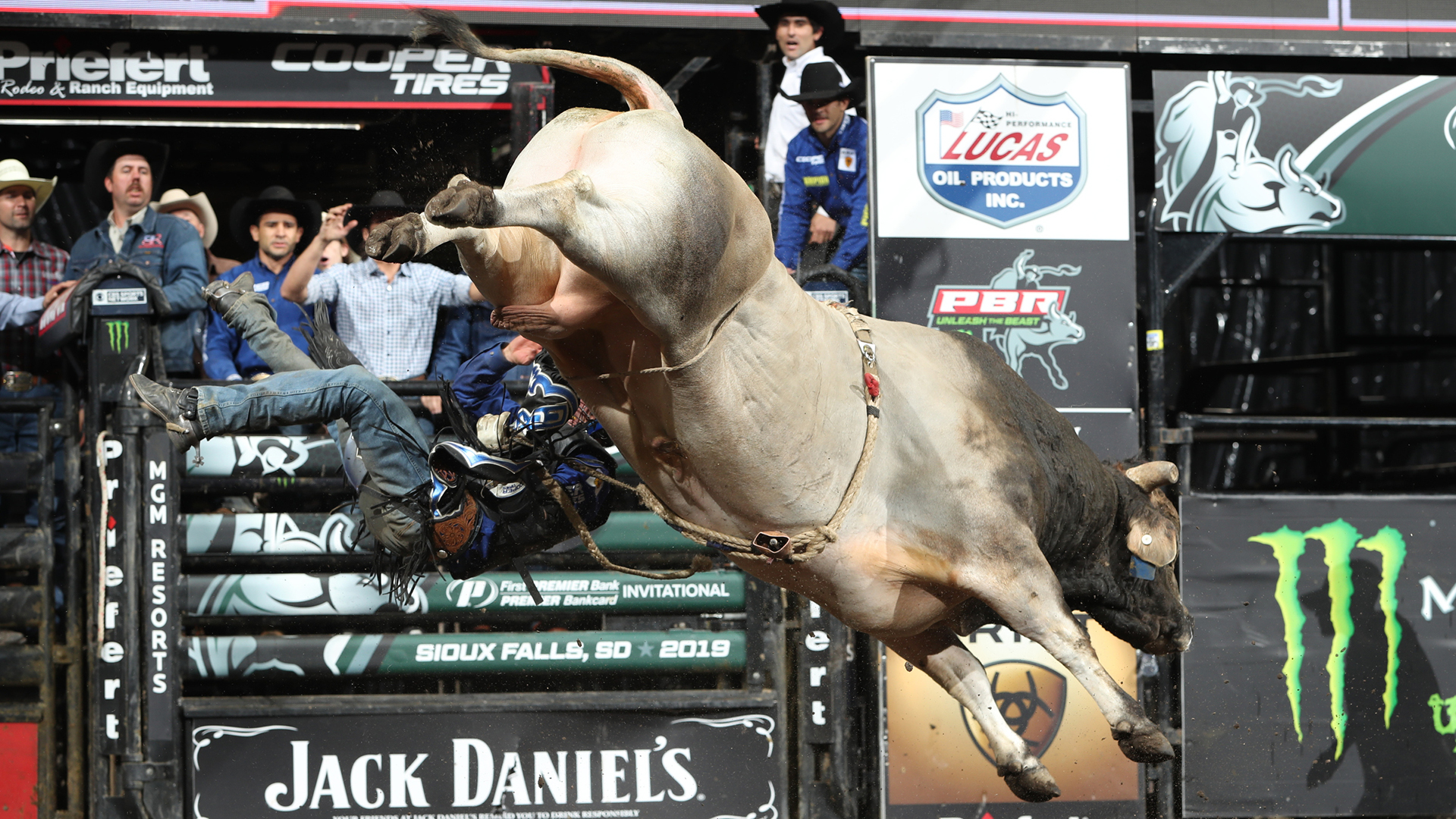 SIOUX FALLS, S.D. – Take notice, cowboys. Reigning World Champion SweetPro's Bruiser is just warming up.
That was the message sent from the three-time World Champion this weekend at the Denny Sanford Premier Center after Bruiser made his Unleash The Beast season debut with two buckoffs at the First PREMIER Bank PREMIER Bankcard Invitational.
Bruiser's best performance came in the championship round, where he used his typical backward explosion to flip Ryan Dirteater over and off in 5.9 seconds.
The 8-year-old bovine athlete was scored 46.25 points.
"I think he's just getting warmed up," D&H Cattle Company's H.D. Page said. "I don't think we've seen the best trip yet. That's been his deal from day one. The more you buck him, the better he gets."
Bruiser was marked 45 points in Round 1 when he bucked off Ezekiel Mitchell in 6.43 seconds.
Page said he plans to haul Bruiser to Billings, Montana, next weekend for the Billings Invitational, presented by Cooper Tires, as well as potentially to the Wrangler Long Live Cowboys Classic, presented by Cooper Tires, in Columbus, Ohio (April 27-28).
It is officially go time for Bruiser as he tries to become the first bull to win four world titles in the PBR.
Bruiser's two Sioux Falls outs helped push him back into the 2019 World Championship conversation. His 45.63-point average on two outs is tops in the PBR, but he is still four outs behind leading contender Smooth Operator and six outs behind Fearless.
"We'll see him next week – plan is Billings and then Columbus," Page said. "I've got to get me a little something going."
Sunday was the fourth time Dirteater and Bruiser have teamed up.
Dirteater won last year's Unleash The Beast event in Oklahoma City with a 93.25-point ride, but otherwise Bruiser has had the upper hand with 7.19 (2017 World Finals) and 6.67-second (2018 Glendale, Arizona) buckoffs.
The No. 6-ranked bull rider in the world standings believes Bruiser can make another push at a world title.
"I hope he does," Dirteater said. "I love getting on him. He has cost me a lot, and I have been close every time I get on him. I have won a lot and lost a lot, but I love him."
There was a lot of chatter about Bruiser in the offseason and earlier this year about whether or not D&H Cattle Company would decide to retire its legendary bull.
Page said the decision to bring him back for another run is just a result of how much faith and love they have in Bruiser.
"The thing is, I've been doing this for a long time and I've been fortunate enough to have some World Champions, and that kind don't come around very often," Page said. "I just want to take advantage of Bruiser while he's still got it."
Follow Justin Felisko on Twitter @jfelisko