Whitehorse leading in Sioux Falls heading into championship Sunday
By : Justin Felisko
April 07, 2019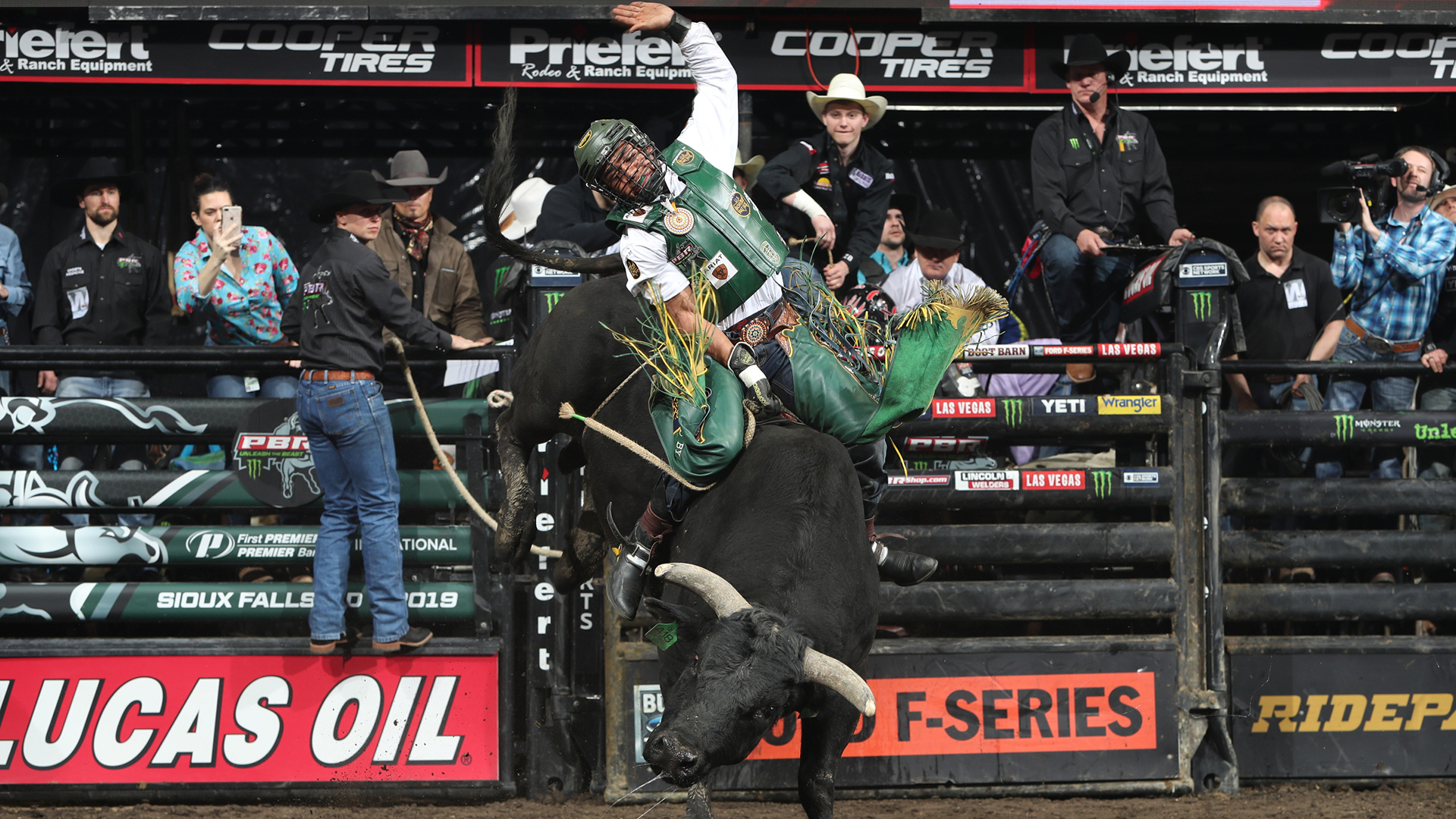 SIOUX FALLS, S.D. – Keyshawn Whitehorse took a left out of the locker room inside the Denny Sanford Premier Center on Friday night and found a nook just around the corner.
The 2018 Rookie of the Year then put in his headphones and proceeded to run himself through a series of agility drills, loosening up his hips and muscles for Round 1 of the First PREMIER Bank PREMIER Bankcard Invitational.
Whitehorse had a glare in his eyes as his feet began to ricochet off the hard floor in tedious repetition.
The 21-year-old spent the last month rededicating himself to the sport of bull riding in the gym during the week, but Whitehorse also knew that ultimately putting passion in his training again was only step one.
RELATED: Whitehorse ready for his UTB return
Step two was using that strong foundation to his advantage on game day.
"In this game, all you can do is give 100 percent effort," Whitehorse said earlier in the week. "You can't control how much the bull bucks. You can't control how high your score is. So why is there any need to focus on any of those things rather than focusing on how much you are going to give? That is about it.
"When you show up to an event, there is no more practicing. No more trying to fix anything. It is right there. Right then. Giving it all you got. You are either all in or you are all out."
So far, the rebuilt Whitehorse is off to quite the start in South Dakota and is certainly pushing all of his chips onto the table.
Whitehorse rode Hedoo for 87.5 points in Round 1 Friday and then covered Lethal Larry for 86.5 points on Saturday evening.
The McCracken Springs, Utah, bull rider now heads into Championship Sunday leading the event and in a position to win the first Unleash The Beast event of his career.
"I had a good foundation set there from a good start when I was younger," Whitehorse said. "I was able to rebuild on it again. A house is only as good as what it sits on. So keep building and keep building and keep moving on forward."
Whitehorse has drawn Thunder's Cartel (4-0, UTB) for Round 3.
Fans can watch Championship Sunday on CBS Sports Network at 4 p.m. ET and on RidePass at 3 p.m. ET.
Whitehorse (2-for-2, 174 points) is one of five riders 2-for-2 in Sioux Falls. Also perfect are Scottie Knapp (172.25 points), Mason Taylor (171.25 points), Ryan Dirteater (169.75 points) and Dakota Buttar (167.75 points).
Whitehorse was cut from the Unleash The Beast a month ago, earning himself a trip back to the UTB by winning last weekend's Pendleton Whisky Velocity Tour event in Casper, Wyoming.
Ranked 72nd in the world when he was cut, he is now sitting at No. 28.
Whitehorse has ridden four consecutive bulls at all levels, and two more on Sunday will have him that long-desired event win. It would all but cement him a spot on the Unleash The Beast for the remainder of the season.
"I knew there was going to be trials and stuff, but I just didn't know what it was going to be this year," Whitehorse said. "I believe there is so much stuff I have learned. It was definitely humbling. I wasn't really super cocky about my win anyways because I know how much work I put into it and how fast it can be taken away, like this past example. Humbling is one of them."
Follow Justin Felisko on Twitter @jfelisko