Pendleton Whisky Velocity Tour
Livingston wins Bakersfield Buck Off
By : Mandi McCary
April 07, 2019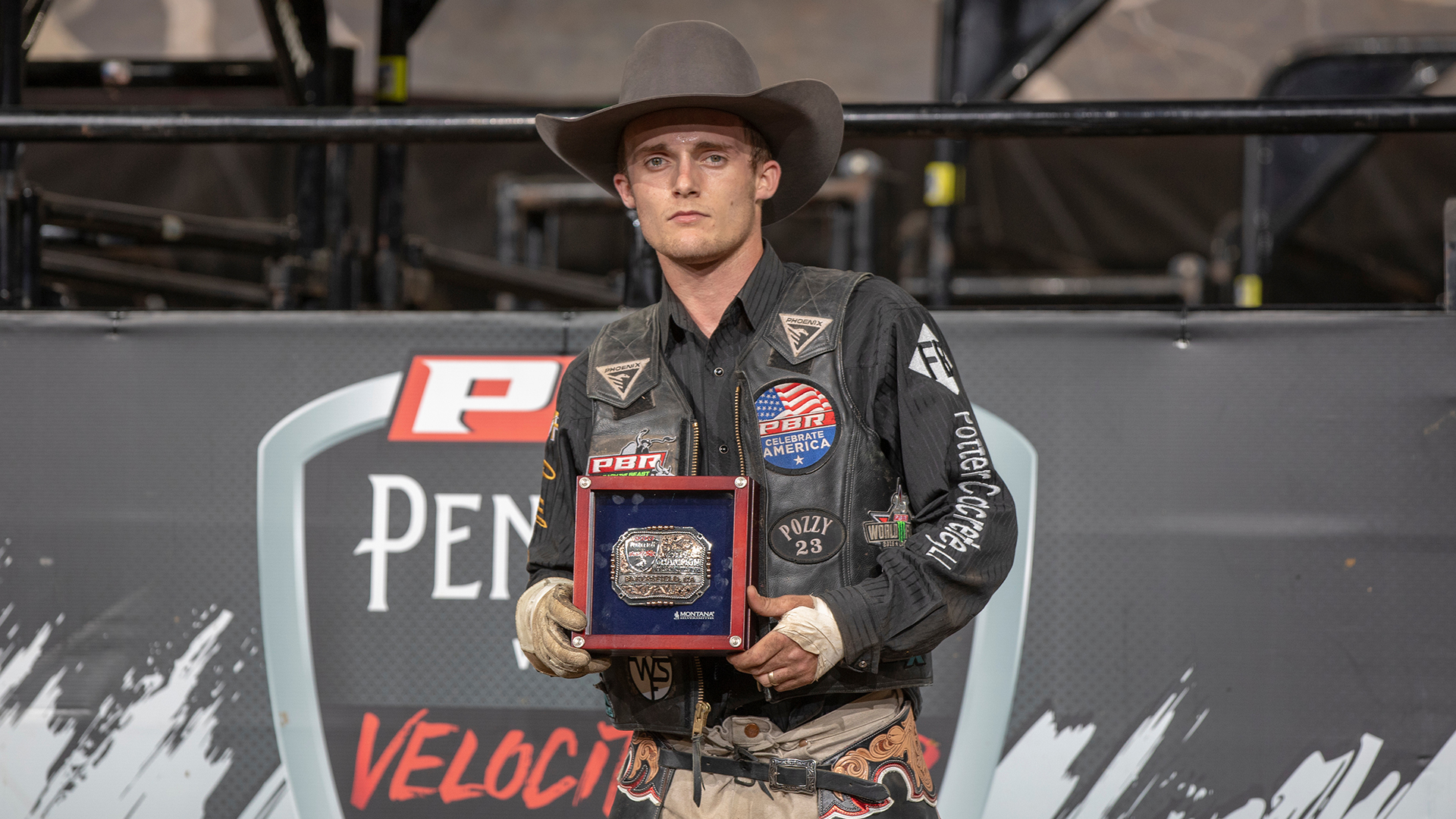 BAKERSFIELD, Calif. – As Saturday night came to close in Southern California, PBR's (Professional Bull Riders) Koal Livingston (Burleson, Texas) stood atop the center stage after winning the Pendleton Whisky Velocity Tour's Bakersfield Buck Off at Rabobank Arena.
Following an 83.5-point ride aboard Mr. In Between (Crown 7 Bucking Bulls) in Round 1, the Texas cowboy rocketed from the chutes aboard Smoke Show (Humpz and Hornz/Sis 'N' Stan/KMH) in the final round of the night but was no match for the powerful animal athlete.
Despite the buckoff, the win earned Livingston 220 world points and a $6,475 paycheck.
Every winner of a Pendleton Whisky Velocity Tour event has an opportunity to compete at an Unleash The Beast series event. With the victory in Bakersfield, Livingston will compete in Cheyenne, Wyoming, at the third PBR Major of the season, Last Cowboy Standing at Cheyenne Frontier Days on July 22-23. The win also earned him a spot at the Komatsu Equipment Days of '47 Cowboy Games & Rodeo, presented by Zions Bank, on July 19-24 in Salt Lake City, Utah.
Dalton Krantz (Somers, Iowa) finished in second place, collecting a paycheck for $4,775 along with 115 world points. He rode to the runner-up finish compliments of his 85-point ride aboard Spotted Panther (Crown7 Bucking Bulls) in Round 1 on Saturday night. In the championship round, Krantz bucked off Bringin Trouble (Flying U/Cindy Rosser) after just 2.58 seconds.
Texan Bryan Titman (East Bernard, Texas) finished third overall for the weekend after he made the 8 aboard Swag (4B Bucking Bulls) for 84.5 points in the opening round. Despite being bucked off Johnny Sack (Cindy Rosser/Flying U Livestock) in the championship round, the veteran rider leaves Bakersfield with 65 world points and a $3,075 paycheck.
Daylon Swearingen (Piffard, New York) took home a fourth-place finish, collecting a paycheck for $2,075 and 20 world points. His Round 1 ride aboard Circuit Breaker (Julio Moreno/Dallas Schott) for 83 points secured his place in the championship round, where he was bucked off by High Razor (Humpz and Hornz/Sis 'N' Stan Bucking Bulls).
Rounding out the Top 5 was Brazilian rider Alex Marcilio (Macaubal, Brazil) with an 82.5-point score in Saturday's opening round aboard Poser (Hauser Bucking Bulls). Despite being dispatched off of Counting Cards (Flying U/Cindy Rosser) in 5.1 seconds in the championship round, Marcilio leaves California with 15 world points and $1,215.
Bringin Trouble, a bovine athlete owned by Flying U and Cindy Rosser, took home the top bull score of the weekend with a 44.5-point recorded out on Saturday after dispatching Krantz.
The Velocity Tour next travels to Wichita, Kansas, for the Wichita Classic on April 13 at the Intrust Bank Arena.
Velocity Tour Event Results
Bakersfield Buck Off – Rabobank Arena – Bakersfield, California
Name, Round 1-Round 2-Event Aggregate-Event Points
1. Koal Livingston, 85.5-0-85.50-220 Points.
2. Dalton Krantz, 85-0-85.00-115 Points.
3. Bryan Titman, 84.5-0-84.50-65 Points.
4. Daylon Swearingen, 83-0-83.00-20 Points.
5. Alex Marcilio, 82.5-0-82.50-15 Points.
6. Kache Moosman, 82-0-82.00-10 Points.
7. Jonny Perez, 81-0-81.00-5 Points.
8. Bruno Scaranello, 79.5-0-79.50
9. Manoelito de Souza Junior, 79-0-79.00