Smooth Wreck leads the way as bull pitch shutout in 15/15
By : Justin Felisko
April 07, 2019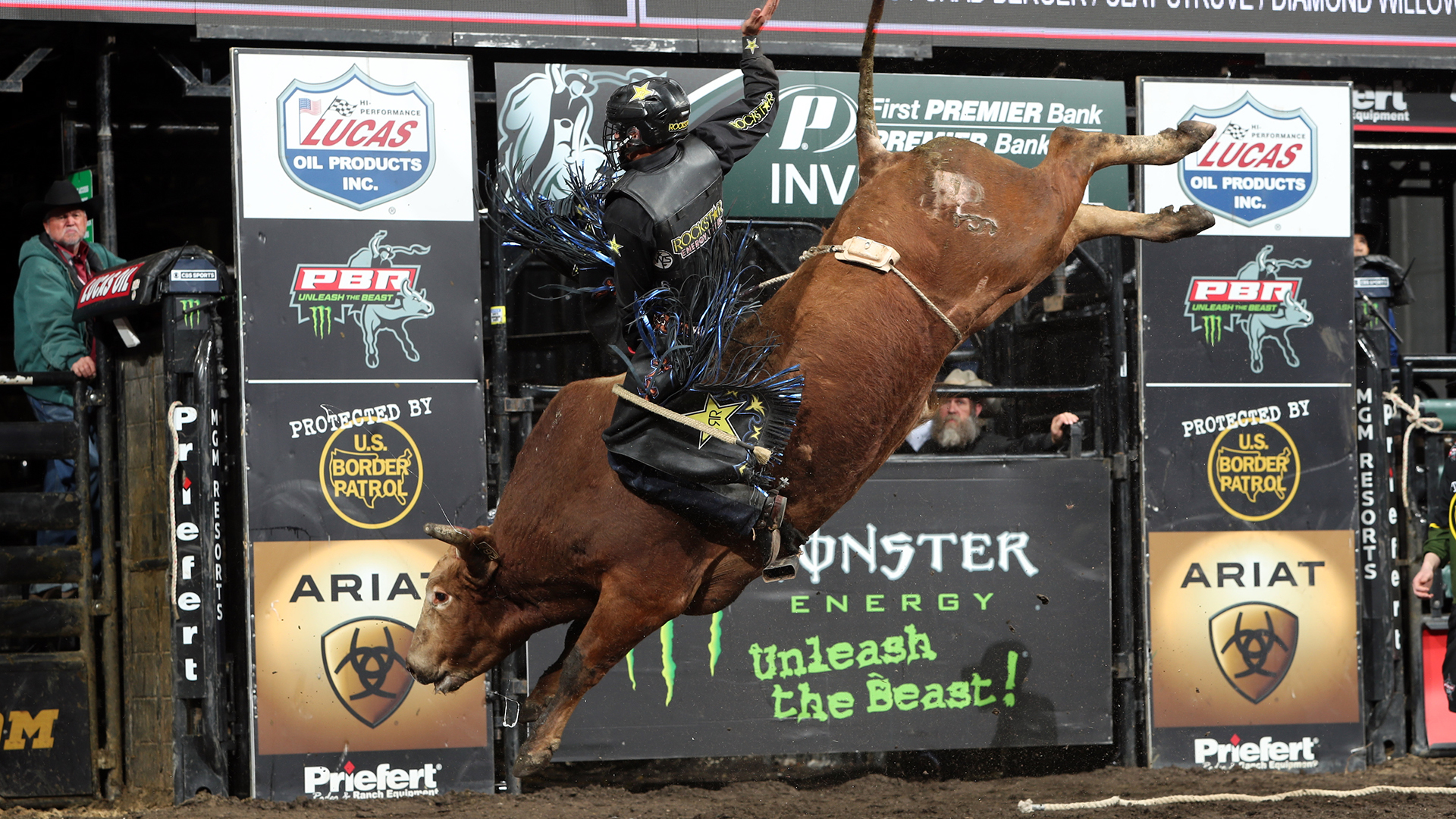 SIOUX FALLS, S.D. – There were four moments where it appeared as if the roof was set to blow off the Denny Sanford Premier Center on Saturday night during the 15/15 Bucking Battle at the First PREMIER Bank PREMIER Bankcard Invitational.
The only problem is in bull riding, 7 seconds results in could have, should have would have moments.
Lucas Divino (7.55 seconds vs. Legit), Luciano de Castro (7.18 seconds vs. Smooth Wreck), Jose Vitor Leme (7.09 seconds vs. Bezerk) and three-time World Champion Silvano Alves (7.04 seconds vs. Fearless) all came within less than a second of winning the 15/15 Bucking Battle.
Instead, it was the rankest bulls in the business going a perfect 15-0 against the top bull riders in the world.
The shutout makes it two consecutive seasons in which a 15/15 Bucking Battle has ended with no qualified rides. Last year, the bulls were perfect in Fairfax, Virginia, on September 22, 2018.
"The stars didn't line up," reigning Stock Contractor of the Year Chad Berger said. "There is not a bull in that pen that not one of these guys can't ride any given day. They didn't draw the right bulls and the ones that did were 7-point something (seconds).
"Luciano, if that bull doesn't make a move out of there, he rides the bull."
Castro seemed well on his way to making a 90-plus ride aboard Smooth Wreck on Saturday night as he stayed lock and step with Smooth Wreck into his left hand for the first six seconds.
However, Castro lost it when Smooth Wreck changed up his direction the opposite way, sending the No. 5 bull rider in the world crashing to the dirt.
"He was really bucking and kicking over his head," Berger said. "When Castro looked like he was going to ride him, and that bull had enough, he jumped ahead and really broke over and kicked over his head and dropped him over his shoulder.
"That bull was pretty severe today. I am proud of that bull."
The buckoff cost Castro a shot to win the 15/15 Bucking Battle and move up in the world standings, while the out reasserted Smooth Wreck as a World Champion Bull contender.
Smooth Wreck was marked a career-best 46.5 points for taking care of Castro.
The out comes a week after a re-ride flag was thrown when Smooth Wreck hit the bucking chutes with Alves in Tacoma, Washington.
Prior to that re-ride, Smooth Wreck had bucked off leading Rookie of the Year contender Cody Jesus (2.08 seconds) in Kansas City, Missouri, for 46 points.
Smooth Wreck is sixth in the World Champion Bull standings with an average score of 44.63 points.
Berger believes Smooth Wreck will rocket back into contention once he can drop that re-ride score from the bull's World Champion Bull average.
"He is right back up there and when we unwind a couple of those bad outs and get them kicked out of there he is probably your number one bull," Berger said. "If that bull keeps producing, he is going to have a shot with him."
Berger purchased the bull from Craig Smith and Dennis Owens in January following the Real Time Pain Relief Velocity Tour event at the Denver National Western Stock Show & Rodeo when Smooth Wreck bucked off Jess Lockwood (2.12 seconds) for 46 points.
"They had such a tough time with him in the chutes and he has always impressed me," Berger said. "I thankful for them letting me get him. He is just starting to settle into his own and I look for good things to come."
Canadian Mist was marked 45.25 points for taking down world No. 1 Chase Outlaw in 3.42 seconds and Bezerk was the next highest-marked bull at 45 points for his work against Leme.
"It is just one of those days where things didn't line up," Berger said. "I take nothing away from the bull riders because every time they run their hand in with the kind of bulls we just bucked it takes a lot of guts and a lot of try."
Fearless – the No. 2 bull in the standings – was tested by Alves, but he ultimately won the battle for 44.5 points.
Alves replaced 2016 World Champion Cooper Davis in the draw after Davis injured his left shoulder in Round 2 when Get Shorty bucked him off in 2.89 seconds.
Two-time World Champion J.B. Mauney (right arm) also missed the 15/15 Bucking Battle after being hurt in Round 2 when Hard & Fast took him down in 2.13 seconds.
Matt Triplett also missed the 15/15 Bucking Battle because of a concussion following his 7.19-second buckoff against Quick Fire.
Follow Justin Felisko on Twitter @jfelisko