SweetPro's Bruiser earns spot in Sioux Falls championship round
By : Justin Felisko
April 06, 2019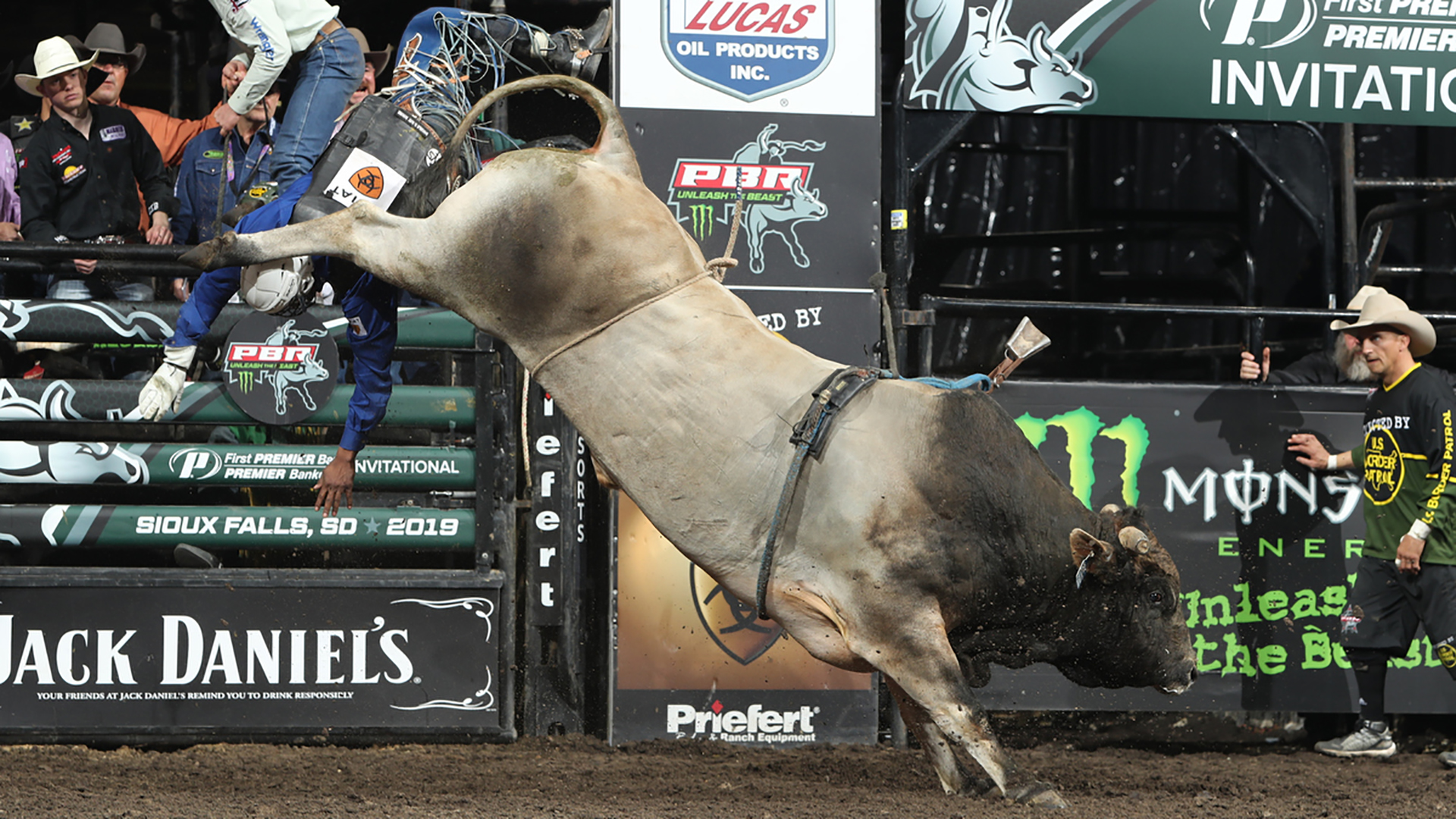 SIOUX FALLS, S.D. – H.D. Page walked up to Ezekiel Mitchell on the back of the bucking chutes inside the Denny Sanford Premier Center and took a seat next to the Rookie of the Year contender.
Mitchell's head hung low following his 6.43-second buckoff against three-time World Champion Bull SweetPro's Bruiser.
The 22-year-old had given everything he could, but eventually the reigning World Champion was able to jar Mitchell's rope loose from his fingertips just shy of the 8-second mark.
"When he stepped ahead, I was already on my fingertips," Mitchell explained to Page. "He is not a bull you can make mistakes on at all."
Mitchell gave Page and Bruiser the exact challenge that the 8-year-old bull needed, and Page was thankful for that.
"When 'Zeke got around him, I was like, 'Oh shit,'" Page said, smiling as he looked at Mitchell. "He had him a seat and he was hammering it up. They were fixing to be 93. It was really good."
Bruiser was marked 45 points for his performance.
More important, Bruiser's out was enough to convince PBR Director of Livestock Cody Lambert that Bruiser has what it takes to compete in Sunday's championship round.
Lambert had said heading into the weekend that he wanted to see what Bruiser did in Round 1 before electing to put him in the championship round.
The PBR co-founder liked what he saw on Friday night at the Denny Sanford Premier Center.
"He was outstanding," Lambert said. "He will be in the short go. He had the snap. I have seen him better, but that is the best i have seen him in a while. If he bucks like that all year, he will be in the race."
Fans can watch all of the action Sunday on CBS Sports Network beginning at 4 p.m. ET and RidePass at 3 p.m. ET.
Page could not have asked for much more from Bruiser, who continuously got stronger as he spun to the left and away from Mitchell's riding hand in an honest out.
Bruiser was making his Unleash The Beast 2019 debut following three outs at non-UTB events.
The five-time PBR World Finals qualifier showed he still has something left in the tank to potentially make a run at a record-setting fourth World Championship.
"I was tickled," Page said. "I was really happy. I thought he really bucked."
Mitchell had never been on Bruiser before, but now he is well aware of why so many riders love the D&H Cattle Company bovine.
"He just feels so good to ride," Mitchell said. "Oh my gosh, he feels so good. That is what a guy dreams to getting on every day of the week."
Follow Justin Felisko on Twitter @jfelisko