Aparecido and Kolbaba doubtful for Round 2 with injuries in Sioux Falls
By : Justin Felisko
April 06, 2019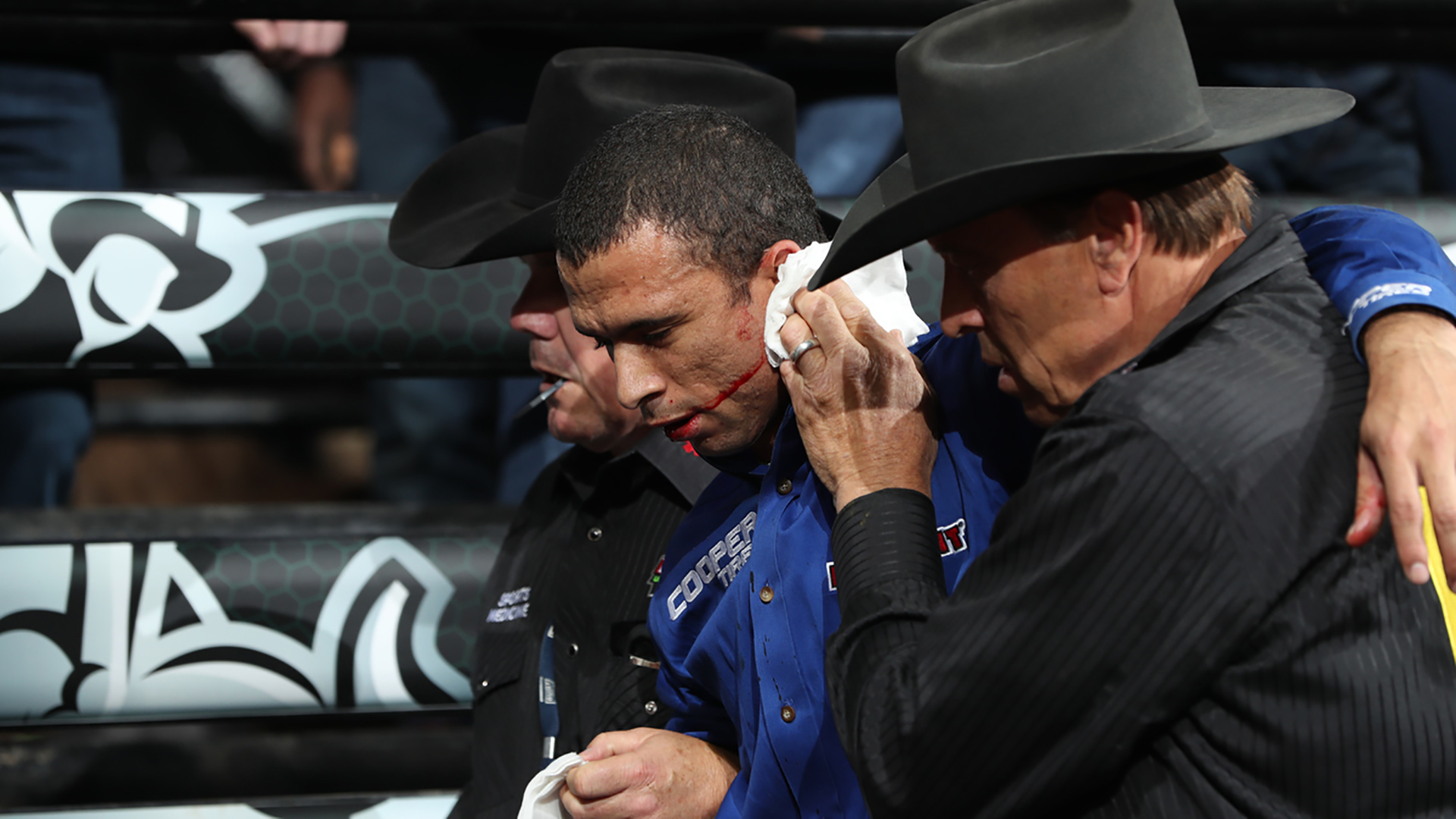 SIOUX FALLS, S.D. – Eduardo Aparecido and Derek Kolbaba were battling for the 2017 World Championship two seasons ago, but their 2019 world title aspirations were placed on hold during Round 1 of the First PREMIER Bank PREMIER Bankcard Invitational on Friday night.
According to Dr. Tandy Freeman, Aparecido and Kolbaba are both doubtful for Round 2 in Sioux Falls following injuries sustained inside the Denny Sanford Premier Center.
Aparecido was transported to a local hospital with a broken jaw and concussion after Acting Crazy ripped Aparecido over the front end and hit the No. 34 ranked bull rider in the world with his horn.
UPDATE: Aparecido was ruled out of competition by Freeman on Saturday morning. Aparecido is set to eventually undergo surgery later this week.
Friday night was the fourth time Acting Crazy has bucked off Aparecido in four meetings.
Earlier in the night, Honey Man bucked Kolbaba off hard onto his shoulder to begin the event in 7.33 seconds.
Freeman believes that Kolbaba may have broken his right collarbone, and Kolbaba will have to get X-rays to determine the severity of the injury.
"Probably get X-rays tonight," Kolbaba said. "I am definitely getting them here either tonight or tomorrow so Tandy can look at them."
UPDATE: Kolbaba said on Saturday morning that his X-rays were negative, and that he is hopeful to be cleared to ride in Round 2.
Kolbaba appeared well on his way to a ride before Honey Man stuttered just enough before 8 seconds.
"He was really good, just like I thought he would be," Kolbaba said. "He kind of stumbled a little bit and shot forward and rocked me back. It never works very good when they rock you back."
This is the second consecutive year that Kolbaba has injured his right collarbone.
Kolbaba lucked out last year in Anaheim, California, when he was originally diagnosed with a broken right collarbone after Frostywhirl bucked him off and hit him three times. An X-ray, though, revealed a minor, fractured bone spur.
He actually was able to return the next night in Anaheim, but he was bucked off by Lifting Lives
Kolbaba, though, is not sure if he will be as lucky this time around.
He was left kicking himself about a missed opportunity in Sioux Falls with Honey Man.
"It is frustrating because I really wanted to ride that bull," Kolbaba concluded.
Follow Justin Felisko on Twitter @jfelisko