PBR rescue efforts save thousands of animals
By : Andrew Giangola
April 03, 2019
PUEBLO, Colo. - You don't have to be a bull riding fan to work at PBR. But it sure helps.
You don't have to love animals, either. Though try meeting someone in the organization – or at any number of stakeholders making the sport go – who isn't a genuine animal activist.

A special bond with the creatures sharing our land is routinely demonstrated in ways big and small across the sport.

Witness the actions taken after the powerful late-winter Bomb Cyclone devastated the Northern Plains and Midwest in mid-March.

Combine a hurricane and blizzard into one weather event, and these so-called "Bomb Cyclones" can wreak devastation of Biblical proportions.

In mid-March, ice chunks big as sports cars ripped through ranches and farmhouses. Grazing and crop fields became inland seas. Baby calves were swept into freezing floodwaters, washing up lifeless along the banks of swollen rivers.

Thousands of larger animals had simply vanished.

"Snow drifts were so high, people worried for their cattle couldn't even get out of their homes to check on them," said Mandi McCary, a member of the PBR Public Relations team, who has a ranch in South Dakota where she and her husband spend summers.

McCary woke up the day after the historic storm to see a disturbing video on social media: a bull trapped under 12 feet of snow being frantically dug out by an entire family.
Speaking with friends and neighbors, McCary knew hundreds of animals were missing. Considering the thousands of square miles affected, how many more were trapped in snow tombs?
With it being calving season, how many cows in trouble were pregnant or had just given birth?
It was time to act.
McCary, who manages public relations for many PBR events in the central and western regions of the United States, including the PBR World Finals, was already planning to promote the April Unleash The Beast event in Sioux Falls, where PBR is always active in the community.
She would focus on putting together a PBR-funded team to find and save cows, bulls, horses and buffalo in grave danger.
Since ground travel was virtually impossible, she hatched a plan for PBR to take to the skies to find the missing animals.
McCary speed dialed Native American Tribal Council Members and local Sheriffs to identify where the need was greatest. She then used local connections to find a handful of volunteer pilots who'd serve as eyes above, relaying directions to ground crews below who'd go in and save the located animals.
PBR quickly signed off on the plan, including funding the planes' fuel.
The morning after that harrowing Facebook video with the happy ending, the first "PBR plane" took to the air from the Dakota Flight Center in Mitchell, South Dakota, searching for thousands of missing animals.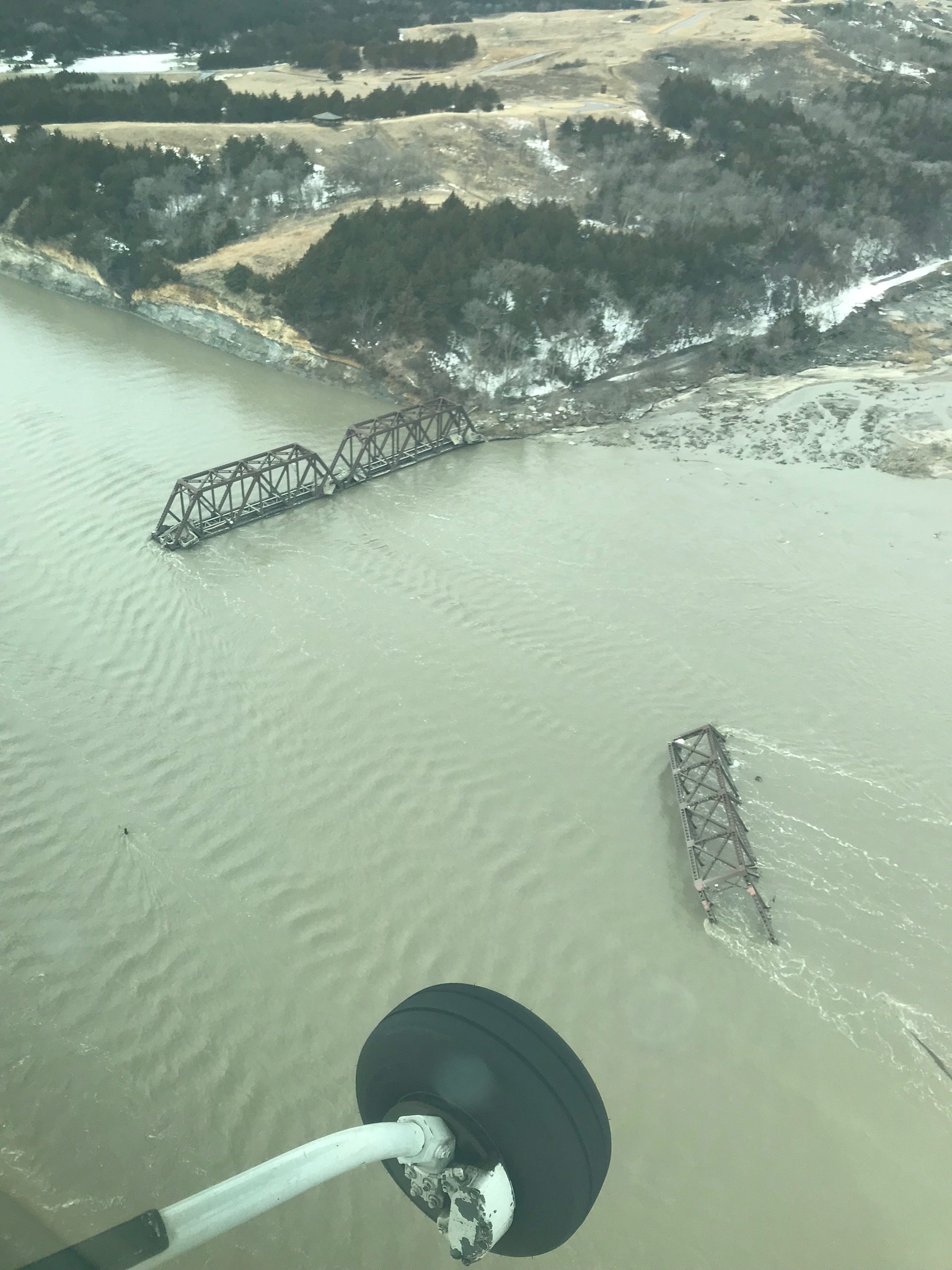 One of the first pilots out, Scott Dorwart, who founded the flight center, teamed up with four cowboys on the ground and found a group of 120 cattle.
"We were looking for any animal stranded, abandoned or in trouble," Dorwart said. "We could see the cattle so much better from the air then they could from the ground."
In the first four days, the flights covered 3,000 nautical miles. They were not without peril.
"You put the flaps down and slow as safely as you can without falling out of the air," said Dorwart, who owns a high-performance Cessna 182 RG. "If you get too slow, you lose lift, stall and can fall out of the air. There's not a lot of grace space when you're 200 to 500 feet off the ground, trying to avoid power lines and other aircraft."
Livestock weren't the only beneficiaries of the pilots' heroism. Dorwart flew a 13 year-old girl from South Dakota to Kansas to reunite with her father in Wichita.
Like Dorwart, pilot Todd Priebe, a former rancher who sold his cattle a few years ago, told McCary without any hesitation that he was all-in on flying the missions, and he headed to the Badlands in his Bellanca Super Viking to search for animals.
"I'm just trying to give back to everyone who needs help," Pribe said. "The fuel cost is prodigious, so it's great to have that help from PBR, who I'm thrilled to support"
Priebe claims to be a big PBR fan. Each year, he attends every night in Sioux Falls with his wife, daughter and her fiancé.

McCary also arranged for a helicopter to fly over a remote area of the Pine Ridge Indian Reservation where buffalo – a main revenue source – were missing.
Word spread of McCary's efforts. People from all over South Dakota and Nebraska were calling at all hours, praying, crying, and begging her to brainstorm ideas to help.
"It was very grounding to see an entire community decimated and not knowing where to start," McCary said.
Some of the phone calls were difficult. One sheriff said everyone was in pretty good shape except "one ol' boy who could use a little help."
Willard Ruzieka, a sixth-generation farmer in his 70s lost everything. His family-owned farm was pummeled by ice, flooded and demolished, save a lone stone building.
"Willard told me, 'I'm not saying I'm homeless, but I have no home anymore.' He is already determined to build again," McCary said.
His 12 bulls were presumed dead.
But there was a small chance a few might have found high ground on a farm that has been in his family since 1871.
The farmer was left speechless when McCary reported she scheduled a plane to search for any surviving bulls.
PBR rider Matt Triplett, who is a skilled rancher from Montana, volunteered to scout the mission. Triplett would then help develop a game plan to head in on horses and evacuate the hungry bulls.
The plane took off from Dakota Flight Center. The sights from several hundred feet were grim.
"The icebergs were huge. We didn't see anything alive. I wouldn't be surprised if none of them made it," Triplett said following the mission, his voice trailing off.
Despite that setback, the PBR flights have located more than 3,700 cattle, horses and buffalo.
"The devastation is almost beyond words," McCary said. "A lot of cattle have died and beyond that tragedy it means millions of dollars of income and people who need to put their lives back together. There are ranchers with their entire feed supply gone; they can't feed the animals who survived. There are farmers who won't be able to plant their crops. There will be a need for money and assistance for quite some time as the water recedes."
Until then, and even afterwards, McCary will be taking phone calls, praying and crying and brainstorming.
It's what the people of the PBR do.
CODA
Those wishing to help the region's affected families can click here to donate directly to the National Cattleman's Association (NCBA) with all collections dispersed specifically to local organization partners in South Dakota and Nebraska: pbr.com/rescuefund