Frost is ready to be a premier series regular
By : Justin Felisko
March 31, 2019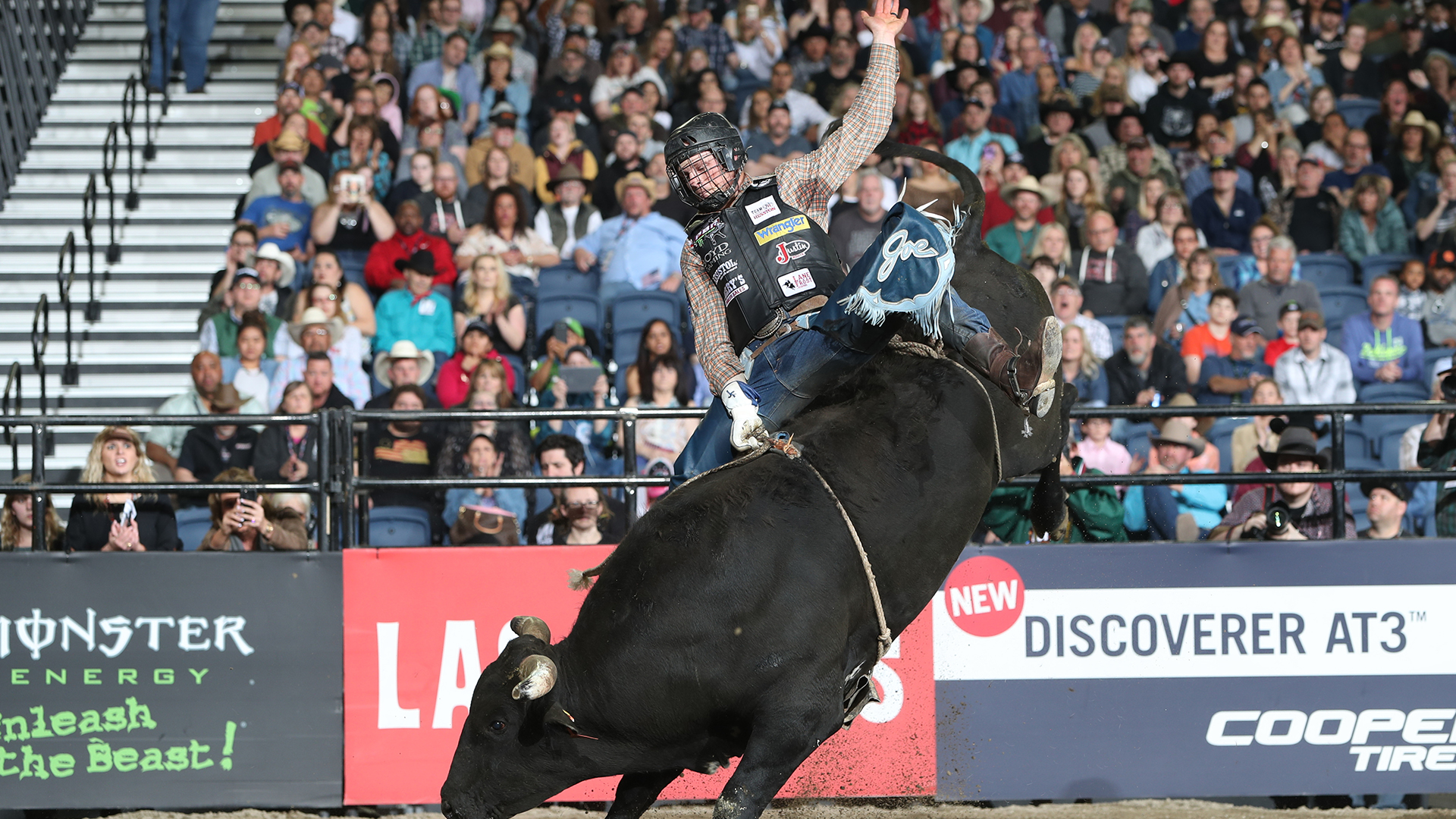 TACOMA, Wash. – Joe Frost is not looking for any excuses, pity or free passes.
Frost knows he is ultimately the one to blame when it comes to where he sits in the world standings, but the five-time Wrangler National Finals Rodeo qualifier admits that not being on the Unleash The Beast yet is frustrating.
However, that may be changing soon following Frost's 87.25-point ride on Midnight Rain during Round 1 of the Tacoma Invitational, presented by Cooper Tires, on Saturday night.
Frost finished Round 1 in third place to pick up 50 world points and push himself up six spots in the world standings to No. 37.
He now trails No. 35 Dylan Smith by only 34.16 points.
"My goal starting the year out was to get on tour," Frost said. "That didn't mean just get to go to one or two events. This is what I want to do, and I mean this in a nice way, I don't want to go back to the Velocity Tour. This is where I want to be every weekend, riding with my buddies."
Frost has been one of the best riders so far this season down on the Pendleton Whisky Velocity Tour that has yet to cash in on the Unleash The Beast.
The 26-year-old is 8-for-16 on the Velocity Tour with one event win.
"The problem was (I was riding) the wrong 50%," Frost said. "That's the thing, when you're riding a lower percentage like that, you've got to ride those 50% at the right time.
"When a guy starts riding 70 to 80% of them, then you're racking up the points. That's more where I should be – riding 70, 80, 90% of the bulls I get on."
Frost certainly did not draw an easy opponent on Saturday night at the Tacoma Dome.
Midnight Rain was 5-0 on the premier series before Frost made easy work of him into his hand.
2002 World Finals event winner J.W. Hart credited Frost for dominating Midnight Rain.
"Well, that is what you are here to do," Hart said on RidePass. "You are here to dominate your sport, your animal. He does that. He took advantage of the bull he had. He made it happen, and that is what bull riding is about. When you get one that fits you like this and you can sit down into your hand and lift on that bull rope and work that outside foot, take advantage of it, and Joe Frost does exactly that."
Frost knew he had a tall task when he saw the draw earlier this week, but that just gave him further motivation inside the practice pen on Tuesday, Wednesday and Thursday.
"I seen that on his stats and stuff, but everybody said he was really good, and shoot, I'd seen I had two bulls out of the right-hand delivery this weekend, so I got on five practice bulls this week," Frost said. "The last two I made sure was something that's going to go right, and I rode the hair off of them.
"Things were feeling good going into it and it went just like I wanted it to."
Frost takes on Deep Water (24-8, UTB) in Round 2 on Sunday (CBS Sports Network 8 p.m. ET / RidePass 4:45 p.m. ET).
Tacoma is Frost's second Unleash The Beast event following his 12th-place finish at the Mason Lowe Memorial.
Frost expected to be inside the Top 35 already, but that has yet to be the case.
The Randlett, Utah, bull rider said that at every Velocity event he would be thinking about how it could become a jumping point for him.
"It can be a little bit frustrating," Frost said. "Every time you go to a Velocity event, you're going there with it in your mind that you have to do good so hopefully you don't have to come next weekend.
"And that's bad to say because they are good events. But when this is your goal and this is where you want to be, you've got to try to block all that out."
Frost went 1-for-3 last weekend at the Fresno, California, Velocity Tour event to earn an alternate spot in the Tacoma draw. His 87-point ride on Betsy earned him 60 world points.
He plans on making the most of his opportunity on Championship Sunday in Tacoma.
"I was lucky enough last weekend to stay on a good one in the second round and get just enough points to get here as an alternate," Frost concluded. "Maybe we can capitalize on it and just be here all year."
Follow Justin Felisko on Twitter @jfelisko