Veteran Rubens Barbosa wins Round 1 in Tacoma
By : Mandi McCary
March 31, 2019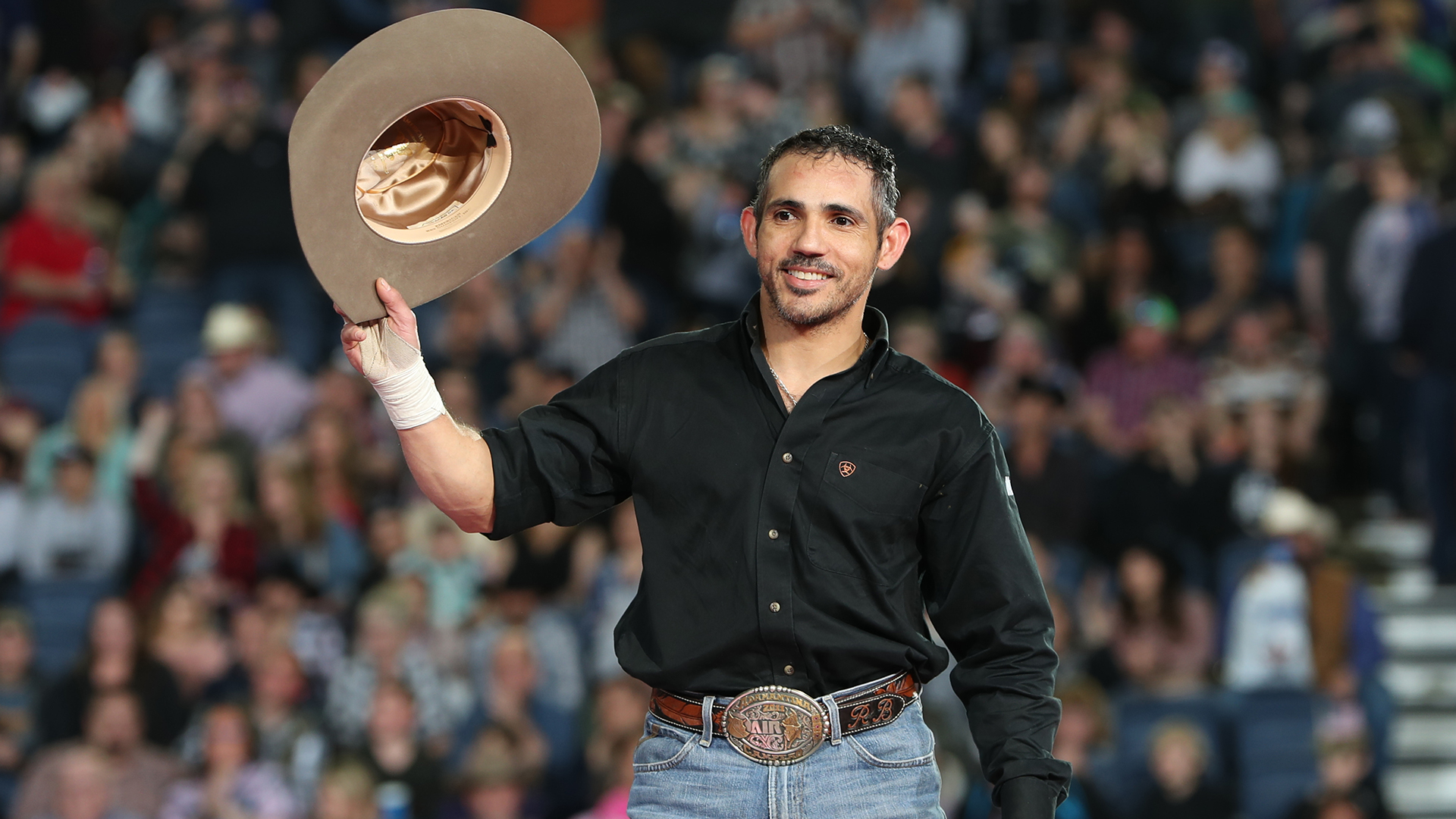 Tacoma, Wash. – PBR's (Professional Bull Riders) Rubens Barbosa (Iaciara, Goias, Brazil) won Round 1 on Saturday night at the Unleash The Beast (UTB) Tacoma Invitational, presented by Cooper Tires.
The Brazilian, veteran bull rider secured the win with an impressive 88.5-point ride atop Red Beard (Mossyrock Cattle Company/Wentz Bucking Bulls/New West Rodeos). Barbosa earned 100 world points for his effort and carries the advantage heading into the second round.
Just one week after returning to competition following a wrist injury earlier in the season, Matt Triplett (Columbia Falls, Montana) finished in second place with an 87.75-point ride on Swayze (Dakota Rodeo/Chad Berger/Clay Struve/Diamond Willow). The 27-year-old earned 60 world points for his performance.
Taking third place in Tacoma's opening round, Joe Frost (Randlett, Utah) gritted out an 87.25-point ride on Midnight Rain (Dakota Rodeo/Chad Berger/Clay Struve/Staci Wilks/N Bar Ranch). Frost earned 50 world points, helping him inch closer to a spot among the Top 35 in the world standings.
Idaho cowboy Ruger Piva (Challis, Idaho) brought the crowd to their feet with the first qualified ride of night, securing him a fourth place and 40 world points. Piva covered Golden (Dakota Rodeo/Chad Berger/Lacey Scott) for 86 points.
Cody Teel (College Station, Texas) and Danilo Carlos Sobrinho (Tupa, Sao Paulo, Brazil) rounded out the Top 5 in a tie, each scoring 85.75 points and earning 22.5 world points. Teel rode Crazy Days (Dakota Rodeo/Chad Berger/Clay Struve/Heald Pro Bulls) to the buzzer and Sobrinho made the 8 for a qualified ride on Ugh Mug (Mossyrock Cattle Company).
Replays from Round 1 will be available starting at 8 a.m. ET on Sunday, March 31 on Ridepass.com or via the Ridepass mobile app.
Professional Bull Riders - TACOMA INVITATIONAL PRESENTED BY COOPER TIRES
Tacoma Dome - Tacoma, WA, 2019
Event Leaders (Round 1-Round 2-Round 3-Event Aggregate-Event Points)
1. Rubens Barbosa, 88.5-0-0-88.50-100 Points.
2. Matt Triplett, 87.75-0-0-87.75-60 Points.
3. Joe Frost, 87.25-0-0-87.25-50 Points.
4. Ruger Piva, 86-0-0-86.00-40 Points.
5. Danilo Carlos Sobrinho, 85.75-0-0-85.75-22.5 Points.
(tie). Cody Teel, 85.75-0-0-85.75-22.5 Points.
7. Marco AntÙnio Eguchi, 85-0-0-85.00-5 Points.
8. Stetson Lawrence, 84.75-0-0-84.75
9. Jo"o Ricardo Vieira, 84.25-0-0-84.25
(tie). Tanner Byrne, 84.25-0-0-84.25
11. Ezekiel Mitchell, 83.5-0-0-83.50
12. Marcus Mast, 82.25-0-0-82.25
Chase Outlaw, 0-0-0-0.00
Jose Vitor Leme, 0-0-0-0.00
Luciano De Castro, 0-0-0-0.00
Ryan Dirteater, 0-0-0-0.00
Cody Jesus, 0-0-0-0.00
Lucas Divino, 0-0-0-0.00
Alisson De Souza, 0-0-0-0.00
Cannon Cravens, 0-0-0-0.00
Silvano Alves, 0-0-0-0.00
Claudio Montanha Jr., 0-0-0-0.00
Colten Jesse, 0-0-0-0.00
Derek Kolbaba, 0-0-0-0.00
Taylor Toves, 0-0-0-0.00
Scottie Knapp, 0-0-0-0.00
Daniel Tinsman, 0-0-0-0.00
Junio Quaresima, 0-0-0-0.00
Eduardo Aparecido, 0-0-0-0.00
Dakota Buttar, 0-0-0-0.00
Dylan Smith, 0-0-0-0.00
Mason Taylor, 0-0-0-0.00
Lawson Nobbs, 0-0-0-0.00
Jordan Hansen, 0-0-0-0.00
Brady Sims, 0-0-0-0.00
Kaique Pacheco, 0-0-0-0.00