Pendleton Whisky Velocity Tour
Whitehorse wins big at Velocity event in Wyoming
By : Heather Croze
March 31, 2019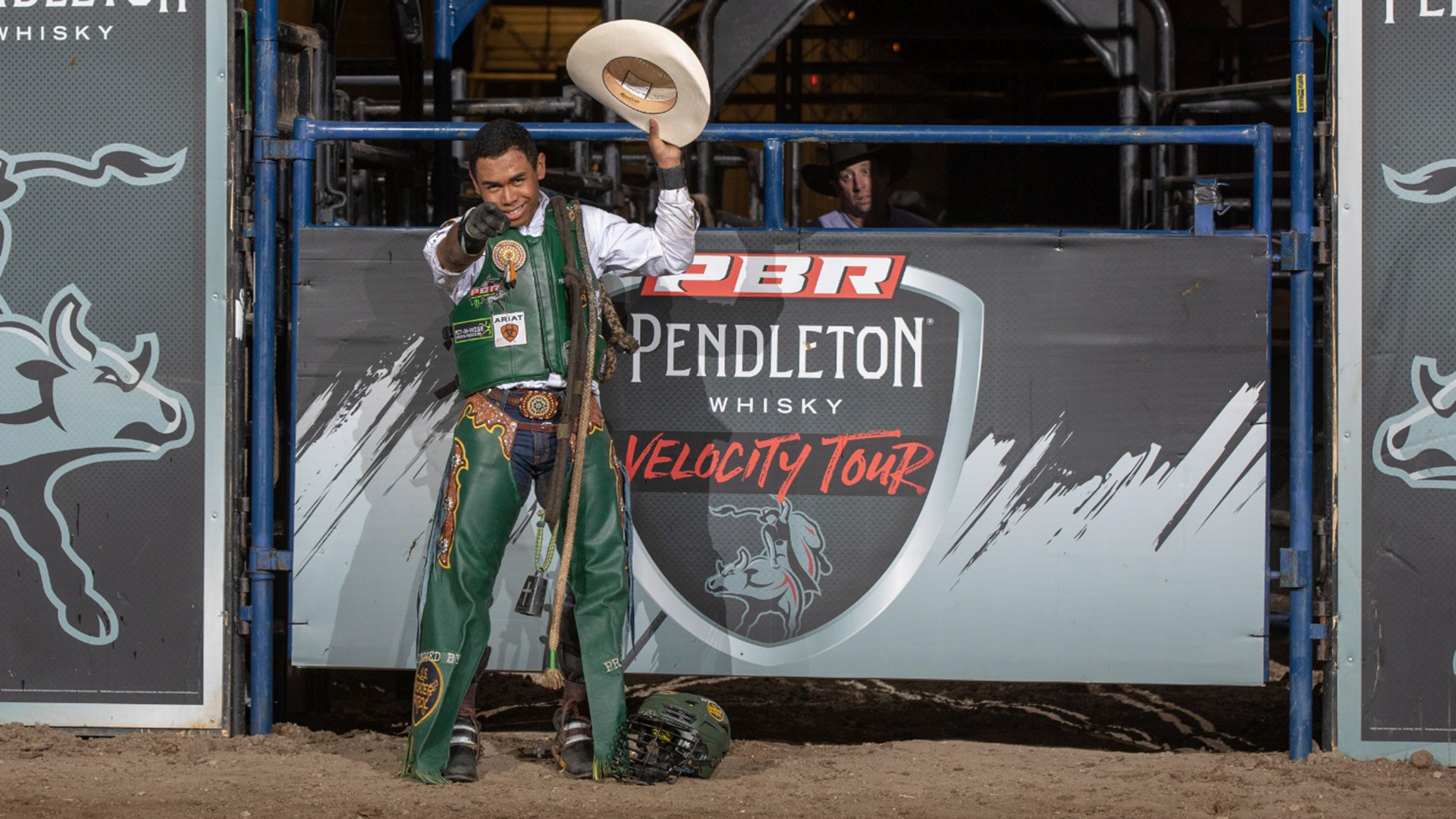 CASPER, Wyo. – Looking to make his way back into the Top 35 in the world, Keyshawn Whitehorse (The Woodlands, Texas) came up big during the PBR (Professional Bull Riders) Pendleton Whisky Velocity Tour (PVT) Casper Classic on Saturday night at the Casper Events Center in Casper, Wyoming.
Whitehorse started section two with a huge ride aboard Phenom Genetics' 10-year-old bovine Hy Test (Phenom/JCL/Swalin/Goods Bucking Bulls/Sankey Pro Rodeo). Whitehorse took the lead in the event with his 87.5-point ride score.
In the championship round, Whitehorse was the last rider to go. He made it worth the wait, putting up 86 points on Smooth Sailing (Dakota Rodeo/Julie Rosen/Clay Struve/Chad Berger) to win his first Velocity Tour event of 2019.
"It's not been the best start of the year for me," the 2018 PBR Rookie of the Year said. "Maybe it's not been for me to learn about bull riding but maybe to learn more about life."
With the win he earned 220 points towards the PBR world standings along with $7,750. But more importantly, he is now the 34th-ranked bull rider in the world.
Every winner of a Pendleton Whisky Velocity Tour event has an opportunity to compete at an Unleash The Beast series event, and with the victory in Casper, Whitehorse earns the right to compete in Cheyenne, Wyoming, at the third PBR Major of the season, Last Cowboy Standing at Cheyenne Frontier Days on July 22-23.
Second place went to Luis Blanco (Iacanga, Brazil) who was the only other rider to 2-for-2. Blanco covered Chili Bean (Phenom Genetics/Sankey Pro Rodeo) for 84 points in the long round before taking D-Day (Dakota Rodeo/Chad Berger/Clay Struve) to the whistle in the short round, earning 51 points.
He took home a paycheck of $4,850 along with 90 world points and is now ranked 53rd in the world standings.
Third place went to young gun Dalton Krantz (Somers, Iowa). Krantz tallied 86.5 points aboard Good Ride's Jailhouse Jr. (Finish First Supplements Pro Bull Team/Wallgren & Hale Bull Company) on Saturday night in the first round before bucking off Fire & Smoke (Dakota Rodeo/Julie Rosen/Clay Struve/Chad Berger) in the championship round. He earned 80 world points and $3,000.
Bryan Titman (East Bernard, Texas), Cody Rodeo Tyler (Guthrie, Oklahoma) and Kache Moosman (Price, Utah) all tied for fourth place with one bull score each of 85.5 points in the long round. None of the three were able to make the whistle in the championship round.
Titman covered Roll of the Dice (Kiser/Barrett Willis Bucking Stock LLC), Tyler went 8 aboard Uptown Funk (J.C. Knapp Rodeo Co.) and Moosman rode Redneck (Harrison/Swearingen/Berger).
Each one earned 18.33 points towards the PBR world standings along with $1,233.
Hellfire (Bob Whisnant/Good Ol' Boys) and Short Night (Dakota Rodeo-Chad Berger/Clay Struve/Ken Barnhard) tied for the high-marked bull of the event after each recorded a 44-point score. Hellfire bucked off Luke Bradley (Seligman, Missouri) while Short Night sent Tye Chandler (Celina, Texas) to the ground early.
Fans will be able to watch all of tonight's action from Casper on RidePass.com or via the RidePass mobile app on Sunday at 8 a.m.
The Pendleton Whisky Velocity Tour is back in action on April 6 at 7:00 p.m. at the Bakersfield Buck Off in Bakersfield, California.
PBR Pendleton Whisky Velocity Tour
Casper Classic
Casper Events Center – Casper, Wyoming
Event Leaders (Round 1-Round 2-Event Aggregate-Event Points)
1. Keyshawn Whitehorse, 87.5-86-173.50-220 Points.
2. Luis Blanco, 84-51-135.00-90 Points.
3. Dalton Krantz, 86.5-0-86.50-80 Points.
4. Bryan Titman, 85.5-0-85.50-18.33 Points.
(tie). Cody Rodeo Tyler, 85.5-0-85.50-18.33 Points.
(tie). Kache Moosman, 85.5-0-85.50-18.33 Points.
7. Ramon de Lima, 84.5-0-84.50-2.5 Points.
(tie). Michael Lane, 84.5-0-84.50-2.5 Points.
9. Shay Marks, 83.5-0-83.50
10. Travis Briscoe, 82-0-82.00
11. Preston Louis, 81.5-0-81.50
12. Dayton Johnston, 80.5-0-80.50
13. Thor Hoefer II, 77.5-0-77.50
Lindomar Lino, 0-0-0.00
Alex Marcilio, 0-0-0.00
Paulo Ferreira Lima, 0-0-0.00
Lucas Fideles Souza, 0-0-0.00
Juan Carlos Contreras, 0-0-0.00
Jake Lockwood, 0-0-0.00
Ueberson Duarte, 0-0-0.00
Devon Weaver, 0-0-0.00
Cody Casper, 0-0-0.00
Wallace Vieira de Oliveira, 0-0-0.00
Tye Chandler, 0-0-0.00
Austin Richardson, 0-0-0.00
Justin Granger, 0-0-0.00
Francisco Morales, 0-0-0.00
Eduardo de Oliveira, 0-0-0.00
Alex Cardozo, 0-0-0.00
Rafael Marcelino de Montanha, 0-0-0.00
Tyler Harr, 0-0-0.00
Cristiano Figueredo, 0-0-0.00
Quentin Vaught, 0-0-0.00
Kyle Jones, 0-0-0.00
Billy Quade Phillips, 0-0-0.00
Logan Biever, 0-0-0.00
Jake Gowdy, 0-0-0.00
Cody Tesch, 0-0-0.00
Leonardo Lima, 0-0-0.00
Colt Galvan, 0-0-0.00
Dakota Louis, 0-0-0.00
Adriano Salgado, 0-0-0.00
Dalton Rudman, 0-0-0.00
Luke Bradley, 0-0-0.00
Ricky Aguiar, 0-0-0.00
Juliano Antonio Da Silva, 0-0-0.00