Kansas City draw: Cravens ready for Preacher's Kid
By : Justin Felisko
March 20, 2019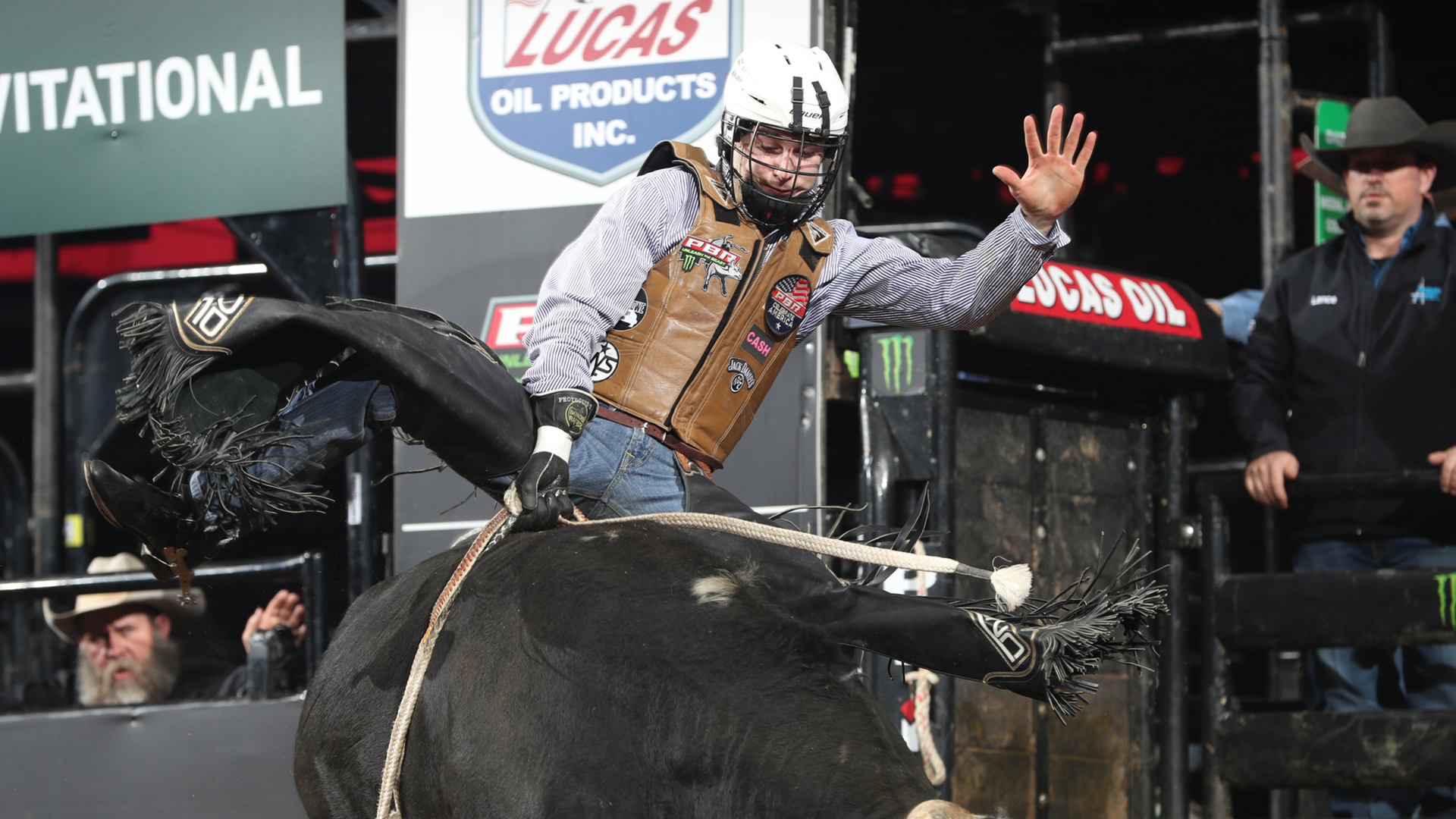 PUEBLO, Colo. – 2019 Rookie of the Year contender Cannon Cravens has yet to surpass the 90-point threshold on the Unleash the Beast, but that may finally change on Saturday night at the Caterpillar Classic.
Cravens is set to square off against rising bovine star Preacher's Kid in Round 1 in Kansas City at the Sprint Center.
DAYSHEET: Click here for all of Round 1
Preacher's Kid – currently the No. 3 bull in the ABBI Classic Standings – is back in action following his sensational 46-point outing in Duluth, Georgia, when he sent Stormy Wing packing in a brief 2.61 seconds.
The 4-year-old bull is 4-0 this season with an average bull score of 44.56 points, placing him at No. 5 in the World Champion Bull race. However, two of the bulls ahead of him – Magic Train and Spotted Demon – have only bucked twice this year thus far.
RELATED: Preacher's Kid belts out a sermon in Duluth
Cravens is 8-for-22 (36.36 percent) and said he will be ready for the tough Round 1 matchup.
"Just give it everything I have and pick up another round win," Cravens said. "Everyone I've seen get on him just gets beat around the corner and gets leaned back. On a bull like him, you have to get out over him and keep moving."
Leading World Champion Bull contenders Smooth Operator (45.19) and Fearless (45) are set to buck in the championship round.
TOP 5 ABBI BULLS & THEIR ROUND 1 MATCHUP
1. Concealed Carry vs. Taylor Toves
2. The Right Stuff vs. Luis Escobedo
3. Preacher's Kid vs. Cravens
4. Hocus Pocus vs. Matt Triplett
5. Chiseled vs. Jess Lockwood
On the opposite end of the spectrum, leading Rookie of the Year candidate Cody Jesus may have the best Round 1 matchup when he takes on Big Black.
Big Black has teamed up with a cowboy for five consecutive 90-point rides. Four of the past five event winners have ridden Big Black for an event win in the championship round.
Jesus is ranked seventh in the world standings and is 13-for-30 (43.44 percent).
He said he was initially surprised to see Big Black in the draw for the first round.
"Shoot, I need to take advantage of it," Jesus said. "I've always wanted to pick him. I got him and just need to capitalize on it."
LOCKWOOD GETS BAD NEWS; INJURY UPDATES
There are four riders inside the Top 30 who are not competing in Kansas City – No. 1 Jess Lockwood (broken collarbone), No. 13 Aaron Kleier (rider decision/suspension), No. 25 Brennon Eldred (broken jaw) and No. 28 Cody Heffernan (visa issues).
Heffernan is working with the PBR competition department to get his visa approved so he can return to the United States and compete.
The 2016 PBR Australia champion won back-to-back PBR Australia events to crack the Top 30 two weeks ago.
Lockwood was hopeful he would be returning in Kansas City, but a CT scan Thursday revealed that his broken left collarbone has yet to heal.
RELATED: Lockwood may be out another 4 to 6 weeks
Lockwood holds a slim 47.5-point lead on No. 2 Joao Ricardo Vieira.
INJURY EXEMPTION RIDERS/ALTERNATES
Reigning World Champion Kaique Pacheco and five-time PBR World Finals qualifier Matt Triplett remain in the draw via exemptions.
Pacheco has bucked off five consecutive bulls at all levels, including two last weekend at the Wheeling, West Virginia, Pendleton Whisky Velocity Tour event in less than 4 seconds. Pacheco – the No. 83 rider in the world standings – trails No. 35 riders Stetson Lawrence and Sean Willingham by 220 points.
Pacheco has drawn Let's Gamble (0-0, UTB).
RELATED: Pacheco says timing is off
Triplett opted to take last weekend off, and he is still just 68.33 points outside the Top 35. He has one more exemption following Kansas City before being subject to the cutline.
The 27-year-old has bucked off eight consecutive bulls on the Unleash The Beast since beginning the season with a fifth-place finish at the Monster Energy Buck Off at the Garden in New York City.
Triplett takes on 2018 PBR Co-Bull of the Finals Hocus Pocus. It was at the World Finals last year where Hocus Pocus was marked 47 points against Triplett. However, he was given a re-ride after winning a challenge saying he did not nod for the gate.
No. 36 Marcus Mast and No. 38 Ruger Piva are the two alternate riders this weekend, replacing No. 33 Cliff Richardson (rider choice) and Lockwood.
No. 92 Justin Granger (Native American invite) and No. 173 Luis Escobedo (Hispanic Invite) are special invites for Kansas City.
Granger and Escobedo were members of the Team USA Wolves and Team Mexico, respectively, at the 2019 WinStar World Casino & Resort Global Cup USA, presented by Monster Energy.
KOLBABA AND LAWRENCE GET THE JOB DONE DURING UTB OFF WEEKEND
Derek Kolbaba was the big winner last weekend as he won the Wheeling Velocity Tour event to rocket from No. 35 to No. 18 in the world standings.
Stetson Lawrence still has work to do to stay inside the Top 35, but the six-time PBR World Finals qualifier did just enough in Belton, Texas; he received a last minute spot for the Touring Pro Division event last weekend when Evan Morales informed the PBR competition department he was unable to make it to Texas due to weather.
Therefore, Lawrence decided to ride in Belton before heading to Dayton, Ohio, for the Velocity Tour event on Saturday night.
Lawrence (1-for-2) capitalized by riding accepting a re-ride and covering on FLS D-2 for 86.5 points. The 30-year-old finished in third place for 20 world points, which was just enough to move him ahead of No. 36 Marcus Mast and Willingham.
ROUND 1 REMATCHES
Eduardo Aparecido vs. Uncle Gangster (88.5 points at 2019 Global Cup)
Jose Vitor Leme vs. Air Assault (3.24 seconds 2019 Iron Cowboy)
Luciano de Castro vs. Bulls Eye (88.5 points at 2019 Little Rock, Arkansas)
Mason Taylor vs. Bad Decisions (2.87 seconds at 2018 Wheeling, West Virginia)
Matt Triplett vs. Hocus Pocus (1.83 seconds at 2018 World Finals)
Follow Justin Felisko on Twitter @jfelisko