Mauney ties Lee for second-most rides in PBR history
By : Justin Felisko
March 09, 2019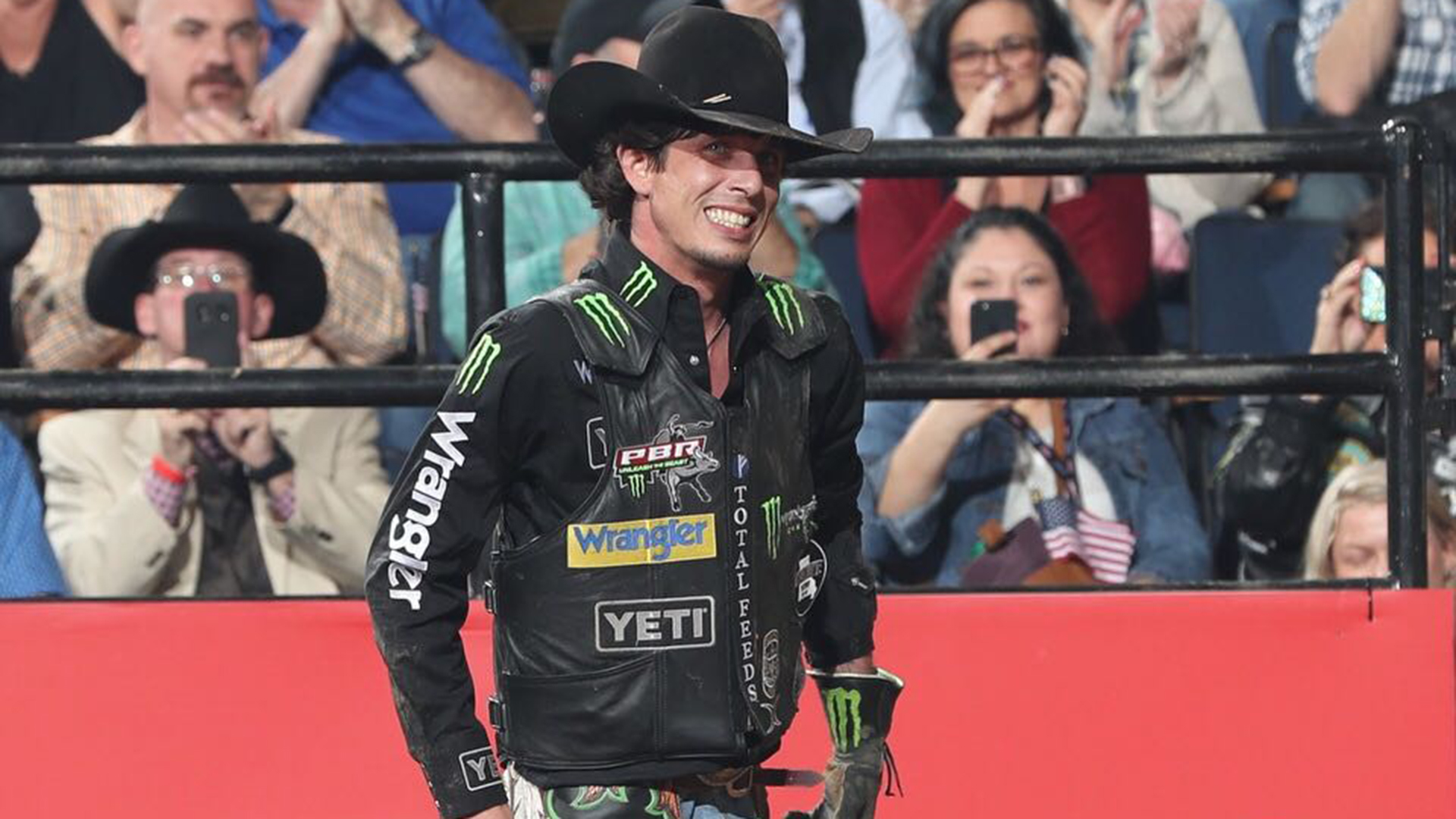 DULUTH, Ga. – Two-time World Champion J.B. Mauney is continuing to make history.
A week after tying two-time World Champion Justin McBride for the most event wins (32) in PBR history with a victory at the Bad Boy Mowdown, Mauney joined another PBR legend in the record books Saturday night at Infinite Energy Arena.
Mauney tied 2004 World Champion Mike Lee for the second-most qualified rides in PBR history, earning career ride No. 525 by reaching 8 seconds aboard Polaroid for 86 points during Round 1 of the U.S. Border Patrol Invitational.
"525 is saying something, but in this sport, the way I look at it is there's only one thing that matters most, and that's a gold buckle," Mauney said. "You can ride the most at all of them, but never win the world. You'll go down in history, but there'll be somebody that comes along and breaks that record, so the gold buckle is the only thing that matters in this sport."
2008 World Champion Guilherme Marchi owns the PBR record for most qualified rides at 635.
Mauney's main focus is winning that record-tying third PBR World Championship, and he helped his case Saturday night by finishing Round 1 tied for fifth place with Cody Teel (86 points on Handsome Jeff).
The duo each picked up 22.5 points toward the world standings.
Mauney once again plucked away at injured world No. 1 Jess Lockwood's lead atop the world standings. The No. 9-ranked bull rider in the world standings now trails Lockwood by 1,451.67 points.
The 32-year-old could get to within almost 850 points of Lockwood on Sunday with an event win and two round victories.
"That's what it's all about," Mauney said. "When you flip that light switch on, what makes or breaks you is confidence, and all that's above your shoulders. Your body knows what to do. Your head's just got to tell it, 'I can do it.'"
Mauney has drawn Lil Fool (4-1, UTB) for Round 2 on Sunday.
Fan can watch Championship Sunday on RidePass at 1:45 p.m. ET and CBS Sports Network at 8 p.m. ET.
Mauney continues to battle through injuries during his historic march up the record books.
The 13-time PBR World Finals qualifier strained his right groin last week during his 84.5-point ride on Stone Cold Crazy. The groin strain is Mauney's latest injury of 2019 to go along with a broken left leg, torn left ACL and torn left MCL.
"Winning last week, I know I'm beat up," Mauney said with a shrug. "I can hardly get up when I hit the ground, but I know I can still ride them and that's all that matters.
"I'm trying to keep it rolling."
Mauney heads into Championship Sunday riding a streak of four consecutive rides. It's the first time he has ridden four consecutive bulls since he won the Billings, Montana, premier series event in 2017.
That was also before Mauney sustained a career-threatening right shoulder injury, torn right groin, broken back and his left leg injuries.
All of that is in the past, though, and Mauney is looking forward.
"After last week (my light switch) was on high beam," Mauney said. "It'd been a couple years since I'd won one. I've been beat up, been listening for a long time to people telling me I was done, needed to retire.
"I guess I just eventually got tired of listening to it."
"There are guys with pretty decent careers that don't even get on 500 bulls," 2002 World Finals event winner J.W. Hart said on RidePass. "You have to find your motivation however way you can find it. Whether it be money, whether it be the thrill of riding bulls, whether it be proving somebody wrong or proving yourself right. I don't care. Just let the riding do the talking."
Another qualified ride on Sunday afternoon will give Mauney sole possession of the second-most rides in PBR history.
Two more qualified rides may also get him the No. 1 ranking for most event wins in PBR history.
"It don't really matter to me," Mauney said. "The rides don't bother me. I have a job to do, and I show up and do it. If I do it enough, then I will break records. The rest will take care of itself."
Follow Justin Felisko on Twitter @jfelisko