Vieira wins THE AMERICAN bull riding and piece of $1 million bonus
By : Justin Felisko
March 03, 2019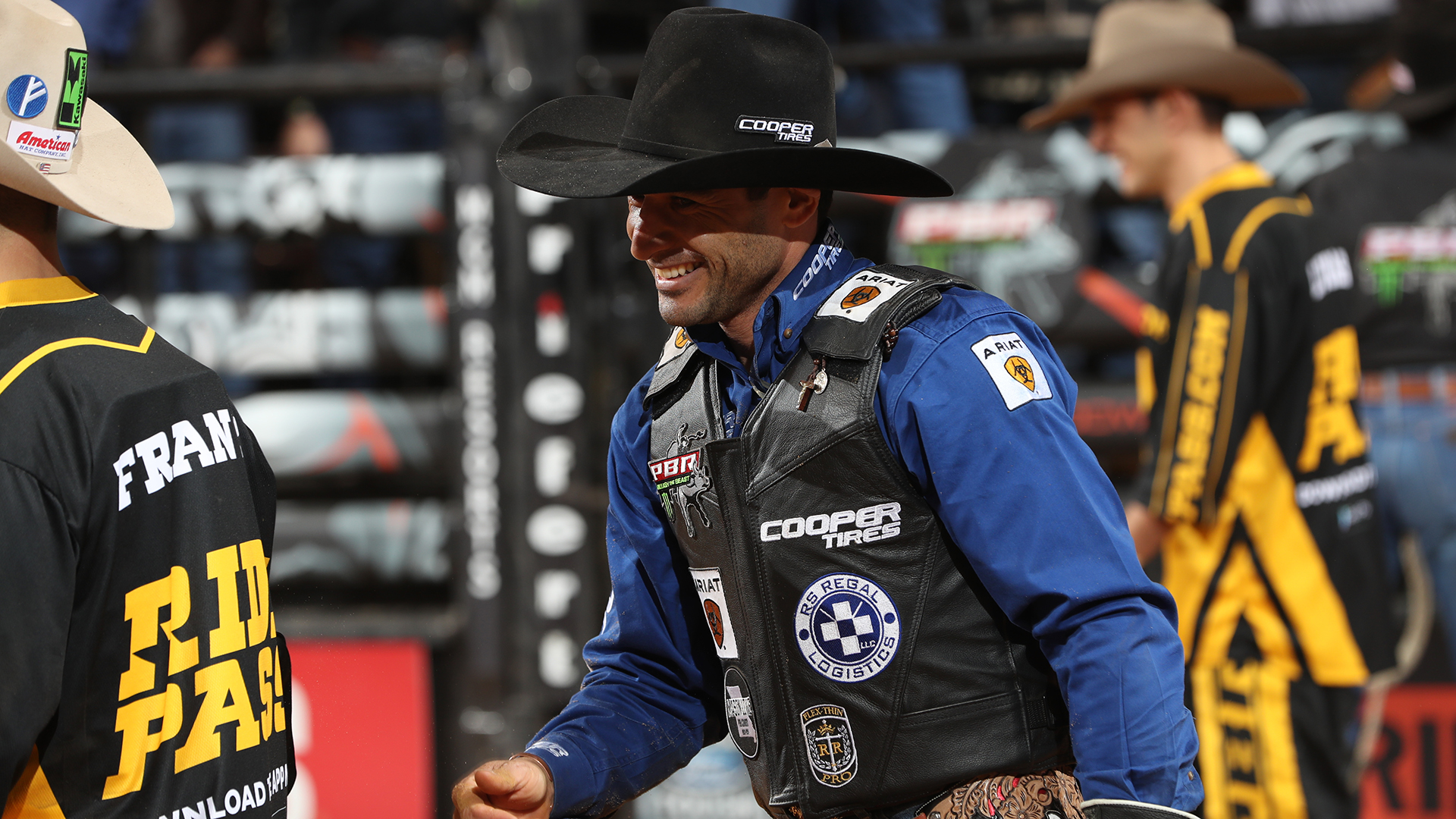 PUEBLO, Colo. – Joao Ricardo Vieira, the No. 2-ranked bull rider in the world, continued his reign of domination inside AT&T Stadium this weekend.
Vieira has said for years that he feels like he has special powers inside AT&T Stadium, and he now has another 433,333.33 reasons to love riding inside the home of the Dallas Cowboys.
The 34-year-old rode PBR Stock Contractor of the Year Chad Berger's Soup in a Group for 87 points in the Shoot Out Round of RFD-TV's THE AMERICAN on Sunday to win the bull riding championship ($100,000) and take home a portion of the rodeo's $1 million bonus ($333,333.33).
Vieira was still close to speechless late Sunday evening as he made his drive home to Decatur, Texas, with his wife, Rosimara, and daughter, Maria. The family went out to VB Steakhouse with a small group of friends to celebrate Joao's victory.
"This is amazing," Vieira said. "I am so blessed. I love AT&T Stadium. This is my house. I make a lot of money here. I am so relaxed here and ride really good."
Vieira was the only bull rider to make a qualified ride during the Shoot Out Round on Sunday.
Jose Vitor Leme, Kaique Pacheco and Cody Teel all bucked off.
Vieira was eligible for THE AMERICAN's $1 million qualifier bonus after advancing through the SEMI-FINALS this past week, and he was the only eligible bull rider that advanced to the Shoot Out Round.
The Itatiba, Brazil, native split the prize three ways ($333,333.33) with team roping champions Coleman Proctor and Ryan Motes. The three athletes were the only $1 million-eligible qualifiers to win their respective events at the rodeo on Sunday.
Vieira has been nearly unbeatable inside AT&T Stadium since first making his debut there in 2014.
He has now won over $830,000 in the last six years in Arlington, Texas.
"AT&T Stadium has changed my life," Vieira said. "I love this stadium. Every year it gives me power."
Vieira is the first bull rider to win THE AMERICAN two times after first winning it in 2016.
His domination inside AT&T Stadium began before THE AMERICAN with back-to-back Iron Cowboy titles in 2014 and 2015.
Just last month, Vieira was a member of Team Brazil at the PBR's Global Cup USA, which was held at AT&T Stadium. The Brazilians went on to win a second consecutive Global Cup title.
The 34-year-old's success this year, though, reaches far beyond AT&T Stadium.
Vieira won $146,600 two weeks ago with his record-setting third Iron Cowboy championship when he went 3-for-3 inside the STAPLES Center in Los Angeles.
He has won over half a million dollars in the past two weeks.
"I have already started constructing a new house for my daddy in Brazil, and this year I am so blessed," Vieira said during the post-event press conference. "Last year, I had a tough year and I did not ride good and did not get money. This year, this is my best start here in America.
"To win this much money in two weeks, I am blessed."
Vieira said earlier in the afternoon on the shark cage that he wants to take some of his earnings from THE AMERICAN and put them away for his daughter Maria's future education.
"This is so fantastic because it is a lot of money," Vieira told Amy Wilson. "I can help my family. I have one daughter and she needs to go to school. I will use the money for my kid. This is so fantastic."
Maria may be only 6 years old, and college is a long ways away, but Vieira wants to make sure she has a bright future for years to come.
"I am OK if she is studies here or in Brazil, but I need to save money for her," Vieira said.
The 2013 PBR Rookie of the Year expressed his gratitude Friday night at the Bad Boy Mowdown in North Little Rock, Arkansas, for the PBR allowing any of its riders that were in contention for the $1 million bonus to go compete at the AMERICAN SEMI-FINALS on Saturday night in Arlington.
"I am happy PBR let us go," Vieira said. "It was easy decision for me. I wanted to try and win THE AMERICAN again. It is tough because this is just one weekend. I don't have many chances to win $1 million on one weekend."
Vieira advanced to THE AMERICAN with an 80.5-point ride in the first SEMI-FINALS performance in Fort Worth, Texas, on Wednesday.
He then used an impressive 88-point ride on Hard N Fast away from his hand on Saturday night to qualify for THE AMERICAN.
Vieira demonstrated pure determination in the long round Sunday when he refused to let go of his bull rope as he hung off the side of Budakon for a 75.25-point score.
"I know the bull is a little hard because he has bucked off a lot of the cowboys to the left or to the right," Vieira said. "But I was surprised because he put me off the side. In my mind, I say, 'No. you need to stay. You need to stay.'
"I did not open my hand. I closed my hand and it stayed there until I heard the 8 seconds."
Luckily, Vieira was one of only three bull riders to reach 8 seconds in the long round.
Teel made the highlight ride of the afternoon at AT&T Stadium when he rode Magic Train into his hand for 91.25 points, and Pacheco advanced to the Shootout Round with 67 points on Rodeo Houston.
Pacheco turned down his re-ride option seeing as he was the third man to reach 8 seconds with only one rider left to go in the long round.
Brennon Eldred and Chase Outlaw were both eligible for the $1 million bonus, but they were bucked off by Speed Demon and Legit in the long round.
It seems as though Vieira won't be done cashing those paychecks at the bank anytime soon.
He may have a $1 million paycheck coming in his future if he keeps on riding like he has for the first three months of the 2019 season.
The seventh-year pro leads the PBR with three event wins on the Unleash The Beast, and he trails injured world leader Jess Lockwood by only 197.5 points ahead of next weekend's U.S. Border Patrol Invitational in Duluth, Georgia.
Lockwood's girlfriend Hailey Kinsel and her horse, Sister, won the barrel racing title at THE AMERICAN.
The world No. 1 bull rider said he's impressed by Vieira's resurgence this season.
"Really impressed," Lockwood said. "Especially away from his hand because I know how bad he can ride away from it."
Vieira had to make two tough bull rides away from his hand to win THE AMERICAN this year, and that caught the attention of many.
"I was so happy for him because I knew he could win the big bonus and I've been really impressed with him riding bulls away from his hand," Chad Berger said. "He rode a great one last night and one today."
Vieira's improvement away from his hand this year has made him a stronger world title contender than when he was a perennial Top 5 bull rider from 2013-2016.
He has spent time in the gym using a Pilates medicine ball to do various exercises to work on his ability away from his hand.
Vieira also said he just had to continue to remind himself that he has ridden bulls to the right before.
"I ride good in Brazil to the right, but I don't know," Vieira said. "Here I am no good. I don't have success to the right. But in my mind, I say, 'You can do this. You can ride good either way.'"
He is 14-for-23 (60.87 percent) in eight Unleash The Beast events this season.
"To continue to work the way he has instead of just accepting that he's not very good to the right is awesome," two-time World Champion Justin McBride said.
Vieira knows he cannot become complacent just because he won THE AMERICAN.
The journey of becoming a PBR World Champion is far, far from over.
"You don't relax," Vieira concluded. "All the bulls you need to focus and concentrate. No bull is easy for riding. All the bulls, you need the same focus."
Follow Justin Felisko on Twitter @jfelisko