Jesse rides bull named in honor of Lowe for second-place finish
By : Justin Felisko
February 17, 2019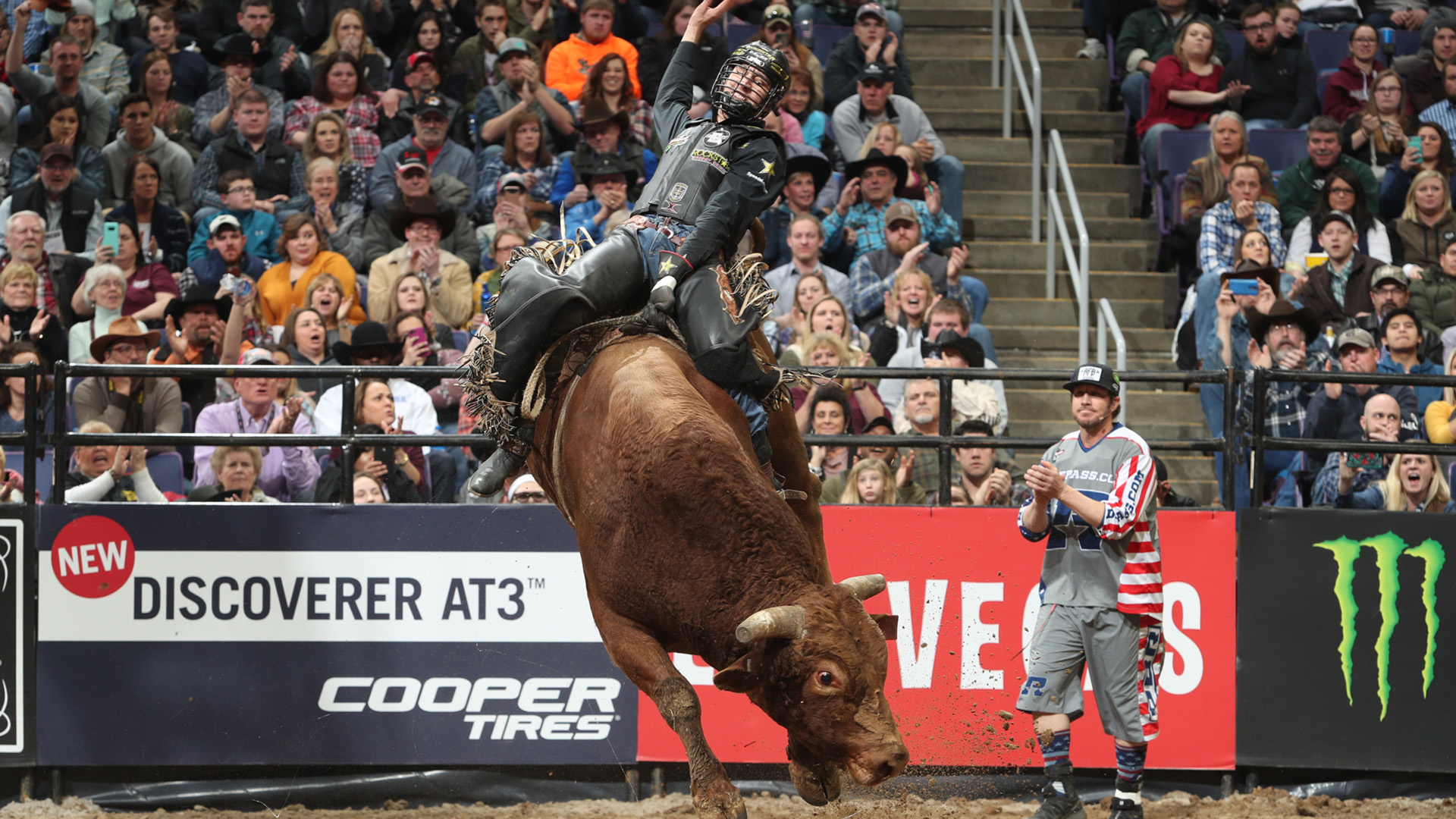 ST. LOUIS – Reigning Stock Contractor of the Year Chad Berger can still vividly remember lounging in his recliner in Mandan, North Dakota, in his bunkhouse on his ranch and having to catch his breath for how hard Mason Lowe would make him laugh.
Berger is only one of many involved in the PBR that is still in mourning following the passing of Lowe a month ago during the PBR event at the Denver National Western Stock Show.
In the immediate days after Lowe's passing, Berger knew he wanted to name a bull in Lowe's honor.
It was also something Lowe's wife, Abbey, was hoping they could do.
In a matter of days, Missouri Golden became Mason's Missouri Golden.
"That just seemed to be the perfect one because his name was Missouri Golden, and he was bought just up the road from where they live," Berger said. "I had that bull bought right after Chicago, and everything just fell into place. I talked to Abbey, we've been texting back and forth, and she was saying, 'I'd sure like to have a bull for Mason.' And I said, 'It's already been done.'
"I told her what the bull's name was and she was all excited."
Mason's Missouri Golden came through on Saturday night at the Mason Lowe Memorial to the benefit of a bull rider too.
Colten Jesse rode the Berger/Struve/Heald bull for 88.75 points to propel himself to a second-place finish behind one of Lowe's best friends, Chase Outlaw.
"It means the world," Jesse said. "Mason was a cowboy, and that's what I try and be every day, but damn sure wanted to step up on that one and be a cowboy."
Mason's Missouri Golden was 5-0 prior to Jesse taking him to the 8-second horn.
Jesse reached out to his Team USA Wolves teammate Stetson Lawrence about the bull.
Lawrence was bucked off by Mason's Missouri Golden in 2.34 seconds in Arlington, Texas, last week at the WinStar World Casino & Resort Global Cup USA, presented by Ariat.
"I asked him, 'Well, is there anything I need to know?'" Jesse said. "He said, 'He's strong out of there.'
"And honestly, I felt a little bit too loose, but I got where I needed to be and it worked out."
Jesse earned 330 points with the second-place finish to jump up to No. 11 in the world standings. The 21-year-old passed the PBR's concussion protocol Saturday after sustaining a concussion Friday when he was bucked off by Red Dawn in 7.19 seconds.
The second-year pro then rode Show Train for 86 points in Round 2 Saturday to head into the championship round in seventh place.
Jesse's ride on Mason's Missouri Golden and his second-place finish were both career highs.
Berger spent time Friday night with Abbey and her family, and admitted it has been hard to keep himself composed at times.
"It's been a rough weekend, really," Berger said. "It's hard to talk about that guy. He meant a lot to me. There was many nights that I sat in my recliner chair at my bunkhouse with him on the couch and we just talked about bulls and bull riding and life in general.
"I'm close to all these guys here. but for some reason I got a little closer to Mason. It's just tough. Tough, tough deal, but hopefully this bull, we can have a little fun with him yet and keep thinking of Mason."
Follow Justin Felisko on Twitter @jfelisko