Bad Touch extends buckoff streak to 29
By : Justin Felisko
February 17, 2019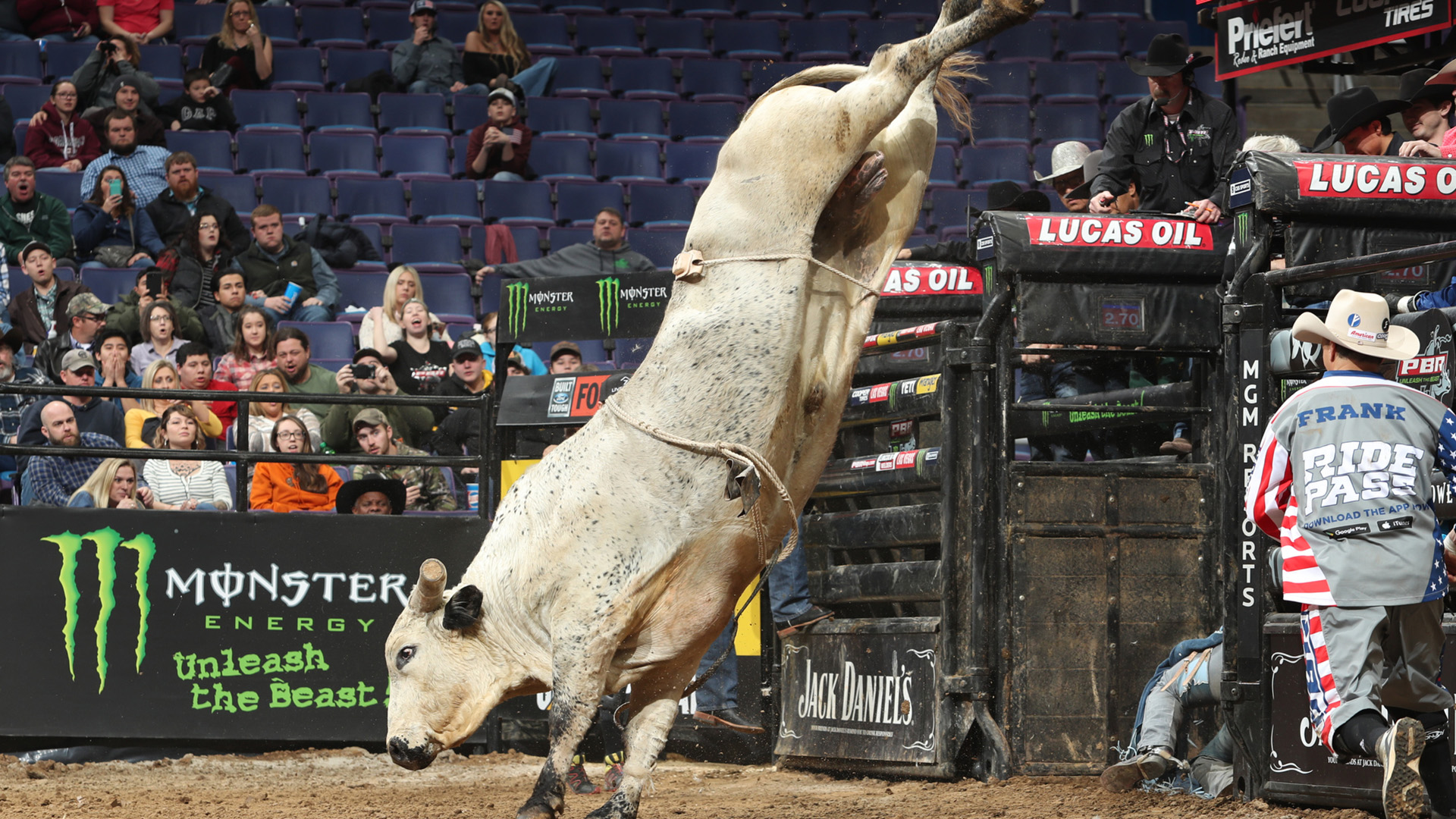 ST. LOUIS – Joe Frost could only try to knock his cobwebs loose on the back of the chutes, while Kenny McElroy was letting out a sly grin following Bad Touch's quick work of the five-time National Finals Rodeo qualifier.
Bad Touch extended his unridden streak to 29 on Saturday night when he bucked Frost off in 2.7 seconds during the championship round of the Mason Lowe Memorial.
"I didn't get to be around him very long," Frost said. "Jiminy Christmas. He just beat me."
Bad Touch was only scored 44 points, but he continues to be a complete handful for any of the PBR's top riders that attempt to ride him.
The 8-year-old bovine athlete is 43-0 at all levels of competition, but 67.44 percent of his buckoffs have come on the premier series.
"He really bucked good tonight," McElroy said. "I tell you, he was on his game tonight, for sure."
Three-time World Champion Bull Bushwacker holds the PBR premier series record for consecutive buckoffs at 42. Fans can meet the retired superstar next week at Iron Cowboy, presented by Ariat, in Los Angeles.
Saturday was a nice bounce back performance for Bad Touch after Dakota Buttar took him to 6.33 seconds in Chicago. That is the second-longest a bull rider has ever lasted on him.
Frost said it felt to him like Bad Touch threw the kitchen sink at him.
"Probably a combination of all of it," Frost said. "I know he got my chin up and then he got me sat up. So probably the timing and stuff. I'll go home and work on it. The next one I get on, I'll probably be a little more ready."
Frost finished his premier series debut 1-for-3 and in 12th place overall. Frost picked up 20 world points and is 37th in the world standings.
McElroy was happy with Frost's approach to Bad Touch and he expects Frost to make on tour full time very shortly.
"Oh absolutely. That kid's going to be here for a while," McElroy said. "He's a great young man, comes from a long lineage of great bull riders, so I'm really looking forward to that boy sticking around awhile and making a name for himself here."
Once Frost makes it back to the Unleash The Beast, he hopes to get a rematch against the bull.
"All my career, any time I get on one like that or something that bucks you off that fast, it makes you want to get on him again," Frost said. "I'm sure I'll probably get a chance."
The K-Bar-C Bucking Bulls bucked extremely well in St. Louis.
Old Fort Days (7.42 seconds against Kaique Pacheco) and Mind Freak (3.52 seconds against Joao Ricardo Vieira) also remained unridden, while Preacher's Kid bucked off Jose Vitor Leme in 4.91 seconds for a 44-point bull score in the championship round.
Mind Freak is 12-0 on the premier series, while Old Fort Days improves to 14-0.
Pacheco gave Old Fort Days everything he could handle and if not for the bovine turning out of his spin to the right around 5 seconds, Pacheco may have become the first to conquer him.
"He's a really good bull. Bucks hard," Pacheco said. "He bucked a lot of times. All the time he put all the guys to the front and outside. I tried my best to keep (away from) the front, but he pushed too much to the front and he changed direction. He beat me inside and put me on top of my hip outside."
McElroy was waving his arms up and down on the back of the chute during Pacheco's attempt.
"I'll be honest with you, I was absolutely glad that somebody got that far because I really wanted to see how that bull was going to finish," McElroy said. "Tonight he showed he's got the stuff to be where he should be."
Old Fort Days was marked 44.75 points and finished a quarter of a point behind YETI Built For the Wild Bull of the Event Magic Train.
Magic Train picked up a 45-point bull score for flinging Koal Livingston in 4.58 seconds during the championship round.
Follow Justin Felisko on Twitter @jfelisko