Mitchell: Lowe would have had some words for me
By : Justin Felisko
February 16, 2019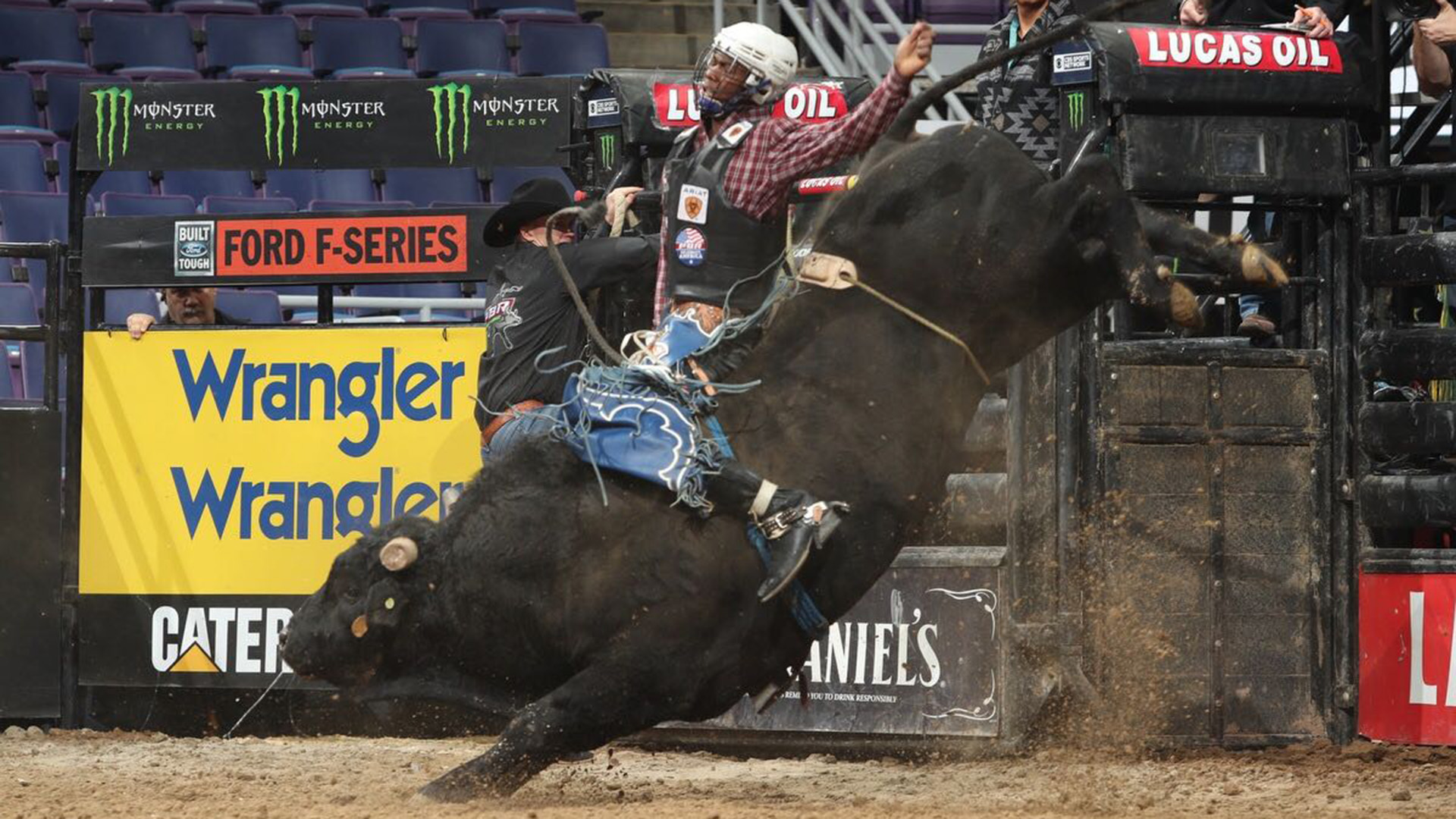 ST. LOUIS – There would have been many people on Ezekiel Mitchell's back Friday night inside the Enterprise Center if he bucked off another bull just past 6 seconds.
However, there was one rider in particular that Mitchell was not going to let down.
Mason Lowe.
"This event is all for Mason," Mitchell said during Round 1 of the Mason Lowe Memorial. "Mason was a great friend of mine, so if I'd have bucked off today, Mason would've had some words that I probably can't mention on the record here.
"Riding for Mason is awesome and just riding for God is awesome, so I'm just having a good time."
You can bet Lowe would have been smiling as Mitchell finally reached the 8-second mark for the first time on the premier series when he rode Getting Hammered for 85 points.
"Oh yeah, it just bring a smile to your face. It makes you want to do it again," Mitchell said.
Mitchell finished Round 1 in fifth place for 20 world points.
The Rockdale, Texas, bull rider was competing at the Pendleton Whisky Velocity Tour event in Denver at the National Western Stock Show where Lowe tragically lost his life last month.
Mitchell and Lowe became friends a few years ago when Mitchell was beginning to try and get his feet wet in the sport. Mitchell would often compete at 10-time PBR World Finals qualifier L.J. Jenkins' bull ridings and that was when he first met Lowe.
Ever since then, Lowe was always offering Mitchell encouragement as he began to work his way up through the Touring Pro Division and Velocity Tour ranks.
"Mason had nothing but good things to say to me," Mitchell said. "Every time I'd hold my head down, he'd tell me I belonged there and that it was about time I started believing in it when I got to the Velocities.
"He's somebody that you could never forget and I love him to death."
Mitchell heads into Round 2 on Saturday night in contention for his first Unleash The Beast victory.
The 21-year-old has drawn Checkmate (5-2, UTB).
Round 2 airs on CBS Sports Network at 9 p.m. ET and RidePass at 7:45 p.m. ET.
Mitchell had begun his premier series career with 10 consecutive buckoffs – nine in 2019 – and three of his last four buckoffs had come at 6.39 seconds or later.
Fellow Texan and friend Koal Livingston, who ended his own streak of seven consecutive buckoffs with 85.5 points on Unhinged, congratulated Mitchell on his first qualified ride during Mitchell's walk back to the locker room.
"Before I turned 18, I was hitting all those open bull ridings and I would see 'Zeke all over the place," Livingston said. "We have been going together pretty much for a few years now. I have known him for a while. He is pretty handy. We haven't seen the best of him yet."
Suffice to say, Mitchell was happy to no longer be in contention for king of the 7-second buckoff.
He also is starting to look at himself as more than just a Velocity Tour rider that earned an invite to the sport's biggest stage.
Instead, he is a Top 35 bull rider competing with the world's greatest.
"It finally was a matter of getting comfortable and believing in yourself because like they said, this level is different," Mitchell said. "I don't think it's that much of a bull difference. I mean, it is, but the biggest difference is just adjusting to the lights and having your role models and your idols sitting right there in the same locker room as you.
"It does take a sense of understanding that you belong. Even though you worked your way to belong here, it does take a sense of belonging."
Follow Justin Felisko on Twitter @jfelisko