Pacheco continues comeback from torn ligaments
By : Justin Felisko
February 16, 2019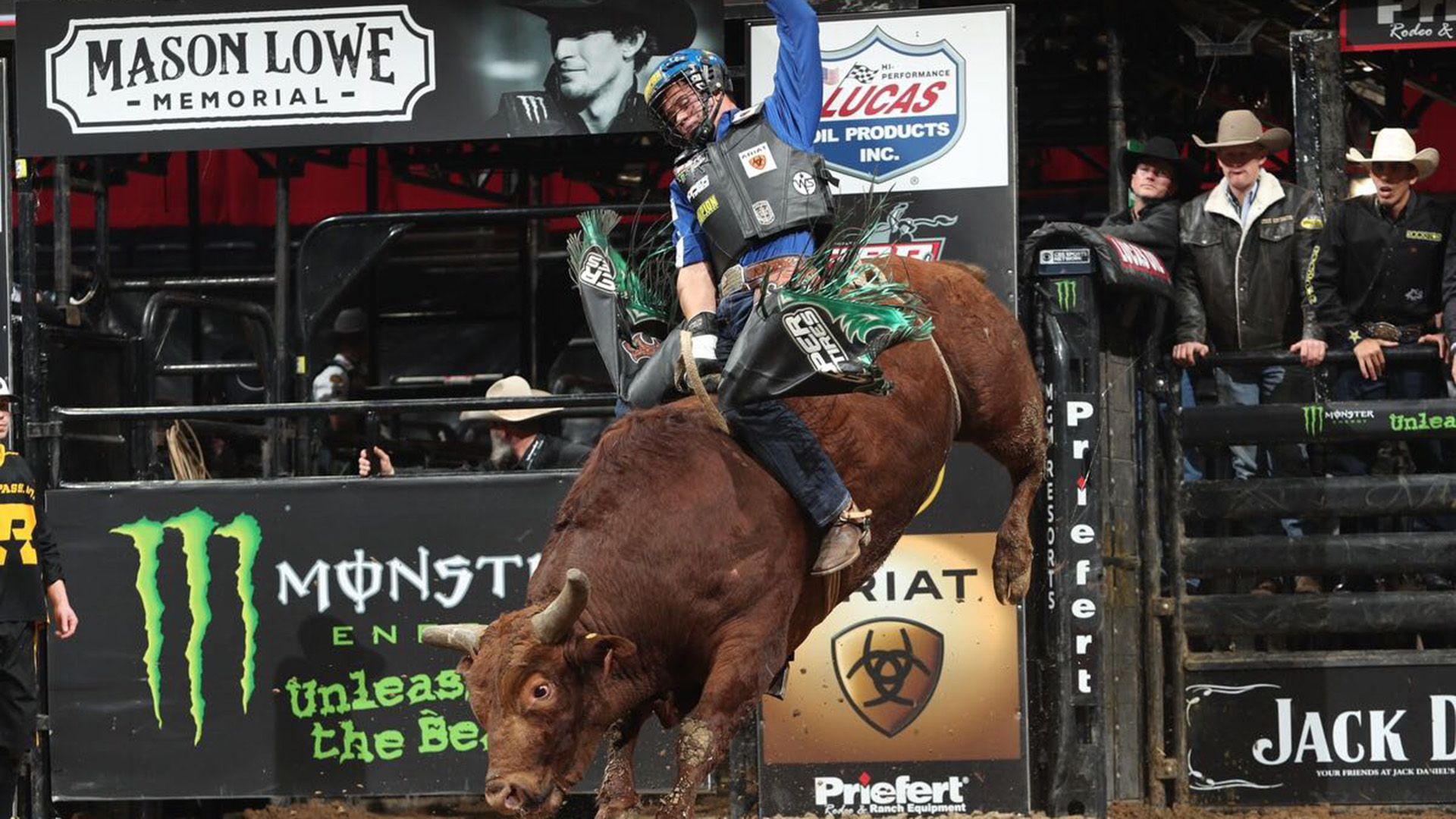 ST. LOUIS – Reigning World Champion Kaique Pacheco is not wasting any seconds trying to make up for lost time in the 2019 world title race.
Pacheco finished Round 1 of the Mason Lowe Memorial Friday night tied for third place at Enterprise Center during his Unleash The Beast season debut by riding Roll of the Dice for 85.5 points.
The 24-year-old missed the first month of the regular season after tearing his left MCL and PCL during the 2018 Velocity Tour Finals 14 weeks ago.
Pacheco, who did not undergo reconstructive knee surgery in the offseason, returned to competition last weekend to ride Taco Cat for 83.5 points at the WinStar World Casino & Resort Global Cup USA, presented by Monster Energy, before opting out of the final day because of knee soreness.
"I am so nervous for him and that knee," 2002 World Finals event winner J.W. Hart said on RidePass. "It is a long year and it is a tough one and grueling to get through when you walk into here for your first event limping."
On Friday night, soreness was not part of Pacheco's vocabulary, even after getting caught in the crosshairs of Roll of the Dice on his awkward get-off.
The limp may be in his walk, but Pacheco says he is dusting off the cobwebs.
This weekend was his seventh bull back, and with each ride comes a little bit more confidence.
"I'm really confident right now," Pacheco said with the help of Paulo Crimber translating. "I've been on five bulls before the Global Cup and just bucked off one in the practice pen. I rode my first bull at the Global Cup and this is my second one. I'm doing really good."
Pacheco tied with Koal Livingston (85.5 points on Unhinged) for third place, picking up 45 points toward the world standings.
There were 12 qualified rides in Round 1.
He trails world No. 1 Jess Lockwood by 2,052.5 points, but the No. 83-ranked bull rider in the world has six weeks to try to make up that ground with Lockwood on the sidelines due to a broken left collarbone.
World No. 2 Joao Ricardo Vieira was bucked off by Barn Cat in 2.19 seconds.
A victory in St. Louis on Saturday night could potentially net Pacheco 600 more points toward the world standings.
"I'm very happy to be riding good the way I did," Pacheco said. "I really need to ride good just to kind of catch up for the events (I missed when) I was in Brazil recovering. I'm very happy to have a great job done."
Pacheco squares off against Little Bob (7-1, UTB) in Round 2.
Fans can watch the action from Enterprise Center on CBS Sports Network at 9 p.m. ET and RidePass at 7:45 p.m. ET.
If Pacheco keeps gaining confidence in his left knee, that could mean danger for the rest of the field.
Pacheco has won three consecutive Last Cowboy Standing championships, which is the same format as next weekend's Iron Cowboy, presented by Ariat.
The second PBR Major of the season carries a unique format compared to standard Unleash The Beast events.
Riders have to reach the 8-second mark to advance in the competition.
Iron Cowboy is a minimum of two rounds and a maximum of five. At least 25 riders will advance to Round 2, with any draw spots being filled by the current world standings heading into Iron Cowboy if there are less than 25 rides in Round 1.
If all riders buck off in Rounds 2, 3 or 4, then all riders that attempted a bull advance to the next round.
If there is more than one ride in the final round (Round 5), then the Iron Cowboy will be the rider with the highest ride score in Round 5. If there are no rides in Round 5, the Iron Cowboy will be the rider with the most round points that had competed in Round 5.
The fifth-year pro may not have won an Iron Cowboy title just yet, but Pacheco does own the PBR record with four PBR Major victories.
Pacheco is 12-for-19 in the Last Cowboy Standing format and has won almost half a million dollars ($429,616.67).
"It's a hard event to win because it's a lot of bulls," Pacheco said. "I try to just focus on my bulls. Take it bull by bull, and try to do a good job and kind of get 'er done.
"I'm really kind of relaxed and confident. I just want to do a good job. If God wants me to win, it's going to happen."
Follow Justin Felisko on Twitter @jfelisko