Davis wins aggregate title, but disappointed with final buckoff
By : Justin Felisko
February 10, 2019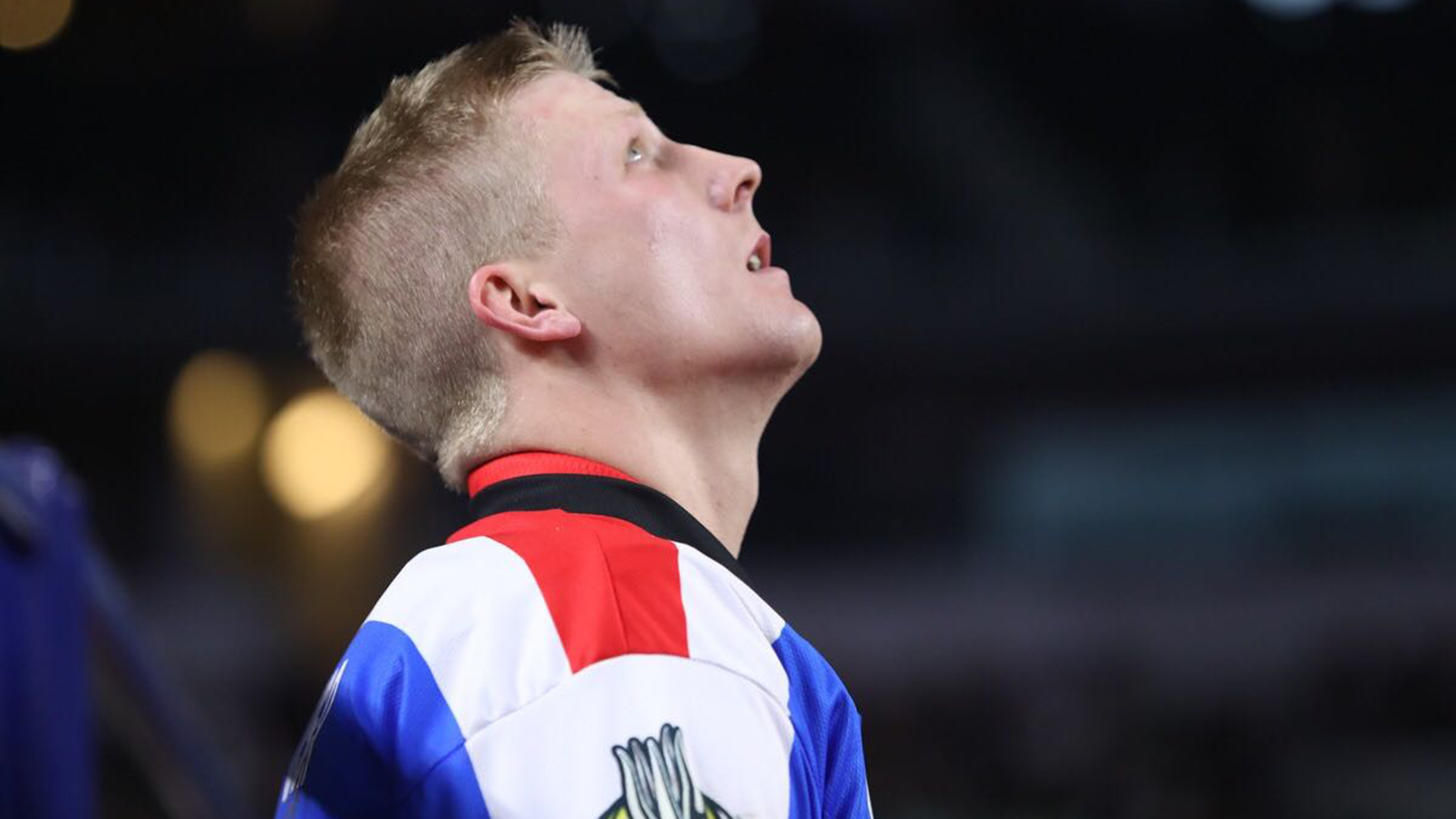 ARLINGTON, Texas – Team USA Eagles captain Cooper Davis' face was flushed red as the disappointment continued to set in late Sunday afternoon.
Davis had just finished standing with his teammates on the main stage of AT&T Stadium as Team Brazil sang their national anthem and scooped up the American horn of the Global Cup Trophy following their victory at the WinStar World Casino & Resort Global Cup USA, presented by Monster Energy.
For the second consecutive Global Cup, Davis tried to put Team USA on his back and rally it to victory against the mighty South American bull riding power.
However, just like in Sydney, Davis was unable to get that final ride for his team.
On Sunday it was Bad Beagle playing villain, taking Davis down in 4.63 seconds just eight months after POA Palooka dashed Davis and USA's hopes in Sydney in 5.04 seconds.
The buckoff clinched Team Brazil the victory and the Brazilians beat out the Eagles by one bull ride – 939.25 to 867.
"I fell off. That's it," Davis said.
Davis had already clinched the $30,000 individual event average victory at the Global Cup with three consecutive rides to begin the weekend, but that was the least of his concerns.
The 2017 World Champion wanted to return Team USA back to global bull riding dominance.
"I didn't even know I won it," Davis said. "That doesn't really matter. It sucks putting all that weight on your shoulders and thinking you can pull it through, and choking for these guys.
"That hurts."
Standing inside the Eagles locker room with the Screaming Eagle and USA on his chest, Davis expressed his own disappointment.
He was going to take the blame for the loss.
However, Davis did nearly everything he could with 85.75 points on Arctic Assassin in Round 1, 89.5 points on Hard & Fast in the Saturday night Bonus Round and then 88 points on Blue Stone in Sunday's long round.
If not for Davis' effort on Saturday night, the Eagles would probably have had no shot at all on Sunday.
The Eagles went 4-for-9 on the first night of competition – two of those rides coming from Davis – and began Sunday down by three scores.
Team Brazil coach Renato Nunes said he has come to expect Davis to ride so good all the time.
"Cooper Davis, he rides so good always," Nunes said. "The Brazilian guys say he doesn't have very (much) confidence to stay on a few weeks ago. Then I say, 'No, he's good,' and he showed up for everybody. He's good."
Team USA frantically tried to rally past Brazil by going 6-of-7 in the long round to erase Brazil's three-ride lead at one point.
Cody Nance pushed the Eagles into the lead ever so briefly when he covered Blue Crush for 87 points on the Americans' final ride attempt of the long round.
The lead was short lived, though, as Jose Vitor Leme immediately answered for the Brazilians with 89.25 points on Biker Bob.
The Eagles had two chances to try and surpass Team Brazil in the Bonus Round.
Cody Teel first lasted 5.92 seconds on Cochise, and then Leme bucked off Rodeo Houston in 1.78 seconds to give Davis the final opportunity.
"Even before the Global Cup started, Justin (McBride) was planning on counting on Cooper because he is a leader of the team," PBR Director of Livestock Cody Lambert said. "When they were selecting riders and bulls, it didn't surprise me one bit they picked Cochise for Cody Teel and Bad Beagle for Cooper. I thought they could ride them both.
"If they ran them up again right now, I bet they could ride them both."
Davis was as confident as he could be too.
The 24-year-old was sitting in the backpens by himself when he watched Leme get rocketed forward on the massive jumbotron in AT&T Stadium and get head-butted by Rodeo Houston.
There was no celebration or immediate reaction from Davis.
The Jasper, Texas, cowboy simply nodded and hopped off the fence to grab his bull rope.
To his own dismay, as well as that of his teammates, Davis was unable to pull off the comeback.
Pouring salt into the wound further for Davis was watching Joao Ricardo Vieira buck off Talking Smack in 6.95 seconds on the final ride of the night.
"I mean it's dang sure pretty cool to see how far we were down and how close we got, giving us a chance to win," Davis said. "We should have if I could've pulled through on that last one. It was dang sure really cool to see everyone rally up on this last day and hardly fall off a bull.
"It just goes to show the talent we have."
Davis' eight qualified rides in three Global Cups is the most in PBR history.
Team USA Eagles coach Justin McBride said you cannot expect much more from Davis since the Global Cup format first launched at the end of 2017.
Davis led Team USA to the inaugural victory in Edmonton and tried to put his teammates on his back with the weight of the country on his shoulders during the team's last two finishes.
"Man, you can't state how important he is to this team," McBride said. "You can't overstate it for damn sure. He embodies what this event is all about, to me. He loves it. Everybody feeds off of him, and he wants to be the guy that you put it on his shoulders. So you can't ask any more out of Coop than what he's giving at every Global Cup."
The next Global Cup has not been announced just yet, but if Davis could put on the red, white and blue every weekend he could.
"If I could go every weekend, it'd be a Global Cup," Davis concluded. "That would fire me up. I'm definitely fired up for the next one.
"I just hope we get 12 down."
Follow Justin Felisko on Twitter @jfelisko