By : Keith Ryan Cartwright
February 21, 2012
Douglas Duncan has a record of winning in Reliant Stadium. This Saturday, he'll try again against the rankest bulls in the world.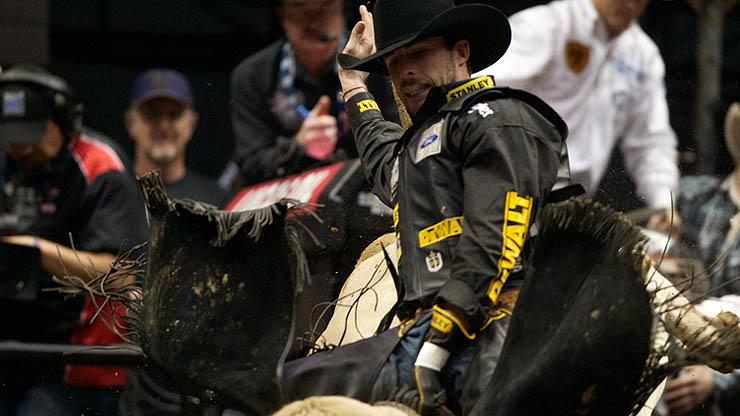 HOUSTON - Douglas Duncan has not had the type of season he was expecting.

He was officially cut from the Built Ford Tough Series two weeks ago, when he dropped out of the Top 25.

But that hasn't stopped the 24-year-old from showing up each week with one goal in mind: winning.

Last weekend in Atlanta's opening round - Duncan was participating as an alternate - he rode Black & Decker Orange Crush for 71.75 points and the option for a re-ride. Without hesitation, he took a chance at putting more points on the board with Bad Moon, even though any score from the long round would have taken him to the Built Ford Tough Championship Round.

He wasn't concerned with simply earning points.
'You have to show up ready to win every time.'
He wanted to win the first BFTS event of his four-year PBR career.

"Where I was to where I could have been with one event win is so close, and it could have changed everything," said Duncan. "I haven't rode the best this year at all, but there's a couple little incidences that would have changed everything. It's easy to beat yourself up, and it's also easy to let all that negative energy and thinking about everything get to you and affect you in the wrong way.

"When I took the re-ride, I took the re-ride because I was wanting to win the event, and not because I knew it could change my season on not making the cut. It wasn't the reasoning behind it, but it darn sure helped out."
Douglas Duncan scores 88 points on Bad Moon on Saturday in Atlanta.
He rode Bad Moon for 88 points, and split the round win with J.B. Mauney.

Although he didn't get a second qualified ride in the final round, his 88 ride points, 95 points for splitting the round, and 60 points for finishing eighth in the average vaulted him to 25th in the world standings - just 13.75 points ahead of Dusty Ephrom - with three more BFTS events before the next cut.

"No, it wasn't on my mind. It's tough to think about knowing that," said Duncan, who added that he's veteran enough at this point to know his focus needs to be on winning.

"It's pretty easy to get down on yourself and pretty easy to let those zeros add up, but that's what happens every time you get a 90-mile-an-hour fastball every time over there in the PBR. You have to show up ready to win every time."

Growing up in Alvin, 30 minutes south of downtown Houston, Duncan knows a thing or two about Major League fastballs.

Alvin is the hometown of Hall of Famer Nolan Ryan, who for a portion of his career pitched at the old Houston Astrodome.

Duncan's father used to take him there as a child to see the famous Houston Rodeo. The younger Duncan dreamed of riding bulls in front the same big crowds Ryan pitched for.

He ultimately did, and in 2009 won the Houston Livestock Show and Rodeo.
Duncan slipped back into the Top 25 last week, with three events left before the next cut.

The Astrodome is gone, and in its place is Reliant Stadium - a 71,500-seat, multi-purpose venue that now serves as home to the Rodeo. This weekend, the PBR will host the second of four stadium series events there, as part of the kickoff to this year's Rodeo.

It's the first time in PBR history the BFTS has been scheduled in conjunction with the RODEOHOUSTON.

"It's something that I've looked forward to ever since I was a little kid," said Duncan, who still had winning on his mind in a phone interview from New Orleans. "It'd probably be the biggest win. I've won the rodeo before, but it would be my first PBR event win, and what better place to have it."
'When they say "Douglas Duncan from Alvin, Texas," and that stadium goes nuts, my adrenaline starts pumping.'

The Duncan family will be there Saturday afternoon, along with childhood friends and youth coaches.

The key to getting that first BFTS win will be channeling the emotion of competing in Houston.

"I just sit back there and try not to think about anything, and just hang out with all my buddies," Duncan said, "but when they say 'Douglas Duncan from Alvin, Texas,' and that stadium goes nuts, my adrenaline starts pumping.

"It gets you to a whole other level."
Watch the WinStar World Casino Invitational in Houston next Saturday at 9 p.m. ET on NBC Sports Network.