Davis-designed spurs help Mauney salvage season
By : Justin Felisko
October 30, 2014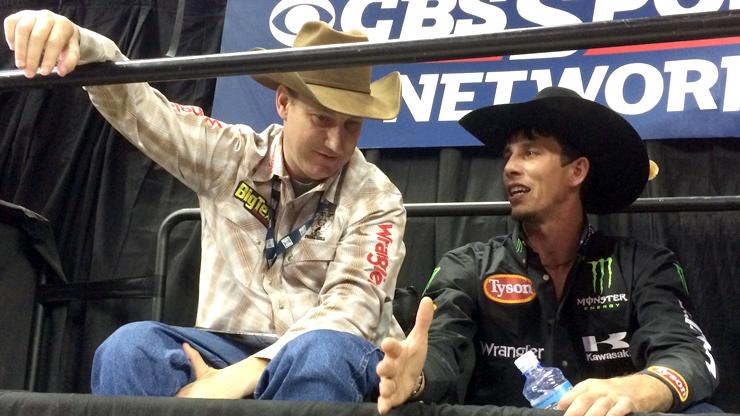 PUEBLO, Colo. – A week before the 2014 Built Ford Tough World Finals, J.B.Mauney gave longtime friend Jerome Davis a phone call.
Mauney was mired in a 0-for-11 slump, admittedly fighting his own head, and had come to the conclusion that he was having a hard time using his feet during the second half of the season.
The 2013 World Champion showed no signs of the man who was unstoppable in 2013 and decided it was time for a change before the World Finals.
So he asked Davis for a pair of his specially designed spurs, which are a tad bit shorter than his older ones, and put them on his boots two days before the Finals began.
"I used to ride with them when I was younger and kind of quit (using them)," Mauney said. "I went with some longer ones and some other things and wasn't riding so good. I called Jerome and said, 'I need to come get some of those spurs you designed.'
Davis recalled, "He was saying he had a lot of trouble with his feet. I told him I didn't know if it was his spurs. I have seen him ride to many rank bulls with the spurs he had."
The end result, though?
Mauney went 5-for-6 and finished second at the World Finals in arguably one of the strongest showing in Vegas to end the worst slump of his career.
"I can feel my feet and everything is a lot better," Mauney said.
He posted three-plus 90-point rides after beginning the Finals with just one all season. He began the World Finals with an 88-point ride on More Big Bucks.
Mauney immediately shook Davis' hand following his Round 1 ride, and he would do the same after riding Hou's Back for 90.25, Bruiser for 93.25 points, Mr. Bull for 88 points for Percolator for 94 points over the course of the week.

J.B. Mauney shows off his spurs, designed by Jerome Davis.
"That is why I shook his hand every night," Mauney said. "Not only has that man been a hero to me, but he's been there, he's done it and he's helped me out every chance he could. I have learned a lot from that man and I am grateful to him."
Even more impressive was the fact that Mauney's last two rides were accomplished with a broken jaw after he collided with Bruiser at the 8-second buzzer in Round 4.
The World Finals was a major turnaround for Mauney. He began the week 17th in the world standings – the lowest he ever began Finals in his nine-year BFTS career – and was riding at a career-low 35.09 percent.
"J.B. Mauney was fantastic," nine-time World Champion said Ty Murray. "He was dynamic."
Mauney skipped the Monster Energy Bulls on the Beach 15/15 Bucking Battle to rest and refocus after a second half that went south following a hard buckoff against Asteroid in Thackerville, Oklahoma.
The 2012 World Champion Bull stomped on Mauney's back and then the next week in Nashville, Tennessee, he sustained further injury to his right hip trying to ride Spotted Juice.
He then missed the PFIWestern.com Invitational and forced himself to battle through a right hip pointer and a lower back strain for the remainder of the season.
"It hurt a little bit, but that is no excuse," Mauney said. "That is bull riding and part of getting older. Nine years of doing this stuff will get to you."
Mauney was also advised that he should probably get his hip scoped.
"I wasn't sure if I was going to have surgery or not on my hip," he said. "I opted not to have it. They wanted to scope it out, but I said, 'Hell, I can wait on that.' I will just go in there and do a full body surgery and have them fix everything when I'm done."
Mauney also dealt with a riding hand injury in the first half, and he missed a total of five events in 2014.
The 22 BFTS events he competed in were the fewest of his career since his rookie season when he nodded his head at 15 BFTS events.
Still, no excuse said the three-time World Finals event winner.
"Quite a few times I picked my chin up and didn't keep it tucked," he admitted. "It used to be when I was younger, I rather get stomped than starve to death. I would take a stomping to death before I would think about jumping off and that's what I got to get back to."
Mauney certainly regained his confidence and groove in Las Vegas.
"It's a little confidence booster, that's for dang sure," Mauney said. "Before I got here, I couldn't ride a stick horse to water. To turn it around when you get here, there is no better feeling. To walk out of here with your chin up, that is as good as it can get."
The Mooresville, North Carolina, bull rider concluded the season fourth in the world standings with two wins (New York & Phoenix, Ariz.), five Top-5's and Top-10's despite a career-low 39.68 percent riding average.
Mauney plans on taking the next month off to heal up and is ready to turn the page toward 2015 after a season that was not up to his standards.
He even may just prepare a little differently than in years past.
"I actually might start going to the gym with my wife (Lexie), working out a little bit," Mauney concluded. "I am getting a little older and I always told them I would start exercising a little bit more when I thought I was a little older. I think I am getting to that age where I need to loosen up some stuff a little bit more than I usually do."
Follow Justin Felisko on Twitter @jfelisko.