Mauney misses final day of Finals; injury updates
By : Justin Felisko
October 25, 2015
An injury sustained Saturday in clinching the PBR World Championship kept J.B. Mauney out of action on Sunday.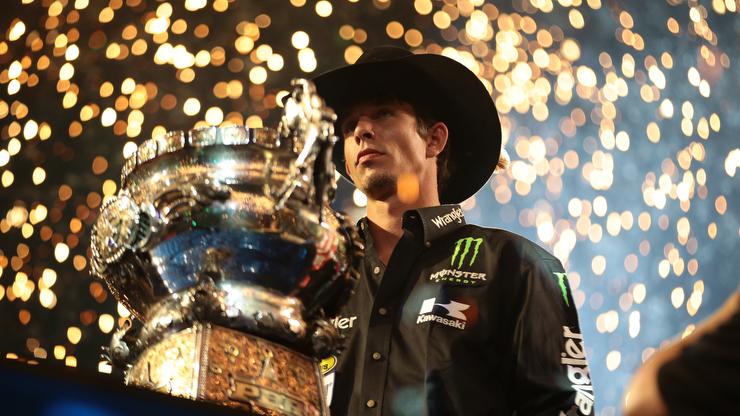 LAS VEGAS – 2015 World Champion J.B. Mauney had every intention of going after the World Finals event title Sunday afternoon, but that was until he began to experience pain in his left shoulder when he woke up in the morning.
Mauney arrived at the Thomas & Mack Center early Sunday morning to meet with Dr. Tandy Freeman about his left shoulder.
The two-time World Champion said he began to feel pain in his shoulder once the adrenaline rush of clinching the world title began to wear off late Saturday night.
Mauney underwent X-rays on his left collarbone, which revealed no fracture, and the official diagnosis from Freeman was a sprained left sternoclavicular joint of his riding arm.
"It is a sprain, it is a relatively mild sprain," Freeman said. "It will stay sore for six months, but by the time January rolls around he will be feeling good enough to ride."
Mauney was unable to even put pressure against Freeman's arm in the sports medicine room before he was officially ruled out for the final day of competition.
The injury happened Saturday night moments after he had ridden Bruiser for 92.75 points.
"When I stepped off that bull last night, the adrenaline was pumping and I was 10-foot tall and bulletproof right then," Mauney said. "I started doing interviews and everything and the adrenaline quit pumping. That bull jerked me down right after the whistle blew and hit me in the chest. I started getting sore, a little bit more sore and this morning I couldn't even move my arm. We had us a long talk about it, I really wanted to finish it off. I had two more bulls to get on and I wanted to end it on a high note and win the World Finals again. Unfortunately, it was not going to work out."
He entered Sunday leading the event and in contention for a record-tying third World Finals event championship.
"To all of the fans that came here to this last day, if they were coming to watch me, I apologize. I wanted to ride just as much as anybody here," Mauney said.
Additional Injury Updates
Ben Jones sustained a concussion when he collided with Sheep Creek's head during his ride attempt in the championship round. He also sustained a 12th rib fracture and transverse process fractures of the first and second vertebrae.
Bonner Bolton did not compete in the championship round after spraining his right knee (MCL) during Round 5 aboard Blind Spot.
Michael Lane missed in the championship round after aggravating a pre-existing right shoulder sprain.
Matt Triplett did not compete in the championship round after spraining his right elbow (UCL, riding hand) during his Round 5 out on Calypso.
Neil Holmes missed the final day of competition after sustaining a concussion and broken jaw when his head hit Pure Bull's head during Round 4.
Luis Blanco sustained a broken right ankle when he was stepped on by Cowtown Rock in Round 1. He is out of competition for 8-12 weeks.
Robson Palermo sprained his neck when he landed on his head after being thrown from Fire Rock in Round 3.
Guilherme Marchi tore the MCL in his right knee when he was thrown from Oscar P in Round 3.
Alexandre Cardozo missed the final two days of competition after breaking his neck (C6-7) and back (T5) when he landed as he was tossed by Fire House in Round 3.
Follow Justin Felisko on Twitter @jfelisko