Leme's ability to dance with bulls paying big dividends
By : Justin Felisko
November 08, 2017
Rookie of the Year Jose Vitor Leme stunned the PBR by going 6-for-6 to win the 2017 PBR Built Ford Tough World Finals. Instead of fighting bulls, Leme danced his way to the 8-seconds consistently in Las Vegas. The former soccer player now takes his talents to Canada for the inaugural PBR Global Cup.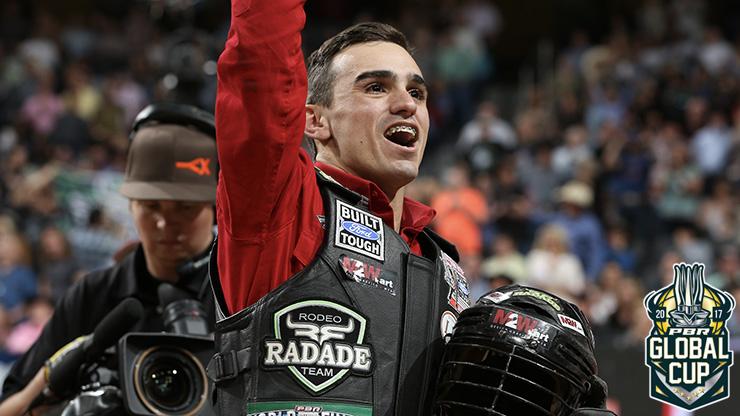 EDMONTON – Jose Vitor Leme's calves and thighs were muscular sculptures inside the locker room last weekend at T-Mobile Arena.
While normally hidden underneath his riding jeans, inside the locker room Leme's physique was on display as he walked around in a pair of shorts.
The 5-foot-5-inch bull rider spent his teenage years playing semi-professional soccer after taking up the sport when he was 11 years old.
It was during his time on the soccer field in Brazil that the 2017 PBR World Finals event winner perfected how to make quick, agile adjustments and continue at a high-speed of movement while changing his direction.
Countless hours at practice led to his chiseled legs and body. Low and behold, those physical attributes and lessons he learned as a teenager in Brazil have proven to be major advantages when he switched over to bull riding at 18 years old.
"It is really amazing how soccer has helped me," Leme said with the help of Paulo Crimber translating. "I don't think that has come to be a bad experience. I didn't really start riding (bulls) until I was 18. To be a soccer player, you have to be real athletic and quick to make real short, quick motions and you have to do the same thing on the back of a bull.
"That really helped me."
The 21-year-old is set to compete at this weekend's inaugural PBR Global Cup at Roger's Place in Edmonton, Alberta. Leme earned a roster spot courtesy of his 2017 PBR Brazil championship, but his performance at the World Finals showed Leme is more than just an international invite, but rather an international force not to be reckoned with.
Also competing for Team Brazil is Eduardo Aparecido, Kaique Pacheco, Fabiano Vieira, Joao Ricardo Vieira, Rubens Barbosa and 2008 World Champion Guilherme Marchi. Three-time World Champion Silvano Alves is the alternate.
Fans can watch the event on PBR.com beginning at 9 p.m. ET on Friday and 10 p.m. ET on Saturday.
At the World Finals, Leme's dominant 6-for-6 performance showcased his athletic prowess on the back of a bull.
He was dancing his way to the tune of a record-setting $416,000 payday.
"He is an athlete and is smart enough to figure out that he should dance instead of trying to fight the bulls," three-time World Champion Adriano Moraes said. "Most of the little guys fight them more than the big guys. He was smart enough to figure it out and so since he started riding he knew that. He acknowledged that and prepared himself to come over here. That is why he doesn't fight as much. He knew the bulls here are smaller and much faster and ranker, which I think fits him much better."
Moraes had high expectations for Leme's debut on American soil. The head coach for Team Australia this weekend has spent the last year watching Leme dominate the competition at PBR Brazil events to join Luciano de Castro as the only riders in history to win the PBR Brazil national championship, PBR Brazil Rookie of the Year and the PBR Brazil Finals event title in same season.
Still, he wasn't expecting Leme to go out there and knock it out of the park with a 94.25-point ride on Magic Train to win the PBR's Rookie of the Year title and World Finals event title.
"I'm so proud," Moraes said. "We knew he could do it, but nobody expected that soon. We're surprised, but we're also happy. He really represents this association, this organization really well."
Leme finished the Finals with three 90-plus rides in his final four outs.
He posted qualified rides of 86 points on Opus, 86.5 points on Slinger Jr., 90 points on Mudshark, 90.5 points on Big Dutch, 89.75 points on More Big Bucks and 94.75 points on Magic Train.
Leme had landed on U.S. soil ranked 53rd after a stellar season in Brazil where he posted over an 82-percent riding average.
He left Las Vegas ranked seventh in the world after being the top-performing international rider at the Velocity Tour Finals and earning a qualification for the World Finals.
Castro roomed with Leme during the World Finals and echoed Moraes thoughts.
"He is a good rider in Brazil," Castro said with Robson Palermo translating. "He is rank there. He rides 80-plus percent there and he does not buck off bulls. He is a really good guy and rides really good. I think he is going to stay the same here. Pretty much everybody in Brazil comes here with almost a 100 percent rider there, but here it is different.
"The way he rides and uses lots of balance will be very good here."
Much was made about Leme's stunning revelation during the Finals that he never attempted a bull until he was 18 years old.
While that is true, Leme does come from a Western background and had begun to learn some of the basics of bull riding when he was riding calves as early as 7 years old growing up in Ribas do Rio Pardo, Brazil.
Leme's father, Jose Antonio, used to compete at local bull ridings in Brazil, and Jose Vitor was on the path to following a path as a bull rider until his parents got a divorce.
With his parents separated, Jose Vitor took up soccer.
Once he turned 18 he decided to truly give bull riding a shot.
"I come back and decided I wanted to be a bull rider," Leme said with Palermo translating. "It was not hard because I really love to ride bulls. Soccer too, but I think I had more passion for bull riding."
Palermo is the head coach of Team Brazil and this summer said he had heard good things about Leme after he was added to the roster.
"I like him because he is a short guy," Palermo said. "I think the short guys in the U.S., it is better to be short. Not to short, but be small and strong. He reminds me of Kaique (Pacheco).
Leme said it is an honor and dream come true to represent his country this coming weekend.
He is no longer dreaming though.
Leme is instead creating a lasting legacy that so many other bull riders could only dream to be matching.
"I am so happy to be on this team," Leme said. "This is the first time I am doing this kind of deal, and with Robson it will be a different and fun deal."
Follow Justin Felisko on Twitter @jfelisko