Mauney's ride on Bushwacker added to the bull's legendary legacy
By : Justin Felisko
August 09, 2018
The five-year anniversary of J.B. Mauney's historic ride on three-time World Champion Bushwacker is right around the corner, and stock contractor Julio Moreno believes the ride in Tulsa, Oklahoma, heightened the fame of his already legendary bull.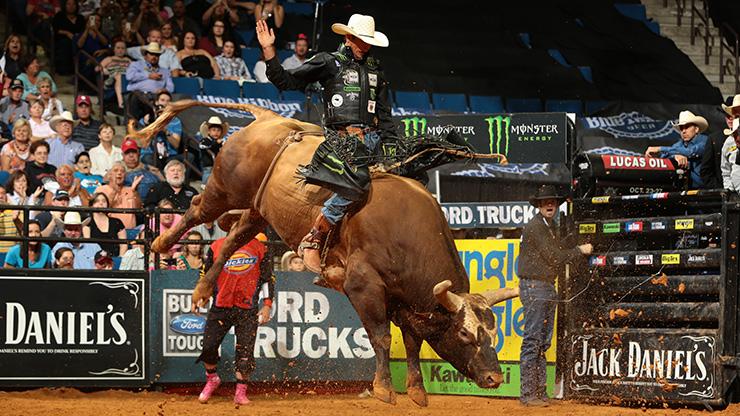 PUEBLO, Colo. – It was an early Saturday morning in Oakdale, California, when Julio Moreno couldn't sleep any longer. Moreno clicked on his television and began to channel surf some before stumbling across a PBR event.
It wasn't too long before he saw highlights of his bull Bushwacker flashing across the screen – one of which he will never forget.
Moreno became mesmerized once again as the clock on the screen read 8 seconds, and CBS Sports Network announcer Craig Hummer began enunciating, "It's over! It's over! We have seen history!"
The crowd inside Tulsa, Oklahoma's, BOK Center was going crazy.
Moreno's partner Kent Cox was sprinting onto the dirt to congratulate J.B. Mauney.
Five years later, and Moreno still cannot help but smile.
"You have to stop and look at it," Moreno said on Thursday morning. "Just the announcers, everybody behind the chutes cheering. It catches your eye. You stop and watch. I know I do.
"I think a lot of people do still."
Mauney ended Bushwacker's PBR record of 42 consecutive premier series buckoffs (56 overall) to the crowd-pleasing score of 95.25 points almost five years ago on August 17, 2013.
"Just talking about it now makes me think about that ride in Tulsa because Tulsa is coming up this weekend," Moreno added.
RELATED: Looking back at Bushwacker's legendary career
The PBR, which is celebrating its 25th anniversary this season, is returning to Tulsa this weekend and there is no question that ride will be showcased on RidePass, CBS national television and CBS Sports Network plenty of times.
The clip has already been posted on PBR's social media channels and shared by hundreds of fans.
The historic ride was the beginning of Mauney's remarkable march to the 2013 World Championship, and it was the end of the longest buckoff streak in PBR history.
Mauney's ride aboard Bushwacker is symbolic of his career and the way he goes about the sport by continuously challenging the rankest bulls possible.
Moreno, though, agreed that in many ways Mauney's ride aboard Bushwacker was better for his bull's long-term legacy than potentially having Bushwacker end his career with a buckoff streak in the 60s.
"I really think that ride made Bushwacker (even more popular), and it made J.B. the rider that rides the unrideables," Moreno said. "I think it did because J.B. was the best at the time, and he still is in my books. That made history. The two of them.
"I don't say that was one of Bushwacker's better outs, but he dang sure rode him. The crowd got into it. The announcer. Kent running out into the arena. I see that clip every once and a while and it still gives me chills."
No other rider would reach 8 seconds on Bushwacker in the bull's final 20 outs. Bushwacker concluded his career with a 64-2 record on the premier series and 84-3 overall.
It was also the only time Mauney, who presented Bushwacker with the Brand of Honor in 2016, ever successfully covered Bushwacker in 13 attempts at all levels of competition.
Moreno admitted that he still sometimes wonder what could have been if he hadn't retired Bushwacker following the 2014 season.
Would Bushwacker have been ridden again by someone else or by Mauney again?
Could Bushwacker have won another one or two gold buckles?
"I think about it all the time," Moreno said. "I think about did I retire him too early? Should I have kept him out two more years? Seeing Spotted Demon do good at 10 years old, you wonder."
Bushwacker was retired at 8 years old.
Spotted Demon is Moreno's top bull going right now and is a potential challenger to frontrunner and reigning World Champion SweetPro's Bruiser.
Moreno is hopeful to bring Spotted Demon to Springfield, Missouri, next month for one of the final two outs he needs to become eligible for the world title.
The longtime stock contractor hopes to one day honor his personal promise to Mauney and give the North Carolina cowboy either a Bushwacker heifer or bull.
Moreno is thankful for all the fame and attention Mauney helped his bull achieve, and he wants to show Mauney his gratitude similar to how he gave Kody Lostroh a Troubadour heifer a few years after the 2009 World Champion rode Troubadour for 91.25 points or higher in all four of their meetings.
"I want to do that for J.B. someday," Moreno said. "It has to be one Bushwacker is proud of."
BUSHWACKER SCHEDULED TO APPEAR IN LAS VEGAS
Fans in Las Vegas can check out Bushwacker on Sept. 16 at the South Point 400 Monster Energy NASCAR Cup Series playoff race at Las Vegas Motor Speedway.
"They want to bring Bushwacker and put a pen up for the awards and presentation," Moreno said. "They want Bushwacker right there. It's pretty cool."
Follow Justin Felisko on Twitter @jfelisko